It's about time Bangkok had a new hand-roll bar. This newly opened space in Sukhumvit 49 specialises in crafting hand rolls, and nothing else—so they know what they're doing.
On entering, you stroll through a charming Japanese garden before arriving at a laid-back bar area, an ideal ambiance for a quick, satisfying lunch. Kanori isn't trying to reinvent the wheel, and that's kind of refreshing.
This counter shop focuses on quality seafood, fresh rice, and crispy nori. It offers flexibility with set meals or an a la carte option—oh, and there's an entire uni menu, for all you uni obsessed foodies who like eating the reproductive organs of echinoderms.
The menu is straightforward, but full of specialties. The hand rolls consist of taut yet delicate sheets of nori cupped around rice and seafood. There are three premium hand rolls including otoro (B490), lobster bomb (B570), and uni (B690).
Other hand rolls include salmon (B290), akami tsuke (B290), hotate (B210), and botan ebi (B190) and some vegetarian options like tamago (B130) and avocado truffle (B130). Each roll is handed to you freshly made, one at a time, and they're designed to be eaten immediately so the nori stays super crispy.
In addition to their hand rolls, they offer drinks including tea, Asahi beer, and a selection of three sakes. The selected sakes are chosen to complement the hand roll flavors.
Kanori Yard. 49 Sukhumvit. Open daily 11:30am-2:30pm / 5:30pm-10pm.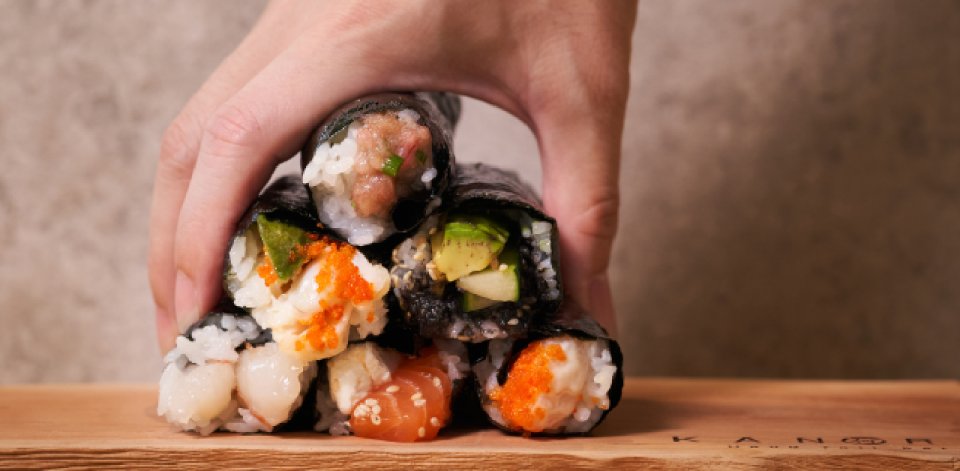 Photo: Hand rolls / Kanori