BK's annual B.A.D. Awards celebrate all that's good in Bangkok nightlife. And there's no party like a Thonglor or Ekkamai party. Here's where to drink and be merry in this nightlife hub.

You can't walk half a block in Thonglor without finding some highfalutin cocktail bar, but 008 transcends its pretentious neighbors with discreet service and high-quality drinks. Order bar manager Milk's pick if she had one last drink on Earth: an Old Fashioned.
11/F, Akyra Hotel, Sukhumvit Soi 55, 02-392-8959. Open daily 6pm-1am

Thonglor's hidden hipster haunt sees an unassuming backstreet townhouse turned into a cozy hangout, where musicians and DJs oversee esoteric sounds spanning everything from reggae and Afro trap to funky disco and world music. Despite the sometimes cliquey crowd, the unique lineup of music keeps drawing us back in.
810/22 Thonglor Soi Thararom 2, 094-260-4713. Open Tue-Sat 6pm-2am

This rooftop bar feels just like going to a friend's house from low-key industrial look mixed with some unusual touches like big teddy bears and a bunk bed. What makes it stand out? A nice rotation of live bands every night and a solid menu of creative Thai food.
3/F, Ekamai Mall, Ekkamai Soi 10, 061-824-1747, Open daily 6pm-1am.

One of Bangkok's cocktail pioneers still remains an industry favorite. Here, you will find bartenders from around town coming to wind down with after-shift drinks—if it's good enough for those guys, it's good enough for you.
L/F, Playhaus Thonglor, 205/22-23 Sukhumvit Soi 55 (Thonglor), 061-519-5891. Open daily 7pm-2am.
This might be the most elegant punch bar ever, thanks to the old black marble and flock wallpaper. The whole thing feels like a glamorous living room, but one with a DJ booth in the middle. Once drunk enough, stumble downstairs to the karaoke rooms, where you'll find a knowingly kitsch, slightly sleazy blend of Persian rugs and stuffy pink sofas. Punch is the drink of choice: Art Nouveau silver punch bowls look like they might have been stolen from the real Savoy in London, and hold giant portions of sweet, grown-up tonics flecked with fruit and herbs.
1-2/F, 72 Courtyard, 72 Sukhumvit Soi 55 (Thonglor), 02-392-7636. Open daily 6pm-2am.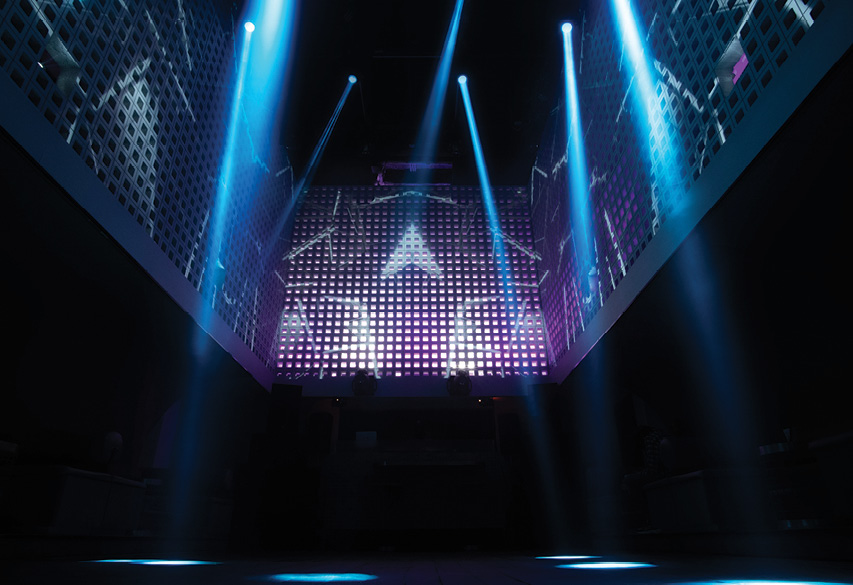 The winner of BK's Best Nightclub Award in 2018 is still no. 1 thanks to its heady mix of laser beams and house, techno and electronic music played on a heavy sound system. From Digitalism to Hermitude, not a month has gone by in 2019 without Beam hosting a worthwhile event.
1/F, 72 Courtyard, Sukhumvit Soi 55, 02-392-7750. Open Wed-Sat 9pm-2am

Probably 72 Courtyard's most easygoing opening boasts of a hefty 20 beers on tap, from Leo and Asahi to quality imported craft brews. These are served alongside East-meets-West drinking snacks like pork wontons and barbecue ribs .There's bar seating and tables outside for when the weather's fine, while inside has larger spaces suitable for playing games like jenga, chess and even beer pong—all available on the house.
G/F, 72 Courtyard, 72 Sukhumvit Soi 55 (Thonglor), 02-392-7770, Open daily 5pm-2am.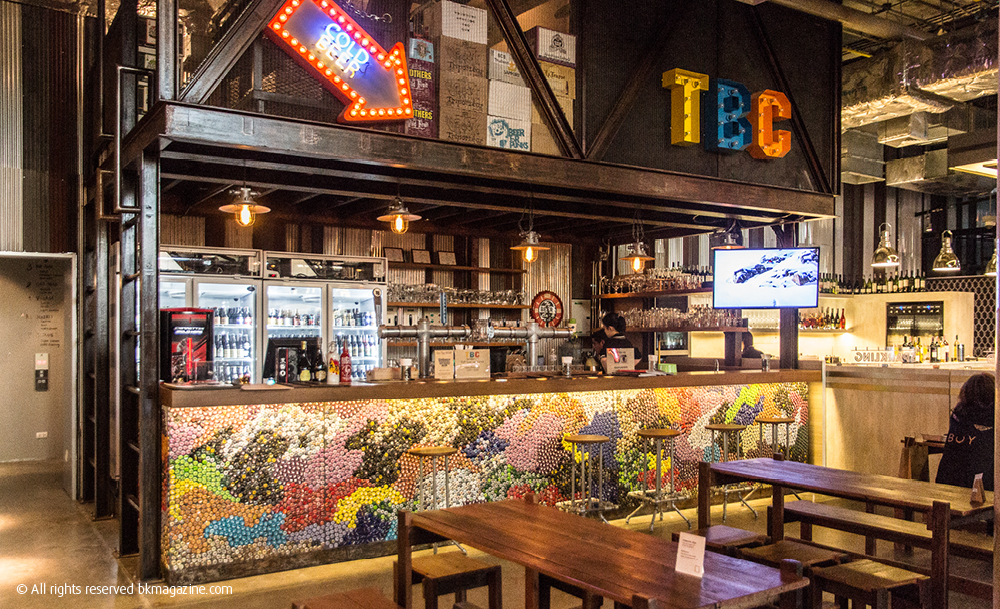 The Commons now counts not one, but two counters devoted to niche craft beers, both on tap and by the bottle. The ground-floor original offers the biggest selection—expect the likes of BrewDog Punk IPA and Limburgse Witte—or you can also head upstairs where The Beer Cap mk. 2 serves nine rotating taps, highlighted by American brews like Deschutes.
355 Thonglor Soi 17, 02-185-2517, Open daily 11-1am.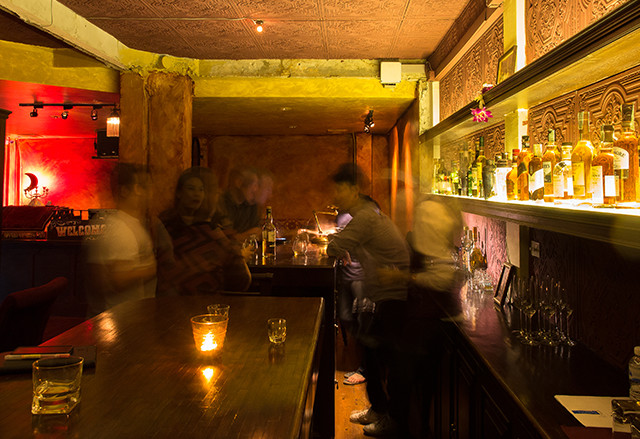 Starting out as a super-stylish gentleman's barbershop and tattoo business before introducing a gentlemen's whiskey bar, this spot's Victorian curiosity cabinet-inspired decor features the owner's private collection of Gothic trinkets, from an alligator skull to an ostrich skeleton. The atmosphere isn't nearly as moody as it looks, making it a great spot to kick back whiskey or cigar in hand.
Thonglor Soi 6, 092-276-2772. Open Tue-Sat 6:30pm-2am, Sun 6:30pm-midnight.
This wine bar serves up carb-loaded dishes, amid rustic-industrial wood, concrete, neon signage and hanging bulbs. To go with that pizza, enjoy a long list of wine or cocktails like the smoothie-like Strawberry Frose.
72 Courtyard, 72 Sukhumvit Soi 55, 02-392-6922. Open daily 6pm-2am.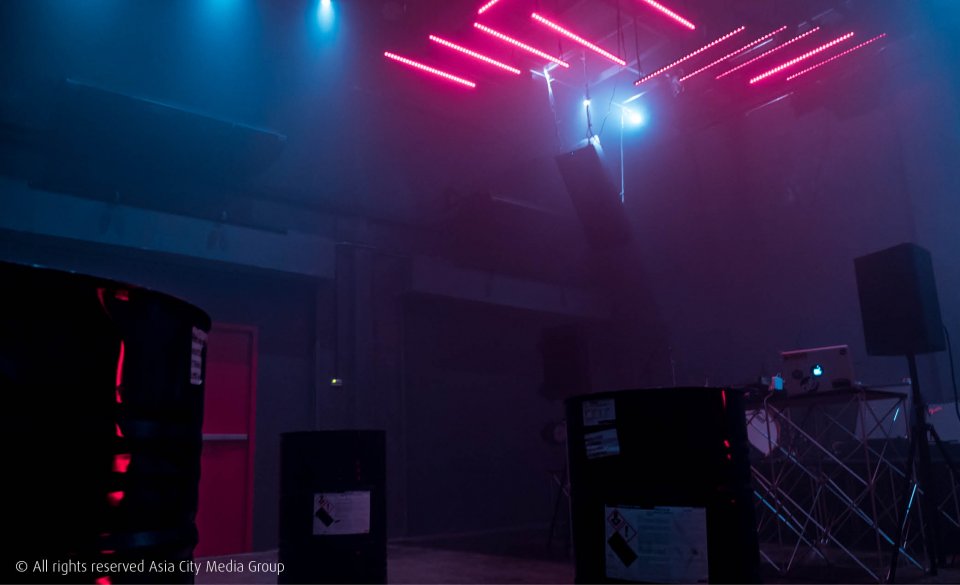 Located in an abandoned mall with raw industrial design to boot, this hidden venue screams underground. The crowd is one of the friendliest in the city. Nights here can be hit-or-miss, but when they're good, they're really good. De Commune continues to boast one of Bangkok's most eclectic lineups— think psytrance, metal, rock, experimental pop, d 'n' b, reggae and more.
1/F, Liberty Plaza, Sukhumvit Soi 55 (Thonglor), 088-419-7380. Open Wed-Sat 5pm-2am; Sun 5pm-midnight.

Located behind the long-standing Nunglen Bar, Do Not Disturb is a club specializing in EDM from local DJs as well as live bands. It is decorated under a motel concept, with ten fake hotel doors to keep visitors guessing as to the real entrance and an interior divided into the different zones of a hotel.
Behind Nunglen and Escobar, Ekkamai Soi 5/1, 094-414-9266, Tue-Sun 8pm-2am.

Full-flavored Laotian recipes and an old-school funk soundtrack combine at the noir-industrial dining room of nightlife baron Sanya Souvanna Phouma (Maggie Choo's, Sing Sing, Cactus). Hand-painted rattan blinds, dashes of neon and flickering film projections lend a vibe that's sultry and clandestine, while the crisp, dried chilies might be the best free bar snack in town.
The Taste Thonglor, 235 Thong Lor Soi 11, 02-050-0469. Open Sun-Mon, Wed-Thu 6-11pm; Fri-Sat, 6pm-midnight
Exclusively for Citi credit card members:
Get 15% discount (excluding wine) 01 Jun '19 - 31 Dec '19

Bartenders labor over serious, booze-heavy cocktails amid a photogenic mix of wood, marble, brass and neon at this sexy little cocktail lounge. Funk, old-school hip-hop and r'n'b provide the soundtrack as you knock back glass after glass of potent stuff like the Jet Lagged, which sees bourbon, coffee liqueur, sweet vermouth, black walnut bitters and Grand Marnier poured into one very powerful wake-me-up.
G/F, 72 Courtyard, 72 Sukhumvit Soi 55 (Thonglor), 02-392-7740, Open daily 6pm-2am.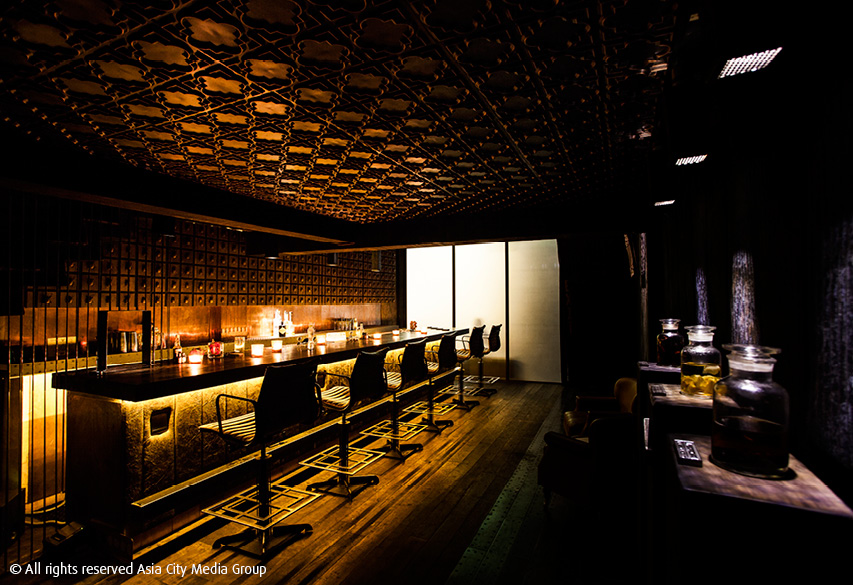 Run by Joseph Boroski, creator of cocktail lists for sophisticated bars and many five-star hotels, this is a hidden gem among Bangkok's countless bars—and by hidden, we really mean it. Turn left down a dark, damp alley near the start of Soi Thonglor. Once inside, you'll be served cocktails tailored to your requirements (there's no menu) using ingredients you can't find anywhere else in town.
Sukhumvit Soi 55 (Thonglor), 02-712-6025. Open Sun-Thu 7pm-2am, Fri-Sat 7pm-3am.

This sleek newcomer to Bangkok's thriving cocktail scene manages to stand out thanks to ultra-creative concoctions by some of the city's finest mixologists. Where else can you get a water bug-infused drink? If bugs aren't your thing, pick from the WWII-inspired creations or their zero waste counterparts.
Piman 49, Sukhumvit Soi 49, 093-654-2500. Open daily 7pm- 1:30am

This not-so-secret speakeasy combines the cocktail prowess of some of Asia's best bartenders, who revamped their past-present-future menu in September 2019. The result? Some of the best cocktails you'll try this year. Order the Happy Endings—a future take on the El Presidente, featuring clever touches like pomegranate and blueberry wine jam, creme brulee syrup and Greek yogurt.
406 Sukhumvit Soi 55, 061-524-2689. Open daily 7pm-2am

Take one of Thonglor's better coffee joints, Blue Dye, transform its upper floor with some old-time USA bric-a-brac, stock up an impressive back bar and you have the neighborhood's coolest speakeasy. Apart from all the classic cocktails, the bar also offers 10 signatures. Start with No.1, a triple-strength negroni topped with a bitter Angostura-flavor candy.
2/F, Blue Dye Cafe, Sukhumvit Soi 36, 080-616-4676. Open Tue-Sun 7pm-2am.

It's hard to top 30 rotating taps and hundreds of hard-to-find cans and bottles that you can drink on a huge, secluded lawn. In 2019 alone, they hosted tap takeovers featuring Grimm Artisanal Ales, Otherside and Cloudwater, but even if you miss those events, you're just as well off ordering whatever sour beer from a world-class brewery is on tap, like Garage Project's Wabi Sabi Sour.
26 Ekamai Soi 10, Yaek 2, 02-381-9891. Open daily 5pm-midnight
This Ekkamai rooftop restaurant might only be six floors up, but there's nothing obstructing its cool, 180-degree views of the neighborhood. Once up there, you'll be greeted by bare concrete steps in the center of a minimal glass cube. And thanks to its floor-to-ceiling windows, you can enjoy sunset from either in- or outdoor tables. Regularly hosts DJ nights and even mini markets.
6/F, Tha City Loft hotel, Ekkamai Soi 6, 094-516-6663. Open Tue-Sun 5pm-midnight.

A rooftop bar with the added bonus of being right by Thonglor, this place is our favorite diversion tactic to use on out-of-town friends when they start mumbling "skybar." Cocktails don't come quite at street-level prices, but you do get a stunning view of downtown Sukhumvit, coupled with an upbeat crowd of tourists.
45/F, Marriott Sukhumvit, Sukhumvit Soi 57, 02-797-0000. Open daily 6pm-1am.

Stopping short of a flight to Tokyo, this sleek sake bar's your surest bet for making like a Japanese salaryman. Untuck your shirt, loosen your tie and let the passionate staff guide you into the wonderful world of rice wine—more than 90 bottles of the good stuff.
Park Lane, Sukhumvit Soi 63 (Ekkamai), 02-382-0131. Open Tue-Thu, Sun 5pm-midnight; Fri-Sat 5pm-2am.

Step inside this three-story shop-house and you'll find a charming, dimly-lit, narrow bar with a huge rose gold booze rack behind a marble bar. The classic drinks with technical twists and infusions attract Thonglor's pretty faces, as well as a lot of bar owners and veteran mixologists.
125 Sukhumvit Soi 55 (Thonglor), 081-822-3392, 098-969-1335, Open daily 7pm-2am.

Adventurous live sounds—Thai funk, Ethio-jazz, modern boogie—fill DJ Maft Sai's compact enclave off Sukhumvit. Retro furnishings and record-lined walls complete the look. Despite being discovered by the elephant-panted masses, nights spanning from upbeat molam and hip-hop to visiting artists like reggae legend Tippa Irie see us returning to this little gem time and again.
Sukhumvit Soi 51, 02-261-6661. Open Tue-Sun 6pm-2am

Fried chicken wings meets hip-hop soundtrack meets potent drinks at this relentlessly busy Thonglor nightspot.
Arena 10, Thonglor Soi 10, 02-711-6052, Open daily 5:30pm-1am.

This stylish yet low-key bar's minimalist interior is cushioned by a jungle of potted plants and warm lighting. Thai-influenced creations play with ingredients that, at first glance, seem to have no place in a cocktail—turmeric vodka; black sesame whiskey; even reduced cow fat. You'll leave wondering why they don't feature on more drink menus.
Salil Hotel, 44/7 Thonglor Soi 1, 087-713-6943. Open daily 7pm-2am.
Credit: www.facebook.com/trexthonglo
What's empty before midnight, packs out around 1am, and ends with smoky hair and a daylight walk of shame? This place. A small neon sign that reads "T-Rex" lures you off Thonglor's main drag and into this bar that looks like a funky vintage Chinese teashop decked out with framed movie posters. Downstairs is as no-frills as they come, all couches and high tables with just enough room for a live band. In comparison, upstairs carries more of a sleek gentlemen's club vibe thanks to leather sofa sets, though the terrace keeps things cool and vintage.
416/2 Thonglor Soi 14, 095-773-5445. Open Mon-Sat 6pm-2am. BTS Thong Lo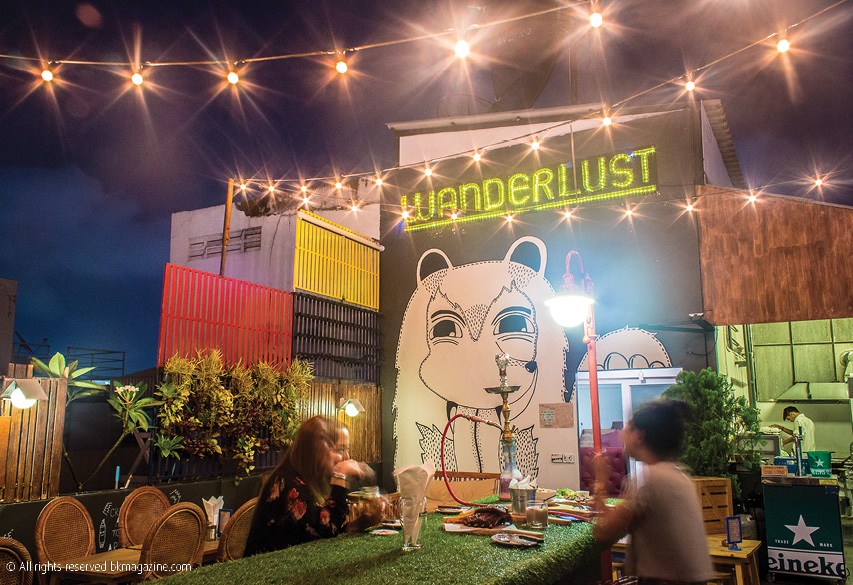 Yes, this rooftop joint does use fake grass (and even grass-covered tables), but we like the laidback atmosphere and good tunes. The mismatched wooden sofas and rattan chairs make it feel a little like a traditional riverside restaurant, but the clientele is way less tourist-y. Most of the cocktails are girl-friendly—sweet and sour, pretty and not too strong. Try the strawberry mojito (classic mojito with strawberry juice) or Ocean 10 (a Long Island ice tea with blue caracao).
5/F, Nakiya Restaurant Building, Thonglor Soi 13, 088-696-9445. Open daily 6pm-2am. BTS Thong Lo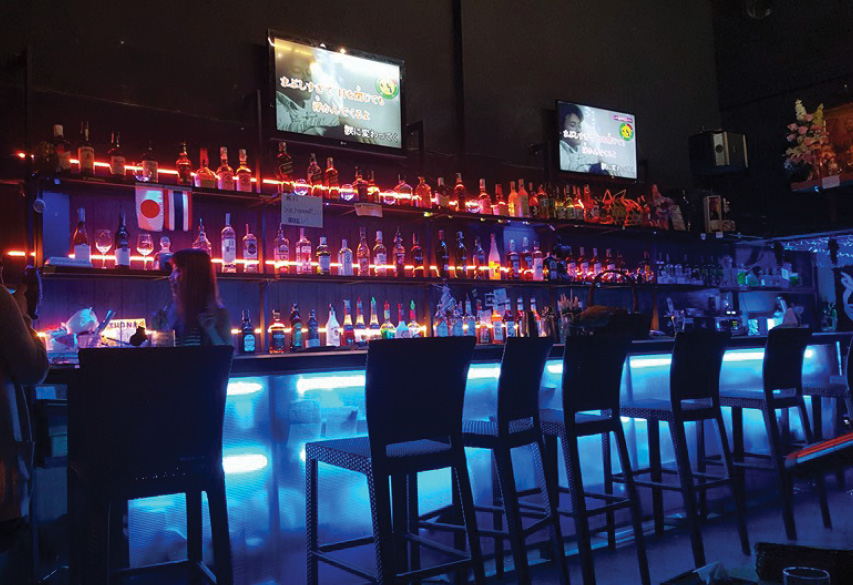 The karaoke dive bar to end all karaoke dive bars is mushrooming all around town. The setup is basic: raucous bar downstairs, karaoke rooms upstairs—where you can snare a pretty affordable, three-hour all-you-can-drink and all-you-can-sing deal. We'll plump for the original venue, on the corner of Sukhumvit Soi 53, where in our experience they're most accommodating of non-Japanese.
2 Sukhumvit Soi 53, 02-662-4549. Open daily 11am-2am. BTS Thong Lo.

Years after Somrak Sila and Christopher Wise kickstarted the bar-meets-gallery shop-house thing, WTF remains the go-to place around Thonglor for a cultured but hard-drinking crowd. Low-level indie tunes hum amid Portuguese-inspired decor, though most of the patrons tend to smoke, chat and drink out on the street.
7 Sukhumvit Soi 51, 02-662-6246, Open Tue-Sun 6pm-1am.
---
BK B.A.D. Awards 2019 is available as a free booklet inserted in BK Magazine issue number 751 (Nov 23) and as a downloadable PDF version here.