BK's annual B.A.D. Awards is all about toasting the best in Bangkok nightlife. Here, we've rounded up some of our favorite places that put as much emphasis on the food as on the cocktails. You're guaranteed the complete package at these Bangkok restaurant-bars.
Defying convenient culinary categorization, this stylish eatery hidden behind a Brutalist concrete facade produces season-driven dishes that play with both Western and Southeast Asian flavors. Arnie Marcella, a native New Yorker, drives a kitchen that excels in foodie-wowing ingredients such as spicy wagyu tartare or the squid fusilli while the inventive drinks are yet more reason why the city's fashionable still pack the stone-and-copper-touched dining room.
118/2 Sathorn Soi 12, 092-563-9991, 02-234-7749, Open daily 5:30pm-midnight.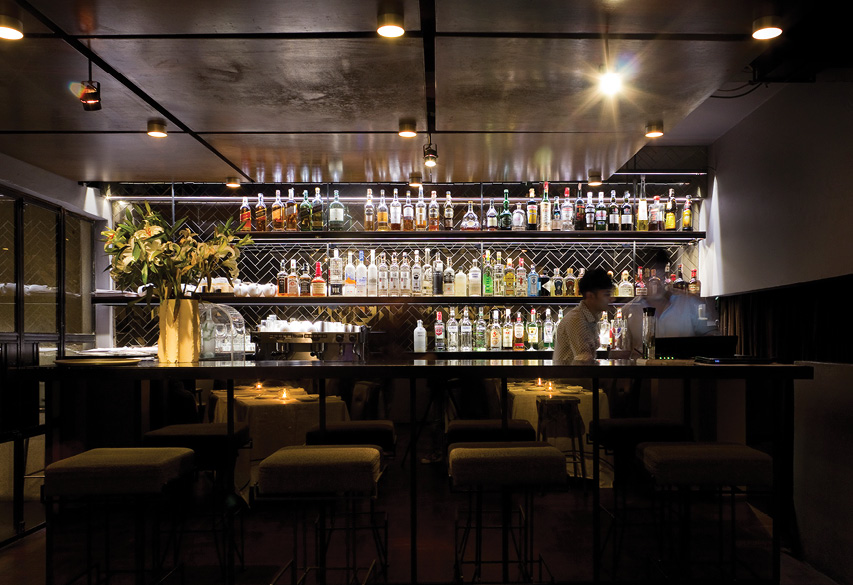 Tim Butler's ever-evolving, transcontinental cuisine has made Eat Me a fixture on regional restaurant lists, and in mixologist Buntanes "Pop" Direkrittikul he has a worthy ally. Pop's gastronomy-inspired creations don't shy away from bold Thai flavors (khao mun kai in cocktail form, anyone?), ensuring this is far more than a run-of-the-mill watering hole.
1/6 Soi Phiphat 2, Convent Rd., 02-238-0931. Open daily 3pm-1am.
Step inside this old shop-house and you're transported to a retro Hong Kong diner like something out of In the Mood for Love—think warm lighting, carefully positioned mirrors, vintage mosaic tiles. Downstairs you'll find a hip bistro serving cold cuts and crepes alongside wine. A prohibition era-themed cocktail bar sits upstairs, where French spirits are spotlighted in classic cocktails based on The Savoy Cocktail Book (first published back in 1930).
831 Charoenkrung Soi 31, 085-527-3511, Open Wed-Sat 7pm-midnight.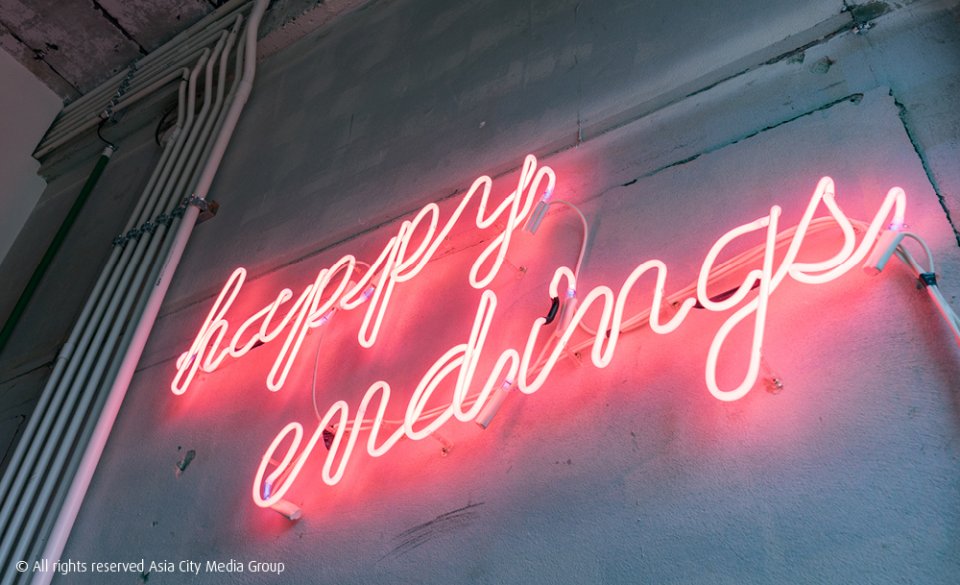 This funky neon-drenched Vietnamese-themed restaurant-bar serves into straightup takes on banh mi, banh cuon and pho to go with herb-laden, Asian-inspired drinks. Add in a slick '70s disco soundtrack and you're in business.
1/5 Sala Daeng Soi 1, 080- 961-4524. Open Mon-Sat 11am-3pm, 5-11pm; Sun 12-3pm, 5-11pm.
While you'll still find some of Europe's most-prized beef cuts dry-aing in the showpiece chiller, Il Fumo has moved from upmarket steak-house to purveyor of fine-dining tasting menus. Head chef Nelson Amorim brings the food culture of his native Portugal into dishes like kokotxa (the fatty underpart of a cod's jaw) in a carbonara sauce, while all the grilling takes place on open flames using house-made charcoal. Being from the Vesper team, the cocktails are exceptional.
1098/2 Rama 4 Rd., 02-286-8833, 097-170-6260, Open daily 5:30pm-midnight.

Full-flavored Lao recipes, punchy cocktails and an old-school funk soundtrack combine at this noir-industrial bar. Fans of Isaan food will find plenty of familiarity in dishes like the herbal larb ped, to wash down with the refreshing Queen of The South (plum-infused Iron Balls gin, fresh lime, bitters, dried mint and salty plum).
The Taste Thonglor, 235 Thonglor Soi 11, 02-050- 0469. Open Wed-Sun 6-11:30pm; Mon 6-11:30pm.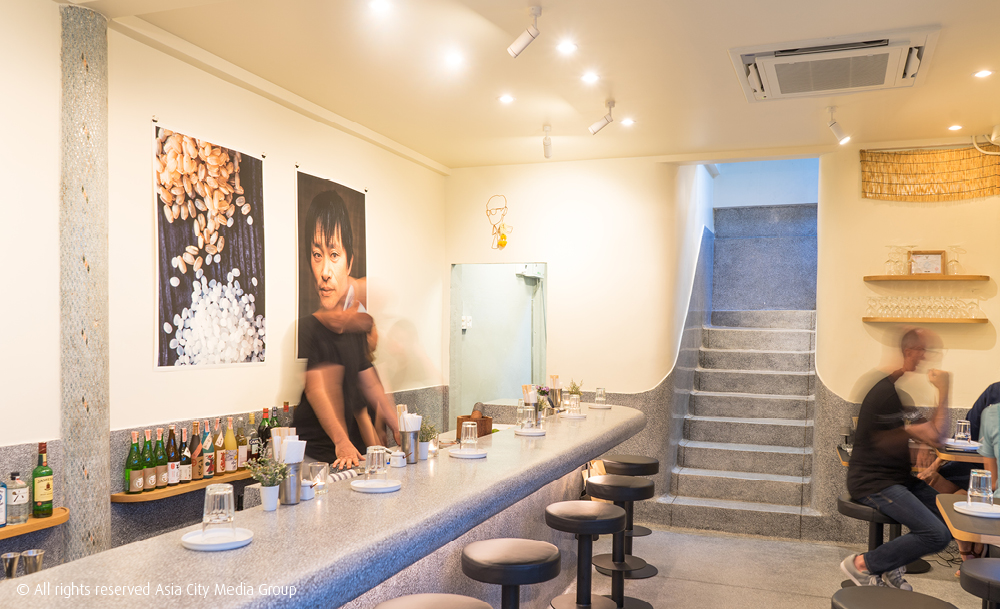 Charoenkrung's sleek modern izakaya is upmarket but wallet-friendly; concise but creative; artsy and effortlessly cool. In other words, it hits a sweet spot that most bar-restaurants miss. The Japanese-style bar grub proves simplicity is king with flawlessly juicy and tender grilled skewers, while the concise, quality list of sake, shochu and umeshu is ample fuel for a night out in this buzzing neighborhood.
672/49 Charoenkrung Soi 28, 02-103-6598. Open Mon-Sat 6pm-midnight; Sun 5-10pm.

This swanky Japanese party lounge combines restaurant and club. The long, narrow space boasts a sultry ambience with leather upholstered seats and a polished bar. Stop here for a Lychee Rose Martini and fusion-y, Japanese comfort food.
39/F, Sathorn Square, Narathiwas Rd., 02-036- 8899. Open Tue-Sat 6pm1am; Fri-Sat 6pm-2am.

Chic and cheerful in eye-popping aquamarine, this Thonglor pasta house's uncompromising dedication to authenticity is writ large in dishes like the tagliatelle Bolognese. This high-end take on a classic pairs juicy 24-hour-cooked wagyu beef shoulder with ribbons of daily-made pasta that are silky and smooth but firm to the bite. It's not all for carb-lovers—cocktails like the Riviera Gin Fizz (an all-too-easy mix of Fords gin, cucumber, pineapple and soda, B340) are made for daytime drinking when the sun is out and the birds are chirping. On top of that there's a page of mostly organic, biodynamic and sustainable wines.
161/6 Thonglor Soi 9, 02-392-8688. Open daily 11am-2:30pm, 5:30-11pm.

The group behind the much-loved Roast and Roots, have expanded to Sathorn with a cozy yet altogether more-refined restaurant. Set within the hip Bhiraj Tower revamp, Ocken (a portmanteau of octopus and chicken) heads in an international, fine-dining tapas direction. Cocktail classics like the negroni and old fashioned sit alongside more adventurous creations like the Salty Pineapple, which tastes more delicate than expected with its Campari, dark rum, pineapple and a hint of sea salt.
1/F, Bhiraj Tower, 31 South Sathorn Rd., 082-091-6174. Open Tue-Sun 6pm-midnight.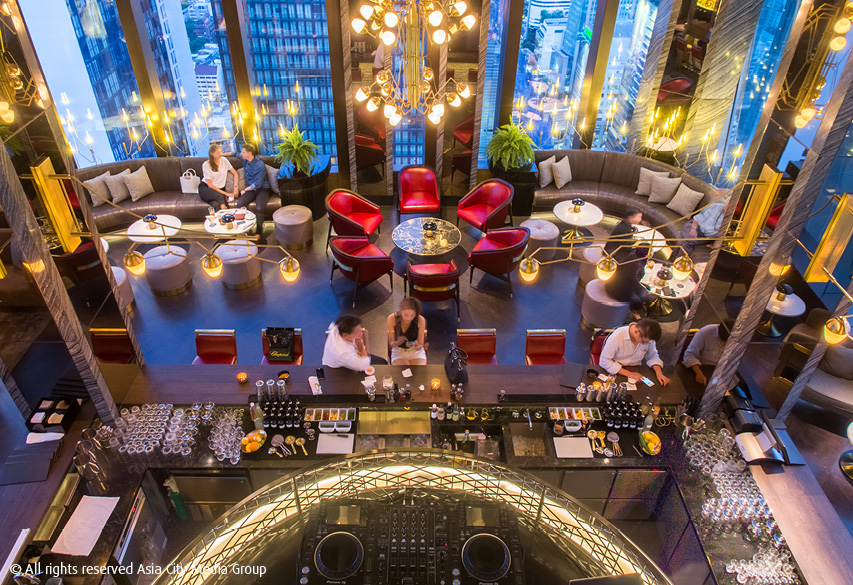 Sunday brunch at Park Hyatt's Penthouse has to be Bangkok's booziest and most-fun, mixing free-flow G&Ts with video games including VR gaming machine to make you feel truly out of it. Other days, the lavish setting—steakhouse downstairs, expertly stocked back bar upstairs, whiskey antechamber hidden round the back—makes this one exceptional eating-and-drinking package.
34-36/F, Park Hyatt, 88 Wireless Rd., 02-011-7480. Open daily noon-2pm, 6-10:30pm.
Dating back to the '80s, Sorrento is one of the city's oldest names for Italian food long before everyone became an expert on authenticity. Saving it from closure, Diageo World Class 2015 winner Pongpak "Ton" Sudthipongse and his partners decided to take over the restaurant earlier this year, and their efforts don't fall short. On top of the Italian staples (from burrata salad to osso bucco), the reinvented classics of the cocktail list are also well worth your while.
73 Sathorn Soi 10, 02-234-9933. Open Sun-Thu 11am-11pm; Fri-Sat 11am-midnight.
---
---
B.A.D. Awards is BK Magazine's annual guide to all that's good in Bangkok nightlife. Read the full list here or download the PDF version here.