BANGKOK RESTAURANT
Meat & Bones
Thonglor's pitmaster prodigy raises his BBQ game another level.
The Commons' low 'n' slow barbecue offering is all about ribs—and pretty much only ribs—served up in a communal setting. There are two options: the standout eight-hour-roasted beef ribs and the six-hour-roasted pork ribs, both of which are cooked in a smokehouse with their own recipe of rubs and barbecue sauce. If you know what's good for you, you'll order the classic southern side of cornbread—crumbly goodness.
The buzz: Since graduating from an event-touring food truck to a brick-and-mortar home at The Commons four years ago, barbecue specialist Meat & Bones has gained cult status for pitmaster Peerawat "Por" Ruangreungkulrit's slow-smoked ribs and homemade rubs, sauces, sides and more.
The vibe: This Commons institution draws the kind of crowd you might expect considering its location—largely foreign with a smattering of the city's hi-so circle, all seated round the community mall's shared tables, where they rip into fall-off-the-bone ribs and tender cuts of pork neck. While Por's 15 smokers are located out on Rama IX Road, you can still get in on the action if you grab a grillside seat at the counter.
The food: All the classics are still here—six-hour smoked pork ribs (B320) and eight-hour smoked beef ribs (B530) featuring produce from Suphanburi, plus smaller cuts like smoked chicken wings (B180)—but it's not all about the basics anymore. Por has developed a new menu that features smoked seafood and vegetables, as well as fusion dishes and combos incorporating brisket and ribs. You'll be hard-pressed to find dishes like the smoked octopus (B460), served with smoky baba ganoush, anywhere else in Bangkok. Same with in-the-bone beef marrow, a French dish smoked with American dry rub (available in the beef combo; B1,000). The beef stew, meanwhile, is a 14-hour masterpiece of timing and patience. It's simmered for six hours with ribs that were already smoked eight hours, and the whole package is served with garlic bread, mashed potatoes or waffle fries (B250). There are the subtle touches as well—pork- and beef-specific sauces, romesco blended with almonds and smoke wood imported from Chiang Mai lychee groves—and all the cornbread is still made fresh every day.
The drinks: If you're looking for booze, you can grab a pint from the Beer Cap. Otherwise turn your attention to Meat & Bones' selection of craft sodas from Chiang Mai's Castown, available in flavors like original (B160), no sugar (B160), pina colada (B130), root beer (B130) and black tea honey lemon (B130).
Why we'd come back: Meat & Bones is barbecue artistry. Por is constantly looking to the likes of New Orleans and Memphis for inspiration, and he's the type of guy who will smoke phla lai (freshwater eel) for the fun of it. He even knows how to properly smoke garlic cloves. Willy Thorn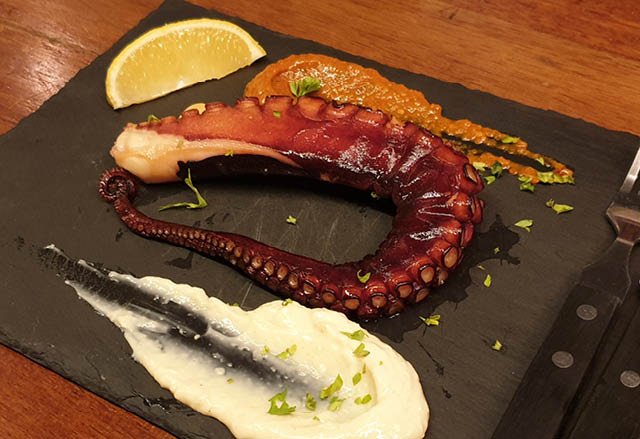 Photo credit: narissara somboon
Venue Details
Address:
Meat & Bones, M/F, The Commons, Thonglor Soi 17, Bangkok, Thailand
Phone:
081-933-7143
Website:
www.facebook.com/meatandbonesbangkok
Area:
Thonglor
Cuisine:
American
Open since:
January, 2016
Opening hours:

Mon-Thu

10:30am-1:30pm, 4:30-9pm

;

Fri-Sun

10:30am-9:30pm

Report a correction