"My mom, my sister, a lot of people are hiding in basements and bunkers. They have no work. Some can leave. Some can not. Men can't leave. If you go back, you need to fight and you could die," a comedian from Mykolaiv in Bangkok tells BK Magazine, unnamed here due to worries about being conscripted. "They are bombing everyday."
This weekend at P.J. O'Brien's in Phra Khanong, comedians will be taking the stage to support the town of Mykolaiv, complete with a Ukrainian comedian, booze, and finger food.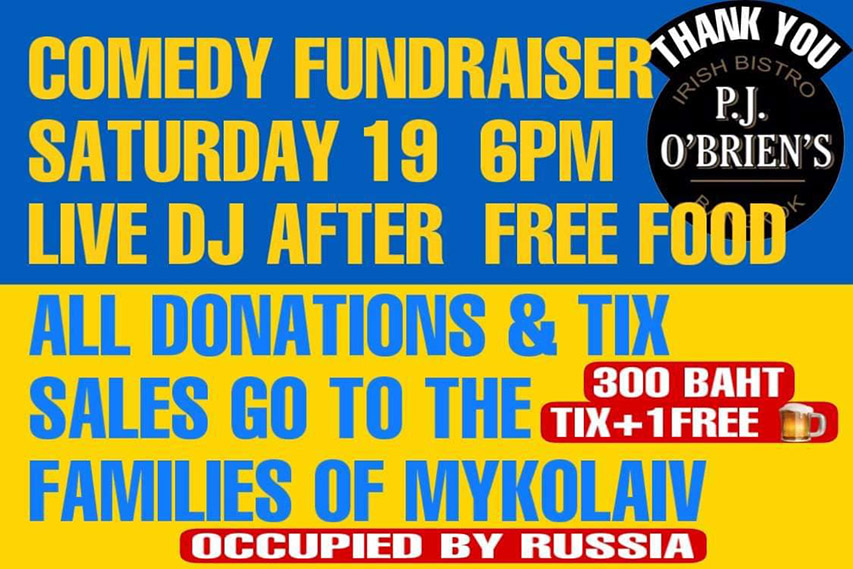 Promotional poster for the event.
The town near the Black Sea is bereft of food, surrounded, and taking indiscriminate fire from the invading Russians, recently resulting in the shelling of a cancer hospital and many residential buildings. More than half the city has fled, and those remaining in the winter face empty shelves and destroyed homes as Russia marches toward Odessa.
"Millions of dollars have been raised to go to the capital, but none of the money goes to my hometown—ammunition, ammunition, no food. I can show you pictures my mom sent me," the comedian says. Those who buy a ticket to the event will get a free drink and finger food. Additional donations can be accepted. "A couple of Ukrainian people will be there to speak to."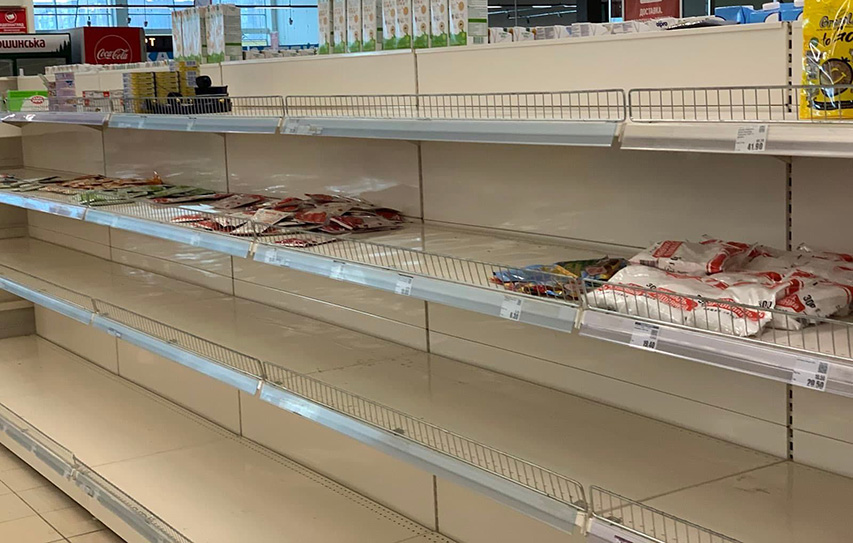 Empty shelves in Mykolaiv, photo provided by the mother of one of the event's organizers.
Funds raised will be going to the governor of Mykolaiv, who says the funds will not be used to buy arms, an organizer of the event tells BK Magazine.
"They have a humanitarian catastrophe there and people are not getting anything from those donations from the great powers," says Aleksey Gordienko, a Russian of Ukrainian descent in Bangkok connected to the organizers and performers of the event. "[Mykolaiv] is a pathway to Kyiv and Odessa, a port city on the Black Sea crucial for the Russian forces...This event is just for humanitarian aid purposes only. There are enough weapons already. We're not supporting the war. We're not supporting the weapons."
Co-organized by Lex Morales, founder of Bangkok Comedy, and the Beyond Binary Thinking Podcast, tickets go for B300 and the event will begin around 6pm. Afterward, there will be a DJ and time for people to discuss and learn more with attendants and performers. Patrons are encouaged to donate more at the event should they wish to do so.