Vibrant, nutrient-packed smoothies served in a bowl are the new healthy (and IG-friendly) star of Bangkok's breakfast world. These cafes listed below are guaranteed to brighten your morning.

This superfood cafe launched by the owner of Bangkok's most trusted health and wellness guides, Ms. Happy Diet, serves smoothie bowls made from frozen acai pulp instead of powdered acai. Their signature is the colorful Unicorn Bowl (B235, standard size) made with mango, goji berry, kiwi, strawberry, dragon fruit, and nuts. For chocoholics, the Oh! Fudge (B235, standard size) endows you with homemade chocolate fudge, cacao nibs, goji berries, pumpkin seeds and granola.
Order via: Grab, Foodpanda, Lineman and Get

Five branches:
B/F, EmQuartier, Sukhumvit Rd., 092-987-4905
7/F, Central World, 999 Rama I Rd., 098-882-8164
2/F, CRC Tower, All Seasons Place, 87 Wireless Rd., 062-229-5862
G/F, The Trendy Building, Sukhumvit Soi 13, 062-229-6582
B1/F, Empire Tower, 1 South Sathorn Rd., 092-479-7444

Despite the name, Brekkie goes well beyond breakfast to serve healthier options of hearty dishes all day long. Ingredients like quinoa, avocado, spirulina, flaxseed, acai berry and chia seed dominate the menu in dishes like fried quinoa tom yum with diced salmon (B326), avocado toast (B278) and homemade cold pressed juices (B85). However, you'll want to save room for smoothie bowls like the acai bowl (B305), mixed with blueberry, blackberry, strawberry and banana, or the Cacaonana Bowl (B278) made from cacao and banana with a cold-pressed almond milk base.
Order via: 083-656-6141, Grab, Foodpanda, Lineman and Get
6/9 Sukhumvit Soi 39, 083-656-6141

With its wide range of cold-pressed juices and smoothies, this vegan restaurant is nothing short of a go-to for healthy dishes. Their smoothies come in glasses (B150) or in bowls (B220) piled with a variety of superfoods and fresh fruits. Choose from smoothie base options like Acai, Green, Mango Mania, Choco Banana or the recommended Pitaya. Drop by the Sukhumvit Soi 49 original or their newer branches at Open House in Central Embassy and on Charoenkrung.
Order via: ‭095-251-9799‬ and Line @broccolirevolution (only Sukhumvit 49 branch)
Three branches:
899 Sukhumvit Soi 49, 02-662-5001, 095-251-9799
6/F, Central Embassy, Phloen Chit Rd.
55/6 Charoenkrung Soi 42/1, 097-201-2492

Branching beyond its namesake specialty (poke), this Hawaiian restaurant also serves acai bowls (B250), as well as avocado bowls (B250), which come with a blend of Asian pear, banana and mango. Their Pitaya Bowl (B250) comes pretty in pink with its mix of strawberry, raspberry, dragon fruit, banana and pineapple.
Order Via: Grab, Foodpanda (Thonglor and Saladaeng branches)
Four branches:
B1/F, Interchange, Sukhumvit Rd., 092-691-3901
G/F, The Commons, Thonglor Soi 17
The Commons Saladaeng, 126 Saladaeng Soi 1
B/F, EmQuartier, Sukhumvit Rd.


Acai puree distributor Vitatrade is behind this superfood-laden cafe that specializes in, you guessed it, healthy, acai-based smoothies (B160) and acai bowls. Build-your-own (from B90) or opt for recommendations like Tickle My Berries (blended acai guarana topped with granola, assorted berries and chia, from B160-B360) or Butter My Coconuts (blended acai topped with fruit combination, crispy cacao nibs and peanut butter, from B160-B360).
Order via: Grab, Foodpanda and Get (except Siam Paragon branch)
Seven branches:
64 Sukhumvit Soi 23, 098-956-8461
Ari Soi 4, 092-278-7579
G/F, Siam Paragon, 092-618-9549
Panjit Tower 117, Sukhumvit Soi 55 (Thonglor), 065-935-2232
4/F, Samyan Mitrtown, 944/1 Rama IV Rd., 065-929-9778
Central Plaza Ladprao, 1693 Phahonyothin Rd., 065-639-9869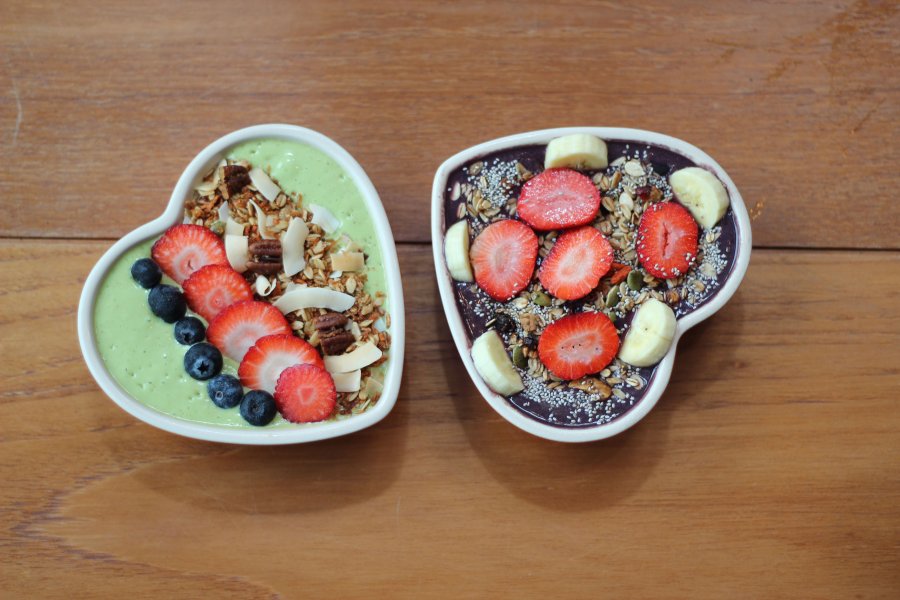 This airy, two-story restaurant deals in a familiar combination of egg-focused dishes, beautifully poured coffee and cold-pressed juices served in a daytime-friendly dining room. Order the acai bowl (B257) topped with original superfood granola or the avocado bowl (B268) with crunchy carrot and coconut toppings. Both are gluten-free.
Order via: 02-635-3464, Line @notjustanothercup, Grab, Foodpanda and Lineman
75/1 Sathorn Soi 10, 02-635-3464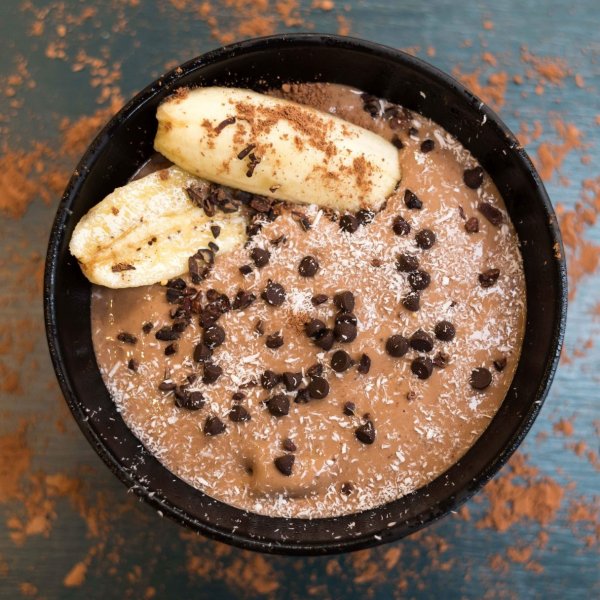 A place to stop by after heavy training at Bangkok Fight Lab, if you're eager for some convenient, healthy and high nutrition foods, the plant-based Nourish Cafe offers fresh, whole, unprocessed ingredient-based dishes. Their smoothie bowls are blended frozen banana and coconut water with various toppings and a side of granola. Try the Acai & Berries (B250) or the earthy, minty Spirulina Greens (B240).
Order via:
099-783-4530 (takeaway), Lineman, and
Wongnai
137 Sukhumvit Soi 50, 099-783-4530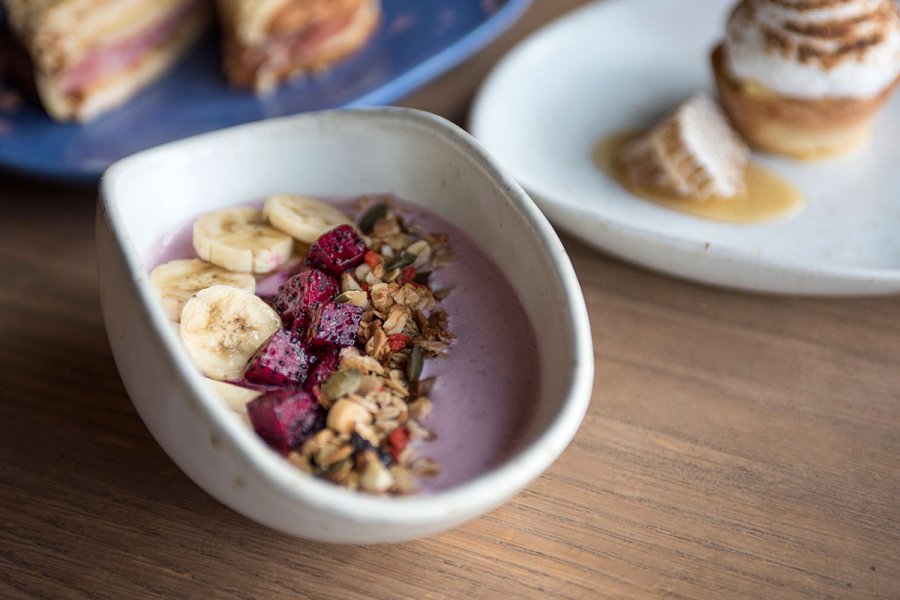 This cafe adjoining the hip multi-label fashion store of the same name offers a wide selection of breakfast dishes, including smoothie bowls, to go with some lovely views. Their Berry Power (B240) combines yogurt with dragon fruit, coconut, goji berry and pumpkin seeds or the Green Tea (B200), a combination of yoghurt and green tea. If you want to go back to basics then the simple Granola (B180) comes with seeds, nuts and fresh fruit.
Order via: 02-160-5836, Line @siwilaibkk and Lineman
5/F, Central Embassy, Phloen Chit Rd., 02-160-5836 (Temporarily closed)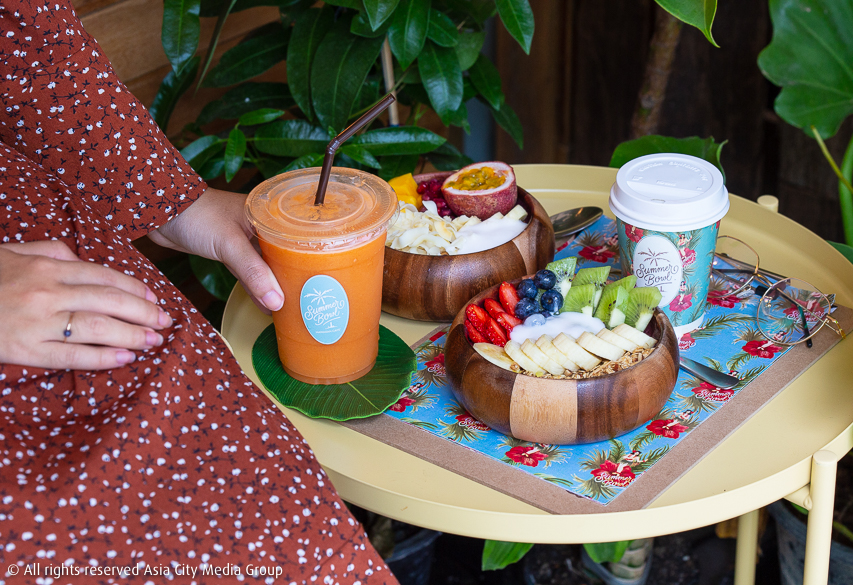 Acai and smoothie bowls are served with Hawaiian flair at this colorful Thonglor cafe. Decked out vibrantly with pink walls, a mural of a hula girl and palm trees, Summer Bowl offers a beachy escape from the hectic city. The owners use both imported and local organic, allowing diners to pick from a variety of fruits to top their smoothie. Among the favorites is the Waikiki Bowl (B260, regular size), a mix of acai, mango, passion fruit, banana, coconut chips and granola. Not too fancy? Try the simple Acai lover (B180, regular size).
Order via: Line @summerbowl.bkk (takeaway), Grab, Foodpanda, Lineman and Get
Two branches:
261 Thonglor Soi 13, 089-894-2646
2/F, Siam Square One, 388 Rama I Rd., 081-959-6498
Apart from its long list of savory plant-based dishes, Veganerie also offers vegan smoothie bowls. For the green fiends, the Green & Fresh Smoothie Bowl (B250) is made with nutritious kale. The classic Acai Berries (B250) and the soymilk-based Crunchy Monkey (B240) are other favorites with blended banana and cacao.
Order via: Grab, Foodpanda, Lineman, Get, IndyDish
Six branches:
4/F Mercury Ville, 540 Phloen Chit Rd., 02-252-2120
Silom Complex, 191 Silom Rd., 02-231-3929
Ambassador Hotel Bangkok, 02-123-8699
Veganerie Grab and Go, G/F, EmQuatier