It's that time of year again. Dressed to impress, breathing fresh, and looking for love. But where to take that special someone—or potential someone, wink, wink. We feel your pain. But before you give up and buy a bouquet of Ferrero Rocher, hear us out. Skip the Michelin and the hotel room and go for these decadent chocolate cafes. Who doesn't like chocolate?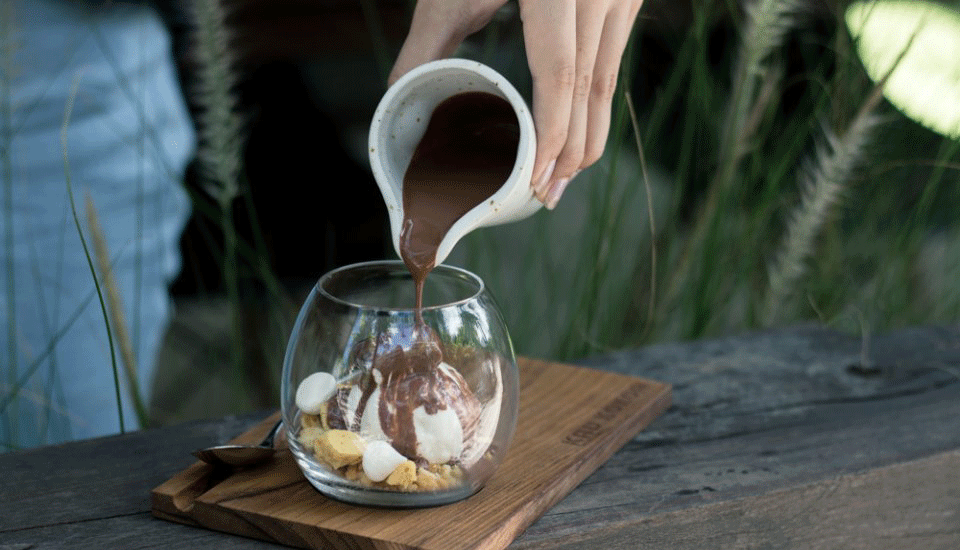 This leafy spot in Sathorn is the first bean-to-bar chocolate cafe in Thailand. Founders (and couple) that birthed this gem are Nuttaya and Paniti Junhasavasdikul, who studied the art of bean-grading from the US and opened their cafe in 2018. Kad Kokoa sources its organic cacao beans from farmers all over Thailand to make desserts and drinks in house. Inside, large windows let in plenty of light and customers can get a taste of the production process at their mini cocoa factory. Besides their own single-origin beans, the couple source from growers across the north, allowing them to explore the varying flavors of the region.
Kad Kokoa. Narathiwat Ratchanakarin Soi 17, 083-684-3921, Open daily 10:30am-7pm (Weekdays); 9am-7pm (Weekends).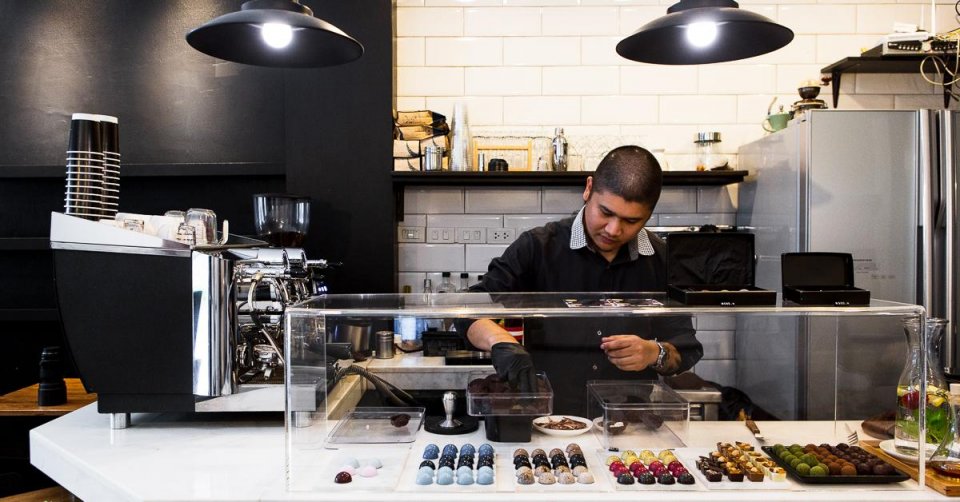 Master chocolatier and pastry chef Sarath Nimlamai has always been fascinated by Thai cacao beans. Before he opened his first shop in 2018, Saruth hosted several chocolate-related workshops for choco fans. At his Saphan Kwai shop, Saruth whips up creative yumyums, from truffles and pastries to gateaux and extravagant chocolate sculptures.
Sarath N. Chocolatier. 19 Soi Suthisan Winitchai, Sutthisarn Rd., 095-536-9248, Open daily 10am-7pm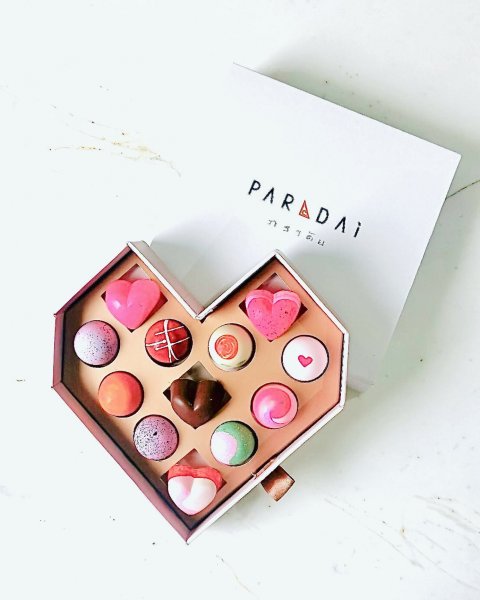 Image courtesy of Paradai.
Thai cacao lovers should already know this quality Thai chocolate brand. Though having lost its original flagship store at Khok Wua intersection last year, Paradai still serves award-winning chocolate on the 3rd floor of BACC. Like many other places, Paradai is packaging its Valentine's box set of bon bon with local delights. For B1,400, you'll get twelve bonbons, three of which are the new signature flavors specifically made for this month, including RumRada (Rum and tropical ingredients), Loveaholic (a mixture of gin, fruits, and flowers), and Pinkk (bourbon with strawberry compte.)
Paradai. 3/F BACC, Open Tue-Sun 10am-7pm. Tel. 063-525-5517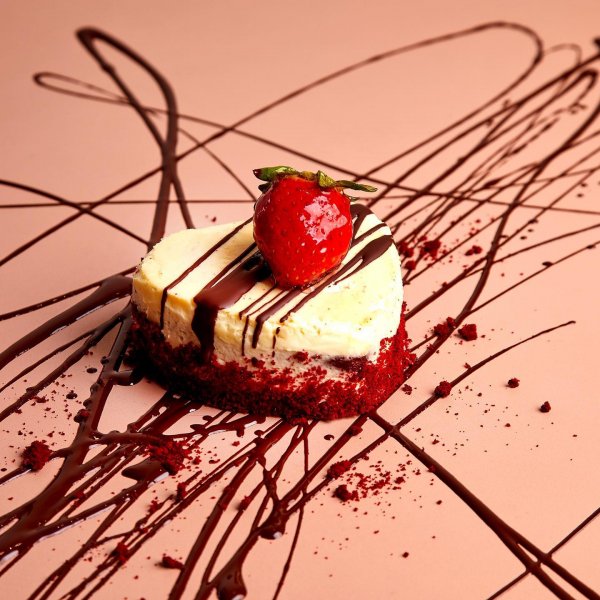 Image courtesy of Katie Chocolatier
The people behind the buzzing bakery Kenn's Coffee and Croissant have opened up the new chocolatier in Soi Ari 2, just next to their croissant place. The concept of Katie Chocolatier is rather simple: they want you to forget your table manners so that you can really enjoy their chocolate. Their Hedgehog (B245), like the name suggests, sees hot dark chocolate topped with several pointy chocolate bars, while Spicy Katie (B265) takes inspiration from margaritas rimmed with chili and spice on the glass. There's also a crispy cookie shot (B85) that you can either choose the single origin or the special blend cacao.
Katie Chocolatier, 1 / 5 Soi Aree 2, 061-401-9141, Open daily 8am-6pm.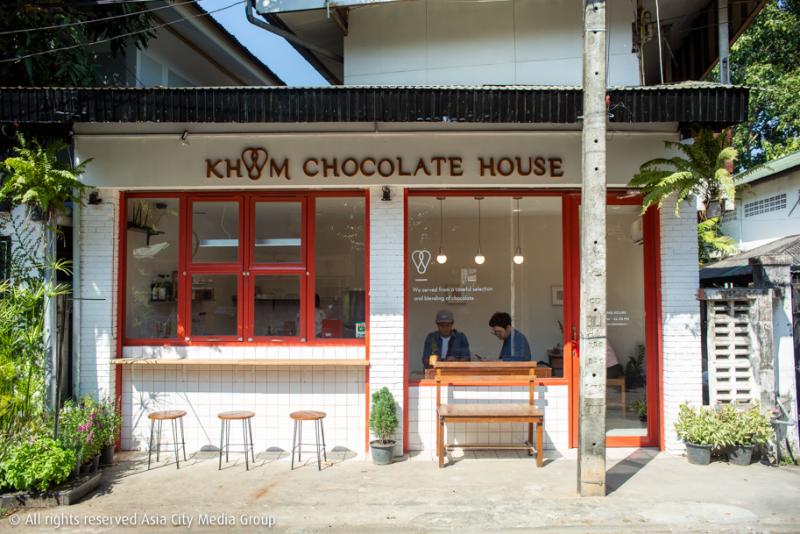 If you're in Chiang Mai and looking for some serious chocolate, head to Soi Singharat 3 where you'll find this dainty white cafe with a menu solely dedicated to creative chocolate. The owner Pimchanok "Jane" Duangsri, with her expertise from years of working as an architect, has rebuilt and renovated the old laundry shop into this warm cafe by herself. Despite its small space, Khom Chocolatier boasts a variety of chocolate origins: Jane sources her cacao beans from Nakhon Sri Thammarat, Chanthaburi, and Chiangmai. For Valentine's Day, Jane crafted eight different chocolate bars (B659), from "Love Story" (ruby pink chocolate 33% with cranberry, rose, and cashew nut) to "Kiss from the Rose" (white chocolate 34% with dried strawberry and lavender seed).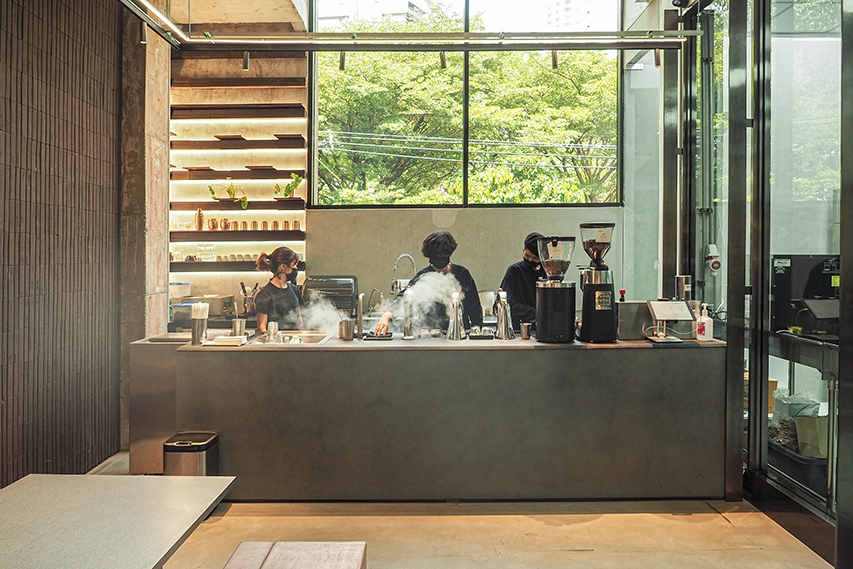 Named after the technique used to achieve chocolate's smooth, shiny finish, Tempered is a serious new contender on Bangkok's cacao scene. It all started from the humble beginnings of one passion-driven couple who renovated a five-storey office building on a leafy Ruamrudee soi and transformed it into their chocolate empire: Tempered Cooperatives—now equipped with cutting-edge tempering machines and massive grinders capable of whipping up several batches of chocolate a week.
59 Ruamrudee Soi Ruamrudee 2, 092 828 5444. Open daily 8am-6pm.
Kokomary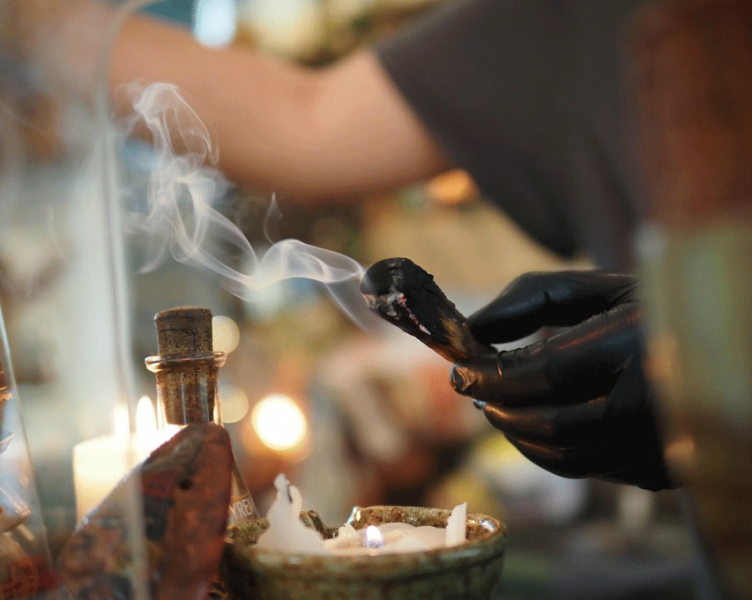 After discovering his passion for the spiritual side of cacao culture, the former nightlife musical artist Tempt opened a space in Onnut to celebrate the rich tapestry of chocolate. At Kokomary, not only will you have a variety of bean origins to choose from—think Phetchaboon, Chiang Rai, and Rayong to name a few—but you also get the chance to participate in his cacao ceremony, a communal gathering where people can drink rejuvenated cacao and connect with one another. Book your session via @kokomarybkk on Instagram
1395 Onnut Soi 23-25.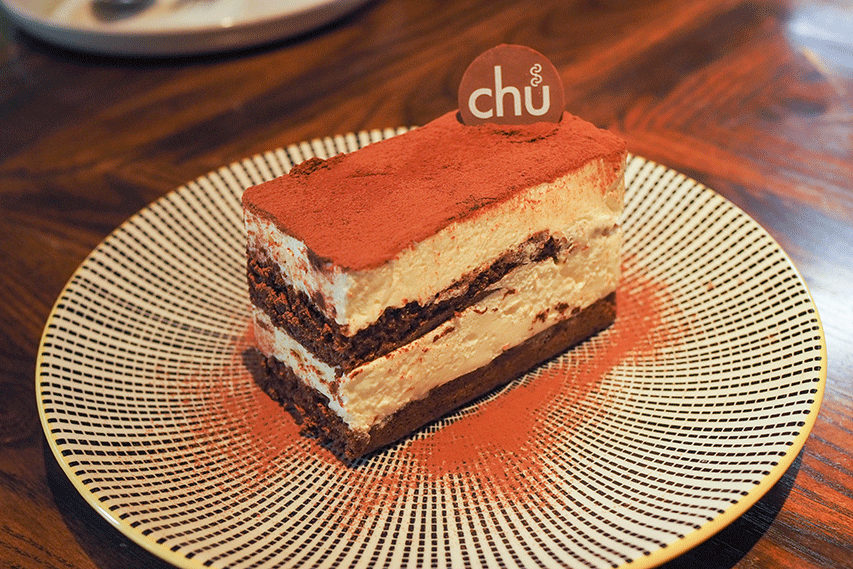 Chu (honorable mention)
After seemingly closing for good a few months ago, Asoke's beloved cafe Chu is now ready to serve its decadent ice chocolate to Bangkok diners again at their Sukhumvit 31 branch. We know that Chu may be a black sheep on our list, but none can argue against the mellowing gourmet chocolate drinks. We visited them right after they reopened, and we can definitively say the quality hasn't dropped.
Chu, 18/1 Sukhumvit Soi 31, 91-545-4847. Open Wed-Mon 8am-5pm.