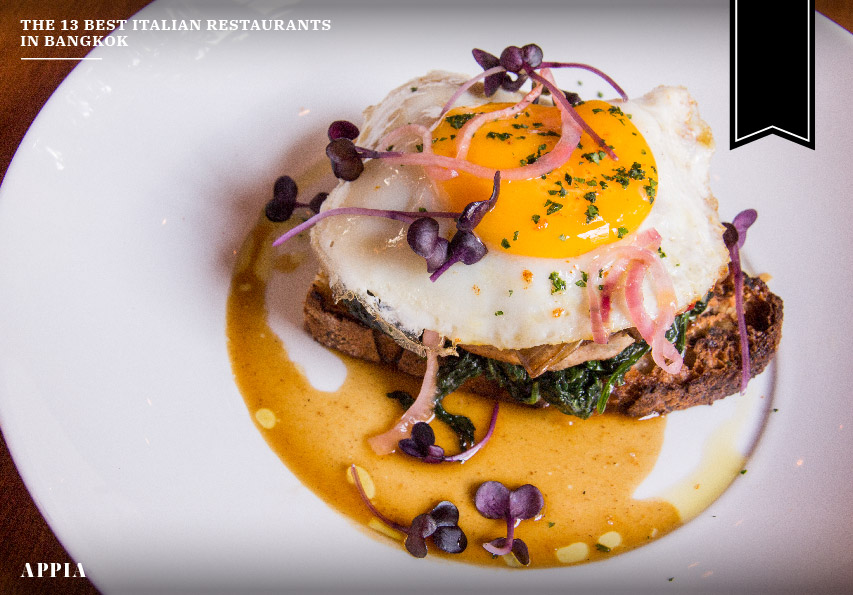 After nearly a decade of top-notch casual fare, Italian restaurant Appia switched things up a few years back with changes to both the venue and the food and a move toward the finer side of the spectrum. The setting is as welcoming as ever, retaining its charming trattoria feel with linen tablecloths, warm lighting, and a wall newly decked out with photos and artwork, while upstairs the mezzanine has been transformed into a beautiful wine room filled with over 120 labels. Here, ingredients are king and allowed to shine, exemplified by something as seemingly simple as the salad of roasted organic red beets.
20/4 Sukhumvit Soi 31, 02-261-2056. Open Mon-Fri 11:30am-2pm, 5-10pm; Sat-Sun 11:30am-10pm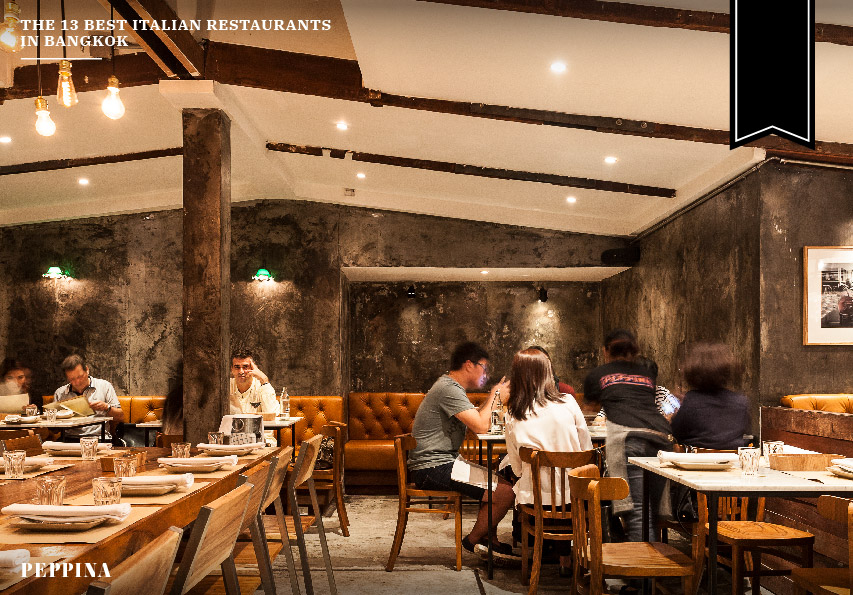 Apart from being a longtime favorite on the scene for Italian food aficionados throughout the city, Peppina brought home international glory this year when it was crowned Bangkok's best slice by 50 Top Pizza — following as it does the strict Associazione Verace Pizza Napoletana rules. But more than just their Neapolitan'za, Peppina is an ingredients-forward innovator and a perennial brunch go-to for the Phrom Phong crowd, a crowd who know by now that impressive food can be fun.
27/1 Sukhumvit 33 Alley, 02-119-7677. Open Mon-Fri 11:30am-11pm, Sat-Sun 10am-11pm. There are 10 other locations across Bangkok

Phuket's 13-years-and-counting Italian restaurant Acqua opened a second branch in Bangkok this year, bringing their familiar Sardinian tastes and dishes to the Big Mango. Led by chef Alessandro Frau, who brought over some team members from Phuket and hired a couple new Bangkok faces, you can expect to get the real Acqua experience that folks in the south have been talking about for ages. Plus, this venue has arguably the best wine list in town.
16/18 Soi Somkid, Phloen Chit Rd., 093-612-7000. Open Tue-Sun 6-10:30pm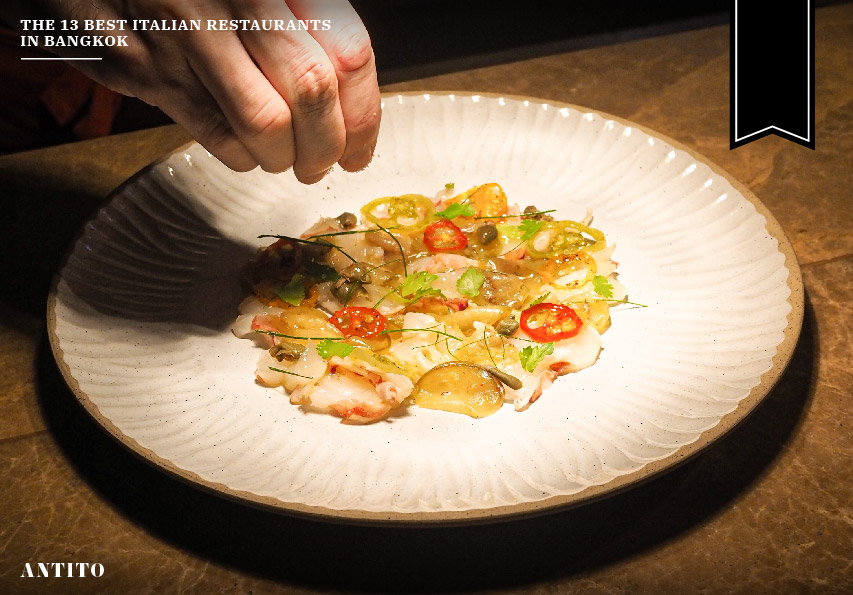 From the bold color scheme to the chic, cheerful Andy Warhol pop-art references, Antito embodies playful and creative sides that you might not expect from Amerigo Sesti compared to his usual outpost at J'aime. Here, the chef forgoes the French formalities to cook his native Italian food instead. Order the prawn carpaccio (a southern Italian staple) or the pizza fritta with an impressive crispy deep-fried dough and sweet tomato sauce topped with a large dollop of fresh burrata.
14/F, Eastin Grand Hotel, 02-210-8100. Open daily noon-11pm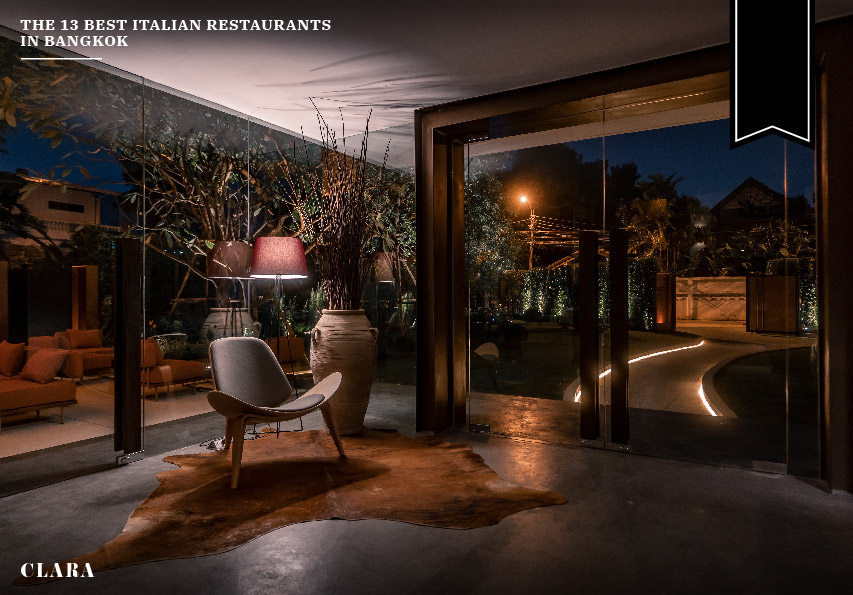 Taking over the cubic, white former digs of Yenakart Villa art gallery, Clara has jaw-dropping style. A perfectly manicured garden dotted with sculptures surrounds the property, complete with a lounge area to take it all in. Their latest tasting menu features nine courses of chef Christian Martena's signatures. Those familiar with chef Martena's work already understand the passion he pours into his native Italian cuisine, injected with modern yet approachable touches.
69 Soi Prasat Suk, 095-879-6257. Open Mon-Sat 5-11pm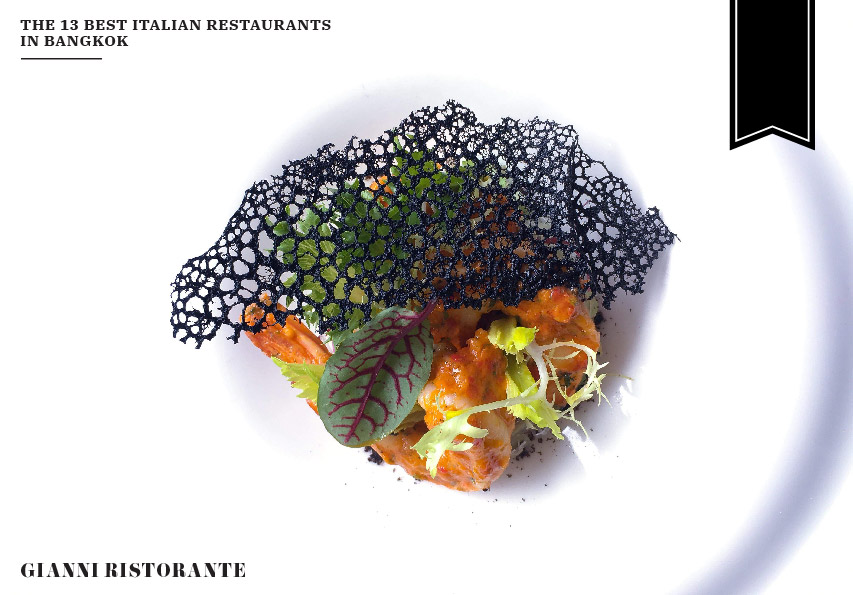 Italian fine dining in Bangkok would not be where it is today without Gianni Favro. The longtime chef has delighted local rainmakers and power movers for the past 20-plus years of Mediterranean-inflected dishes, educating diners on the nuances of Dover sole, burrata, and handmade pasta along the way. The refined setting echoes the restaurant's reputation.
G/F 63 Athenee Tower, Wireless Rd., 097-210-7000. Open daily 11:30am-2pm, 6-10pm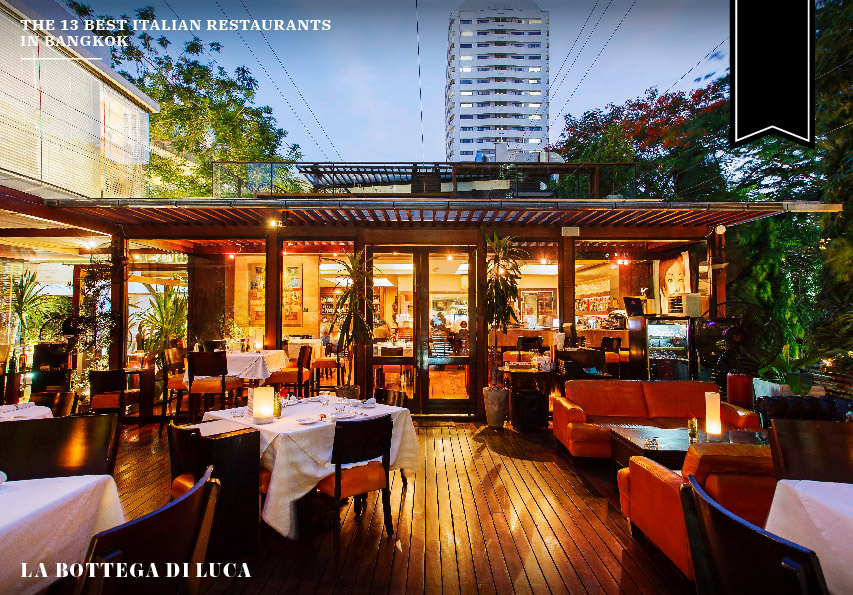 La Bottega welcomed a new head chef, Marco Avesani, this year, whose background is filled with Michelin-starred restaurants. His dishes boast minimal ingredients prepared with impeccable technique. When it comes to Italian fine dining, La Bottega lives up to expectations in every way, shape, and form, from the authenticity of the food (drawn from all parts of Italy) to the hands-on service.
2/F, 49 Terrace, Sukhumvit Soi 49, 02-204-1731. Open daily 11:30am-2:30pm; 5:30-11pm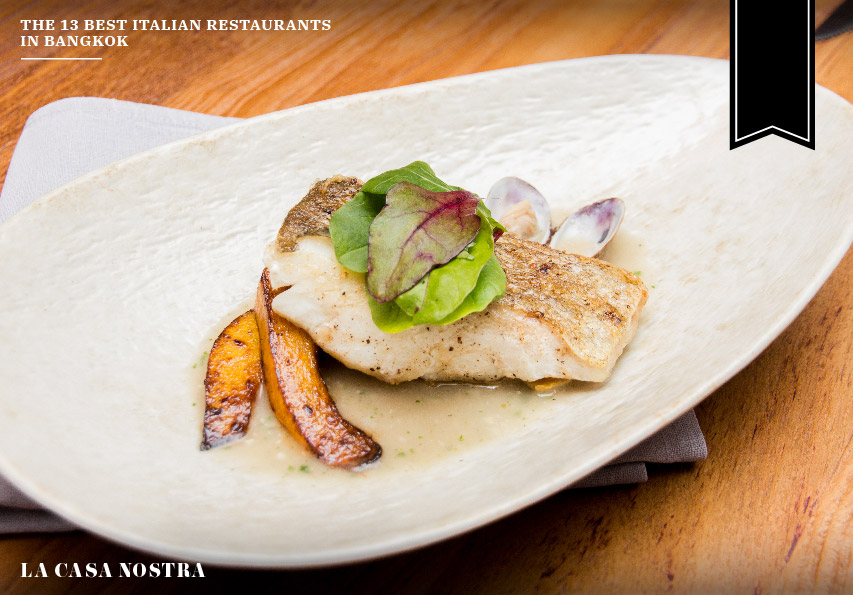 Taking over a stately old home on Sathorn's tiny Soi Goethe, this Italian restaurant has well-heeled crowds going gaga for its low-key vibe, ample wine cellar, and chef Nino Scognamillo's rustic-yet-refined Italian cuisine. Juicy grilled meats are joined by "nonna-style" gnocchi and premium produce like Cantabrian anchovies. The outdoor seating area is perfect for the cooler months, cozying in a gated lawn with tall skyscrapers surrounding.
22 Sathorn Soi 1 Yaek 2 (Soi Goethe), 02-287-2402. Open daily 11:30am-midnight
In the design-forward Sukhothai, La Scala is an Italian spot worth more than one visit, because on your first you'll definitely have the schiacciatina pizza—a sort of thin-crust, crispy pizza sandwich stuffed with parma ham, rocket, and mascarpone. The warm but classy atmosphere here is accompanied by world-class produce and an innovative twist on traditional Italian food.
The Sukhothai Bangkok, 13/3 South Sathorn Rd., 02-344-8888. Open Mon-Fri noon-3pm, 6-11pm; Sat-Sun 6-11pm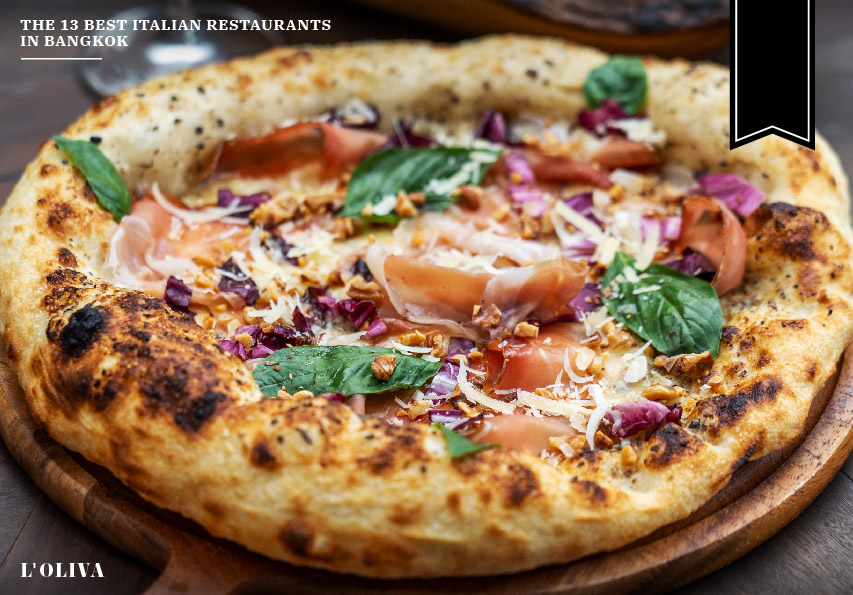 You can't go wrong at L'Oliva — a menu of Italian favorites from Neapolitan pizza to tiramisu. The interior's brick archways and distinctly Italian vibe stand in contrast to the greenery outside. On no account should you miss out on a pizza here, but the Abruzzo-style beef-and-pork lasagne is also a must-have. There are many Italian restaurants in Bangkok, but none with this soulful, family feel.
4 Sukhumvit 36 Soi 2, 094-858-9868. Open daily 11:30am-11pm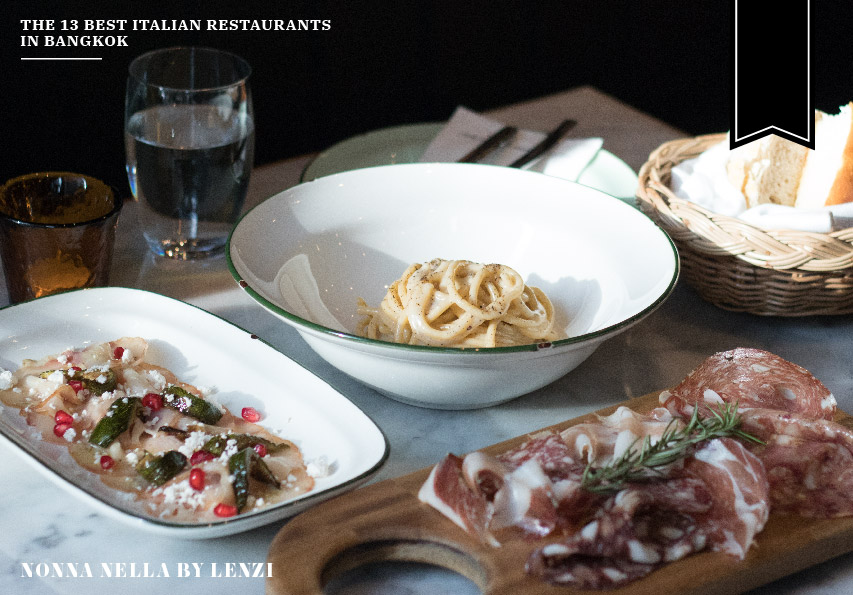 Chef Francesco Lenzi's second outpost sports a more casual terrain. In this bustling deli-like atmosphere, Lenzi whips up pasta recipes passed down from his grandmother, using ingredients procured from his own farm in Tuscany — from cured meats and cheese to pasta dough. The results, to name a few, are thin-crust pizza made with 72-hour fermented dough that hits a sweet spot with just the right amount of charring.
1/F, CRC Tower, All Seasons Place, 87/2 Wireless Rd., 02-038-2184. Open daily 11:30am-10pm
Grand Hyatt Erawan's French fine-dining restaurant, Tables Grill, has been reborn as a warm Italian trattoria with family-style dishes made for sharing. Warm lighting, potted trees and rattan furnishings create a homey atmosphere that will make you forget you're dining in a five-star hotel, supported by glass cabinets filled with Italian knick-knacks and polished wine glasses. As you wait for your food to arrive, check out the bread counter where chefs prepare mouth-watering fresh focaccia.
M/F, Grand Hyatt Erawan Bangkok, 494 Ratchadamri Rd., 02-254-1234. Open daily 11:30am-2:30pm, 5:30-10pm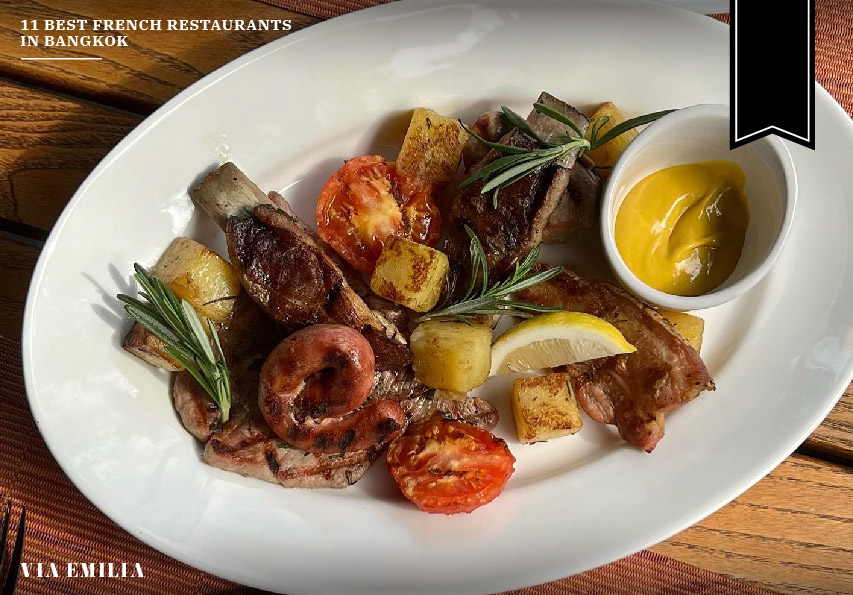 This little slice of Emilia-Romagna on the back Sois of Sathorn provides the premium ingredients that made the region famous — parmigiano reggiano, balsamic vinegar from Modena, and prosciutto di Parma — highlighted in dishes like the cotoletta alla Petroniana, a breaded veal topped with parma ham and parmigiano cheese. The pizza, too, ranked this year in the Top 50 Pizzas in Asia.
1040 Naradhiwas Rajanagarindra 17, Lane 5, 093-138-8373. Open daily 11:30am-11pm