No Name Noodle
Never has Bangkok experienced such a craze for a single ramen joint. Opened in early 2022, No Name Noodle has been fully booked and packed to the point that even media outlets have to join queues like everyone else. Shin Inoue, the brains behind the place, is a former chef at Rockman Thonglor, serving tsuke soba soaked in shiso sauce laden with Hotate scallops and Asari clams, finished with hints of yuzu sauce.
2 Attha Kawi 1 Alley, 082 059 5417. Open daily 11am-3pm
Shoyu Stand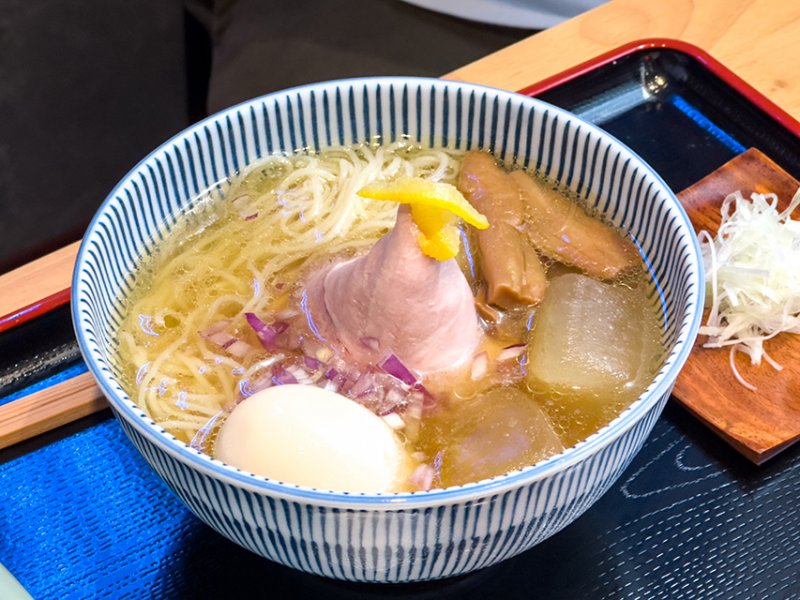 If you desperately want to try Shin Inoue's creations without the need to book in advance, head to the Thonglor for his spin-off project sitting above J Avenue. As the name suggests, the star here is the shoyu ramen, a crowd pleaser for both noodle novices and ramen experts. His current signature menu plays on three thermal senses: hot, cold, and lukewarm. Try his Cappuccino Noodles (B280). It's truly a sight to behold with the frothy awa-kei (bubble), filling the broth with rich, creamy truffle taste. When combined with the added toppings (B70)—soft-boiled egg, chashu pork, and bamboo shoots—it's full of Japanese umami and well-balanced flavors.
2/F J Avenue Thonglo 323 Thonglor Soi 15, Khlong Tan Nuea, Watthana
Uma Uma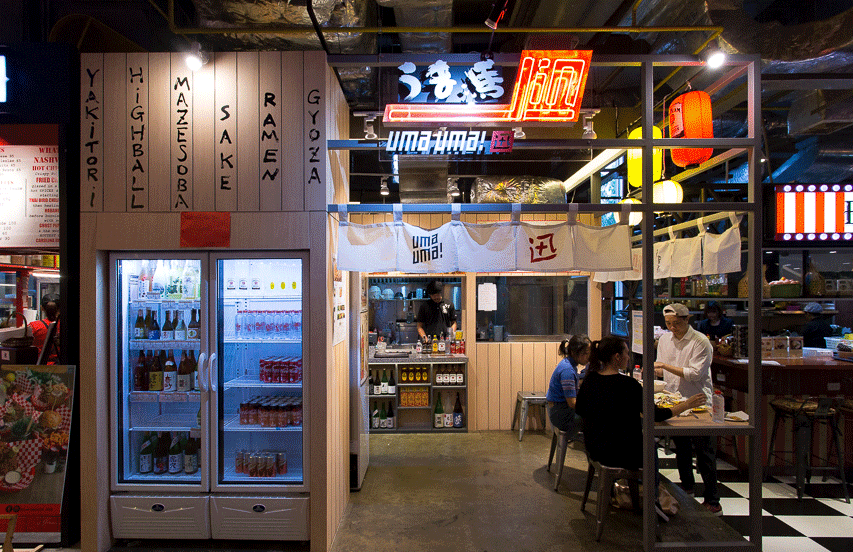 With roots back to 1953, the owner of this ramen joint began his business with a humble ramen cart, opening with the name Sanmaro before changing to his son's name Umaro. Try their original Uma Uma ramen, a Hakata-style tonkotsu soup enriched with collagen and generously portioned chashu pork and shiitake mushrooms. Izakaya aficionados can opt for their crispy torikawa (grilled chicken skin) as well as assorted skewers featuring chicken skin, meat, pork belly, meatballs, and bacon-wrapped enoki mushrooms.
39/1 Sukhumvit Soi 23, 02-664-1130. Open Mon-Fri 11:30am-14:30, 5:30-midnight; Sat 11:30am-midnight; Sun 11:30am-10pm. Other branch: Sukhumvit Soi 39
Sendai Ramen Mokkori
In an age of prefab imported ramen chains that slot nicely into shopping malls, this dingy shophouse stands apart. You'll rarely not encounter the owner—his face blazoned on menus and promo flyers—personally manning the stoves, bellowing out an "irasshaimase!" to everyone who walks in. The karamiso also scores serious kudos—a spicy broth made from miso which the Japanese will tell you is the hardest ramen style to master. The taste is rich and stew-y, while the dollop of slightly sweet, salty chili paste gives the bowl a genuine kick
8/3 Thonglor Soi 2, 02-392-0811. Open daily 11am-2am. Other branch: Surawong
Menya Itto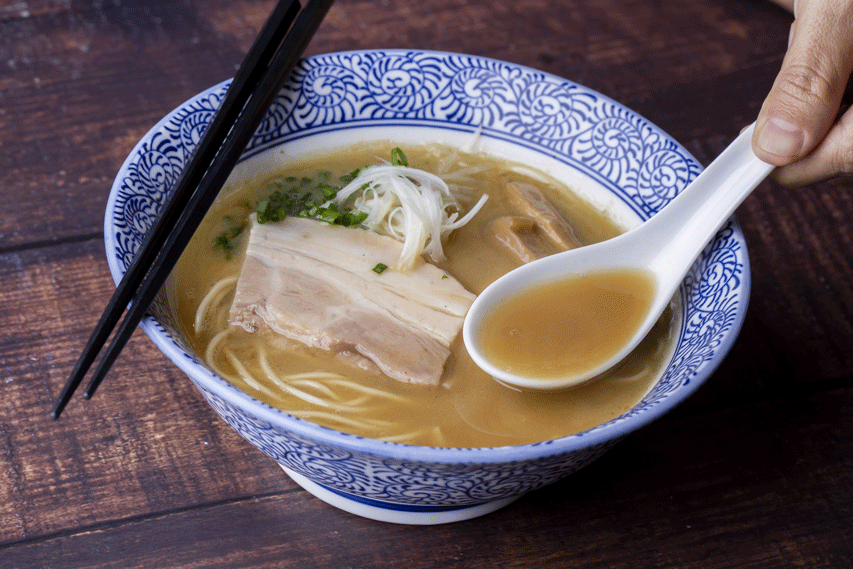 Tokyo's much-hyped ramen shop Menya Itto moved to its new home in Gaysorn Tower, just a stone's throw from its old Erawan spot. Fans of ramen can expect smooth, delicious oil-free seafood and chicken broths that burst with umami. The main calling card, however, is their signature tsukemen, with a rich and complex dipping sauce that carries a touch of natural sweetness, perfect to pair with their springy and thick whole wheat noodles. Finish it all with the light dashi stock.
999 Ratchadamri Road 3rd Floor, Gaysorn Tower. Open 11am-9pm. Tel. 063-045-0236
Fujiyama Go Go
Fujiyama GoGo specializes in tsukemen, a popular derivative of tonkotsu created by Yamagishi Kazuo, the godfather of Tokyo's ramen scene. The Umakara Tsukemen (B230) features cold, super-springy noodles (almost like udon) dipped into a bonito and tonkotsu broth braised for 48 hours for an intense flavor. Slurp away as you would with a good zaru soba, stopping to partake in the thickly sliced, tender chashu. Induction heaters sit alongside each table for guests to reheat the broth if it gets too cold.
55 Soi Sukhumvit Soi 39, 02 662 6115, open daily 11am-11pm
Ramen Tei
It doesn't matter which of the five branches you stumble into, you're guaranteed to be greeted like an old, drunken friend at this old-school Japanese diner. Whether your preference is shoyu, miso or tonkotsu, the bowls here are big on flavor and portion. Special mention goes to the katsu curry, which is a buttery delight. The sets are big enough to feed a small family—or one very hungry Japanese salaryman.
23/8-9 Soi Thaniya, Silom Rd, 02-234-8082, open daily 11am-11pm
Bankara Ramen
The popularity of Japanese ramen chain Bankara knows no bounds. The oil floating on the tsukemen's surface might put off health-conscious diners, but for the rest of us, springy, well-chilled noodles bathing in a warm and fatty soup are deeply satisfying. It takes four pages of the menu before you get past ramen, but there's a lot to be said for the tori karaage, too—crunchy on the outside, moist in the middle. Cut through all the fat with the aromatic, cherry-flavored annin tofu soy bean pudding.
The Manor, 32/1 Sukhumvit Soi 39, 02-622-5162/3. Open daily 11am-11pm. Other branches: Siam Paragon, Zpell.
Udon Sakaba Kitaro Labo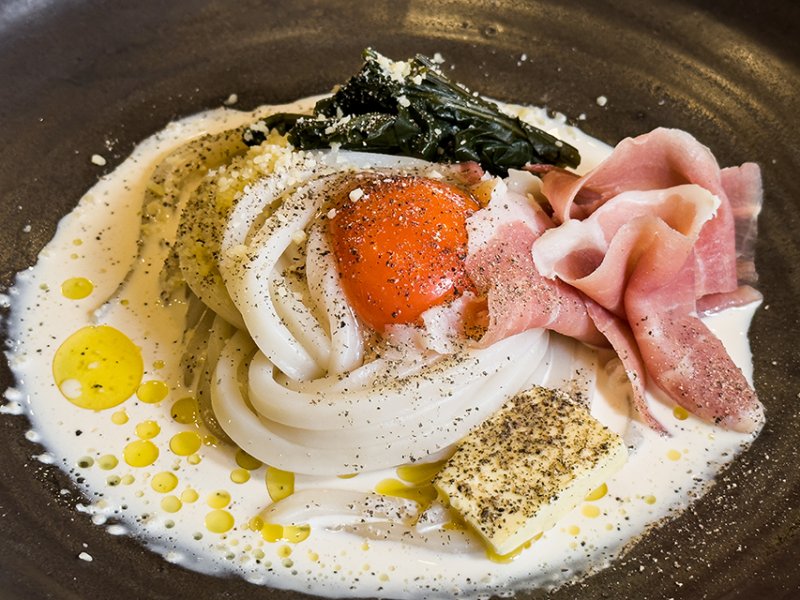 Phrom Phong may be saturated with Japanese restaurants, but this udon specialist—despite opening for just a month—is garnering crowds for its gigantic bowl of freshly made udon noodles. Between the alleys in Sukhumvit Soi 43, Udon Sakaba Kitaro Labo not only serves dense noodles with delectable variations but also dubs as a spot for premium-quality sukiyaki to get you out of your post-work funk. The in-house udon menu comes with a variety of toppings, from mentaiko udon noodles (B360) and potato cream (B280) to beef curry (B360) and carbonara (B420).
Sukhumvit Soi 43, 02-010-5299, Tue-Sun 11.30am-2pm; 5pm-10pm.
Kiri Tsukemen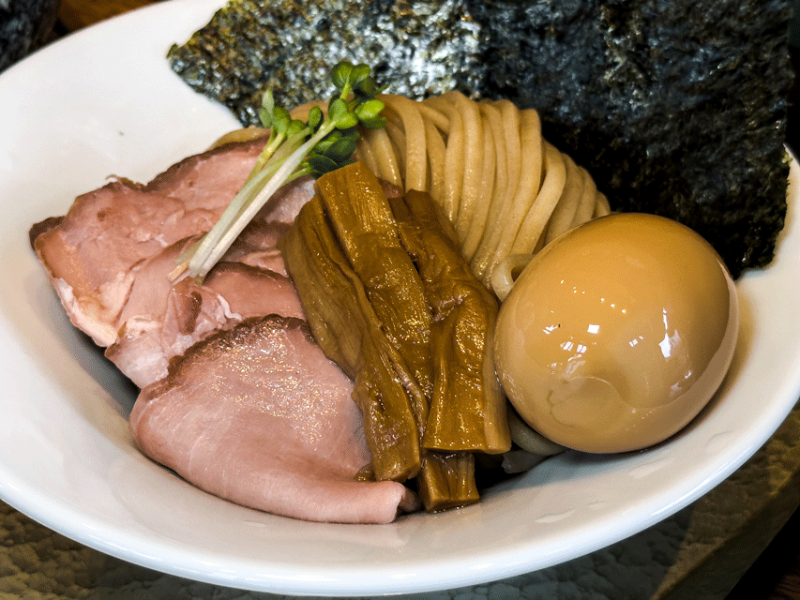 The people behind Thonglor's beloved Kansai udon specialist Tsuru recently unveiled Kiri Tsukemen, their new joint specializing in tsukemen, a separate bowl of freshly made noodles paired with various dipping sauces. Each option arrives with a burning stone bowl to keep your experience going. The menu—just like its compact space—sees their thick, bouncy noodles (B350) laden with slices of sous vide pork shoulder, fermented bamboo shoot menma, and perfectly soft boiled egg with a dipping sauce of your choice. Here, you get to choose from five different dipping sauces, boasting both tonkotsu (pork bone) and chicken bone broth. Go for our favorite seabura a simmering broth made from pork back fat, with an end result that is delicate, yet rich, bursting with sheer umaminess.
64 Thonglor Rd., 065-295-8989, Open daily 11am-3pm; 5pm-9pm.
Tsu Na Gu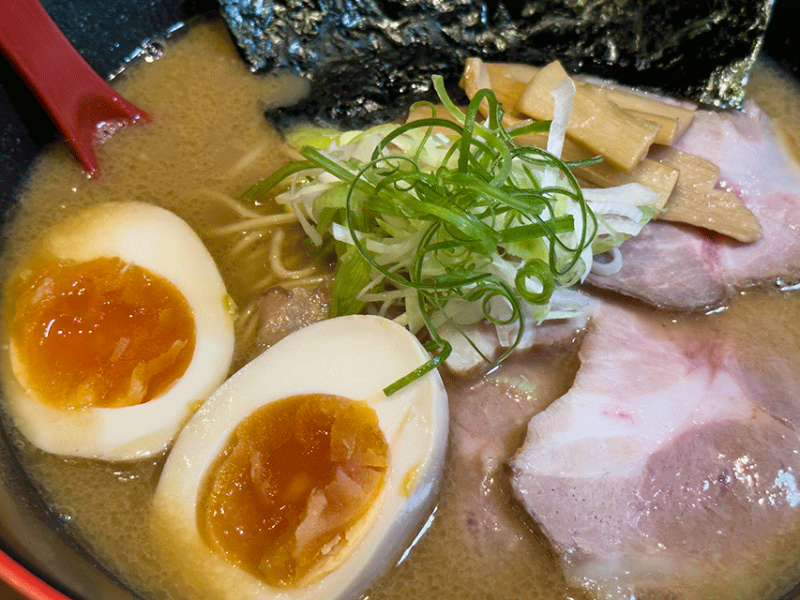 Tsu Na Gu, a new tonkotsu ramen specialist located in Ekkamai Soi 6, offers only eight seats and serves 35 bowls daily. The rich, opaque pork bone broth and melt-in-your-mouth char-siu pork from Kagoshima Prefecture make their ramen stand out. Opt for the Special (B380) with three slices of char-siu, menma, and soft-boiled eggs or try the regular bowl (B290) with two slices. Those wanting more pork can order the pork char-siu rice bowl for B150.
Japan Live Kitchen. Ekkamai Soi 6,
095-562-5544
, Tue-Sun 11am-8pm
Mensho Tokyo
There's no stopping this Japanese ramen empire. From Tokyo and San Fran to Bangkok, Mensho Tokyo churns out its superbly addictive bowls of ramen regardless of where it goes. Whether you're a fiend for the ultra-meaty tori paitan with its milk chicken broth, chashu pork and juicy sous-vide duck, or have been converted by the umami explosion of the impossibly rich vegan tantanmen, there is no doubt this place will have you making repeat visits.
G/F, RSU Tower, Sukhumvit Soi 31, 091-887-9492. Open Tue-Sun 11am-3pm, 5-10pm