Looking for buy-one-get-one wines alfresco? Cheap beer in a pub? Half-priced cocktails on a rooftop? Here is a list of the most interesting happy hours in Bangkok for the discerning (and thrifty) drinker.
Rooftop Bars
Cielo Sky Bar and Restaurant
Happy Hours: Sun-Thu 5:30-7pm.
When you think of rooftop bars, you probably think of the downtown CBD, but don't forget there's a good one in Phra Khanong. Head up to the 46th floor and catch the sunset far from the 20-year-old English teachers on Tinder dates in W District. There are special prices on selected beer, and right now they also have summer cocktails on offer.
Cooling Tower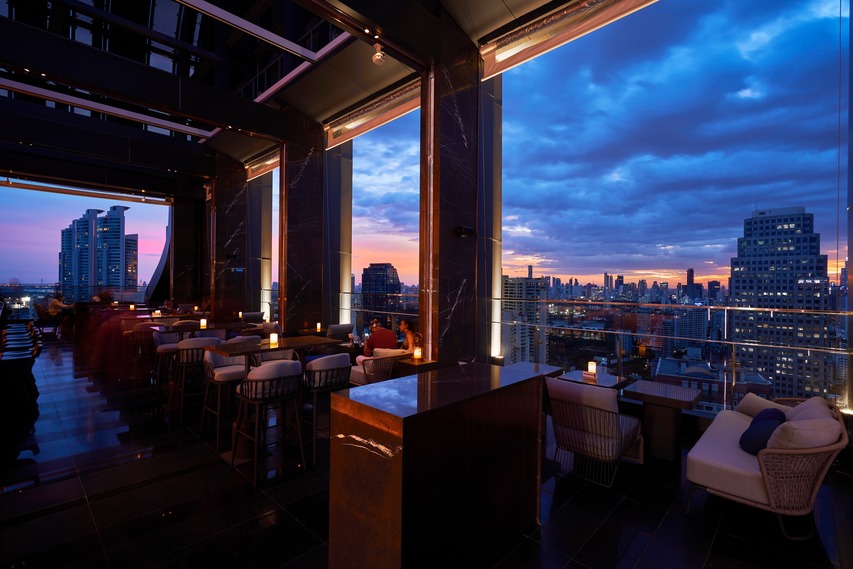 Happy Hours: Daily 5-6:30pm.
Carlton Hotel's rooftop bar sits on the 34th floor above Sukhumvit Road. You can sit back and escape the unusually long Asoke intersection traffic right below while taking in the view. Their happy hour menu is two pages long for buy-one-get-one deals, including cocktails, wine, and beer.
Escape
Happy Hours: Daily 5-7pm.
The swanky EmQuartier dedicates some of its fifth-floor, malltop space to a venue that's part tapas bar, part tiki bar, and wholly committed to its "downtown beach club" theme. Put on your Hawaiian shirt and enjoy drinks at special prices from wines (B199) and cocktails (B199) to Bootleg Brothers craft beer (B99) and Corona beer buckets (B699/ four bottles).
Nest Rooftop Lounge
Happy Hours: Mon-Wed 6-10pm.
This rooftop bar sits on the ninth floor above the craze of Sukhumvit Soi 11 and offers a 360-degree view. Its happy hours last longer than usual (four hours instead of the usual two), and drinks vary depending on the day, with buy-one-get-one mojitos on Mondays, wine on Tuesdays, caipirinha on Wednesdays, and ladies night for the entire evening on Thursdays (free mojito).
Red Sky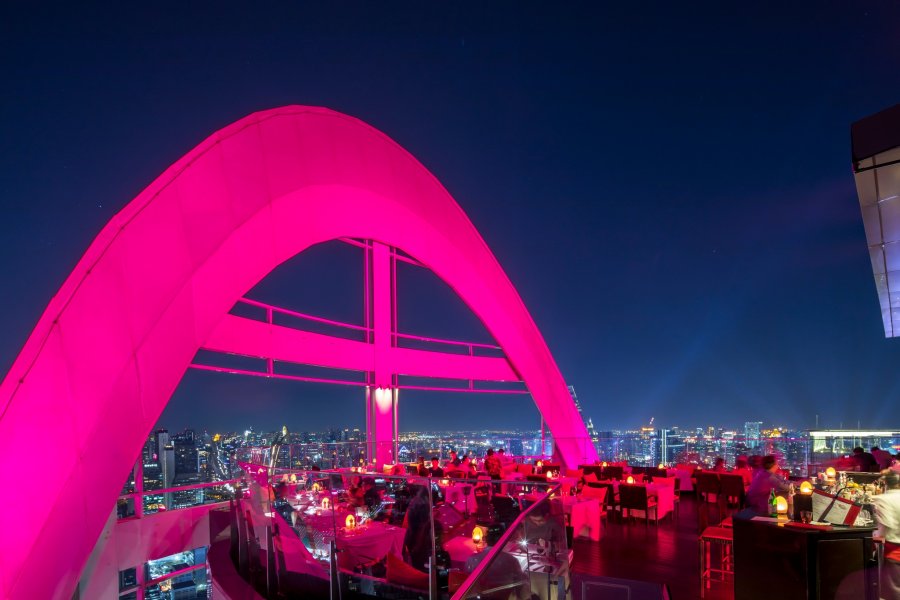 Happy Hours: Daily 4-6pm.
This 55th-floor rooftop bar offers buy-one-get-a-second at half price on selected gin-based signature cocktails like the elder flower ginger, pineapple cardamom, mary berry, or wolfberry lemon (B690 for two). If the sun is too much in this summer heat, head down one floor for Uno Mas's buy-one-get-one on wine, sangria, beer, and standard cocktails.
Sky on 20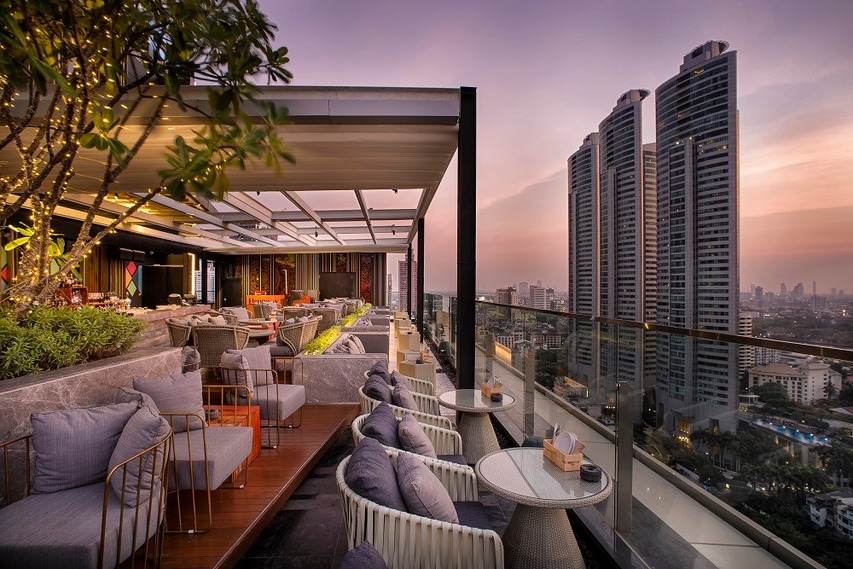 Happy Hours: Daily, 5-7pm.
Sukhumvit Soi 20's rooftop bar sits on the 26th floor and offers special prices on selected drinks from draft beer (B120/half a pint of Chang) to standard cocktails like pina coladas (B200). Other simple spirits-based cocktails are available for B200.
Spectrum Lounge and Bar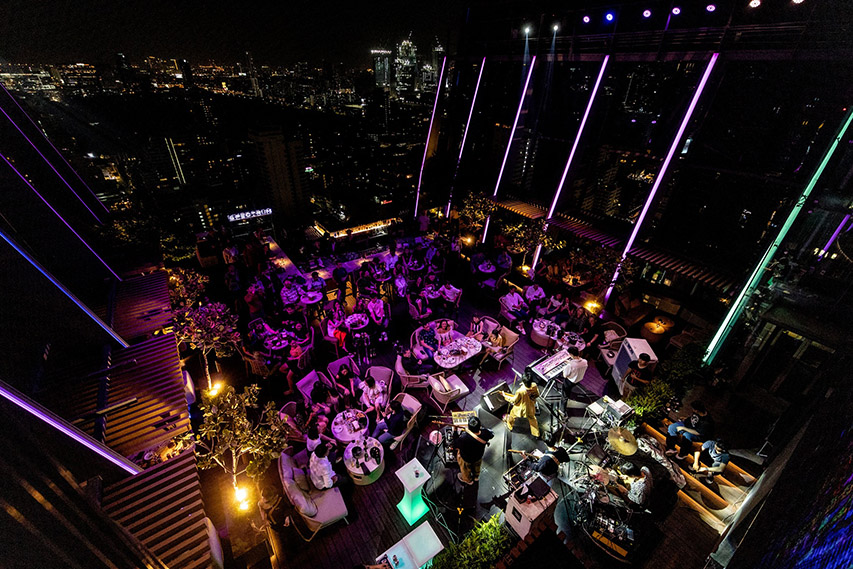 Happy Hours: All night.
Spread over three levels, from the 29th to 31st floor over 280 sqm, Spectrum can accommodate almost 300 people. Even though it doesn't have "happy hours" per se, it has something better. For B999 you get two hours of freeflow house wine (red, white, sparkling), and for B2,099 you get two hours of unlimited champagne.
Zoom Sky Bar
Happy Hours: Daily 5:30-7:30pm.
One of the lesser talked about sky lounges in Sathorn, an area absolutely rammed with rooftop bars. Pull up a seat at Zoom Sky Bar on the 40th floor of the JC Kevin Hotel, watch the bustling Narathiwas road below, and enjoy buy-one-get-one on all cocktails from B370—meaning you end up paying B185 per glass for the likes of apple martinis, cosmos, Singapore slings, margaritas, and 17 more options.
Pubs and Dives
Old English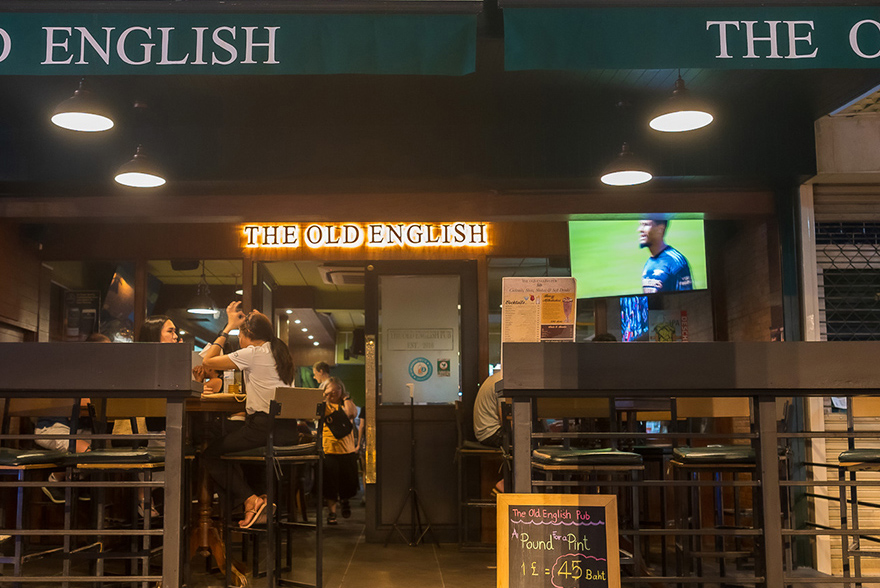 Happy Hours: Daily 1-7pm.
This classic English-style pub on Thonglor relocated last year to a more cozy spot by the BTS. In addition to one of the cheapest happy hours in town, it's a solid spot for sports lovers (and wing lovers). You'll find B45 pints as part of their "Pint for a Pound" gimmick from 1-3pm, and then B65 and B85 at 3pm and 5pm respectively.
Robin Hood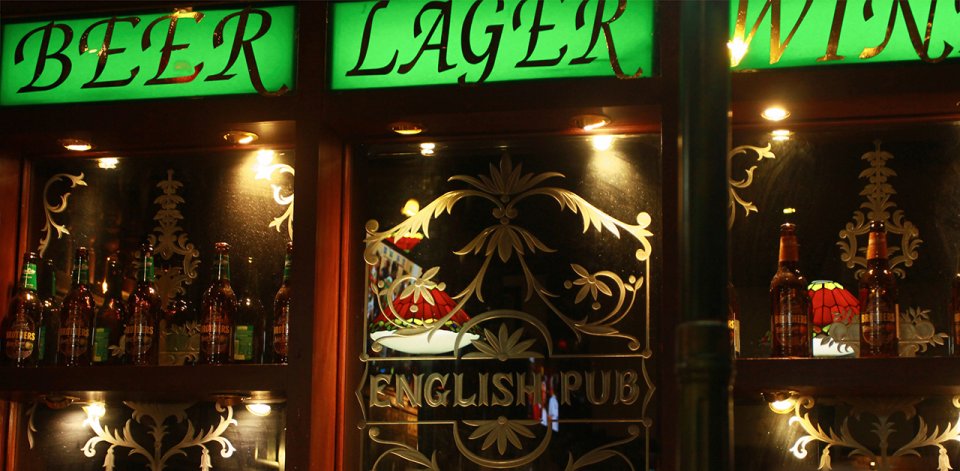 Happy Hours: Daily 9am-7pm.
Hanging off the edge of Sukhumvit, Robin Hood is decked out in comforting wood furnishings and is just a staggering distance from BTS Phrom Phong. The long-running British boozer is packed for big sports events and serves an excellent Sunday roast. For happy hour, check out their special deals on cocktails, buckets, and pints starting at around B119.
12x12
Happy Hour: Tue-Sat 6-8pm.
It's not trying to be cool. It just is. Expect a homey setting of couches and other mix-and-match furnishings and a well-stocked wooden bar with some surprisingly inventive cocktails. With a rotating roster of DJs spinning on the regular, 12x12 sometimes rides the line between dive and club—along with a buy two get one deal on happy hour cocktails.
Royal Oak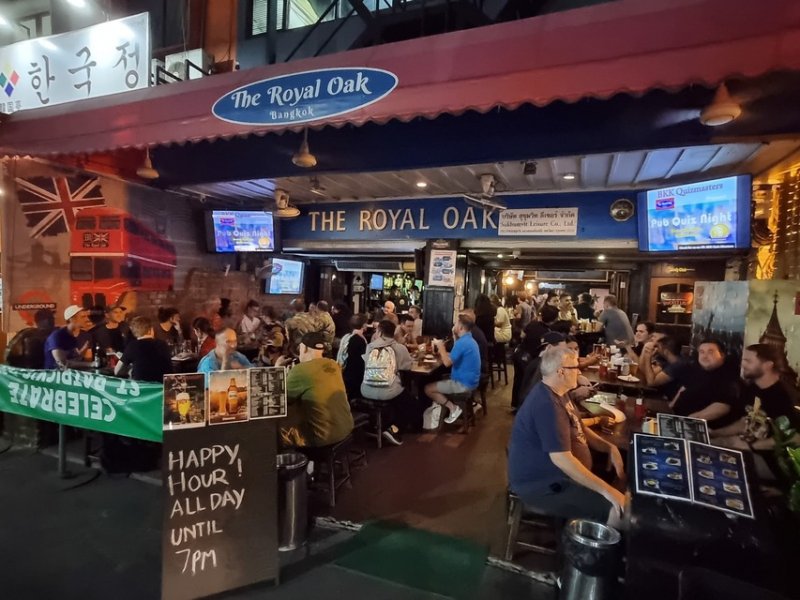 Happy Hours: Mon 9am-midnight, Tue-Sun 9am-7pm.
A BK Magazine runner up at the BAD Awards 2023, this spot hosts regular comedy from The Comedy Club Bangkok upstairs and a serious quiz night. Similarly, it's well situated on Sukhumvit Soi 33/1 within easy walking distance of something a bit more specialized like Hair of the Dog. Happy hour here is chill and cheap with deals on selected beers and cocktails.
PJ O'Brien's
Happy Hours: Daily 11am-7pm.
Serving up pints and surprisingly good food for the Phra Khanong crowd, PJ O'Brien's evinces a refreshingly upscale pub take for something so far down the Sukhumvit. Here you'll find a lot of sports fans and occasional live music—as well as a lengthy and cheap happy hour featuring Tiger at B75.
Clubhouse Bar and Grill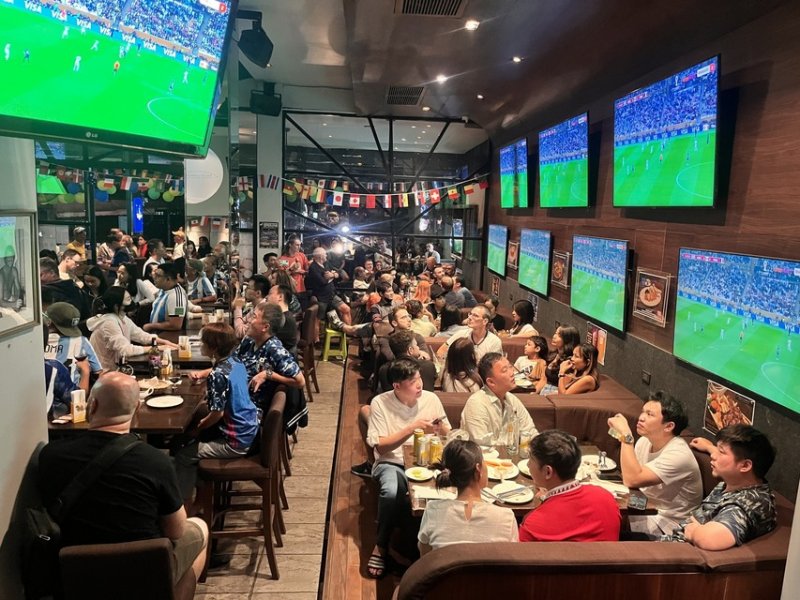 Happy Hours: Daily 9:30am-7pm.
If there's a game on, you can expect the downstairs to be packed, and the upstairs offers a more intimate, fun feel. A little more sleek than you expect from your average sports bar, the staff are on the ball, and you can expect nine beers on draft, lunch specials Monday to Friday, and special prices on selected beer, spirits, and wine.
Mad Bulldog Pub and Grub
Happy Hours: All day Tuesday; 4-8pm and 11:30am-closing Wed-Sun.
A new pub on the scene, the pet-friendly Mad Bulldog Pub and Grub in Phra Khanong has been open for just around two months. The gastro-pub on Sukhumvit 71 by W Market has live music nearly every day and a selection of Western and Asian snacks. Pets should be leashed, in a trolley, or in a bag.
The Game
Happy Hours: Daily 8am-7pm.
With live music at this sports-centric pub in Nana, patrons can play pool, grab some tacos, and enjoy tunes from the likes of the Bangkok Beatles every Monday. Every game you were hoping to catch is on here, and happy hour will see you grabbing bottles of local beers and Heiniken, Asahi, and San Miguel Light for a cheap B100.
Scruffy Murphy's Irish Pub Bangkok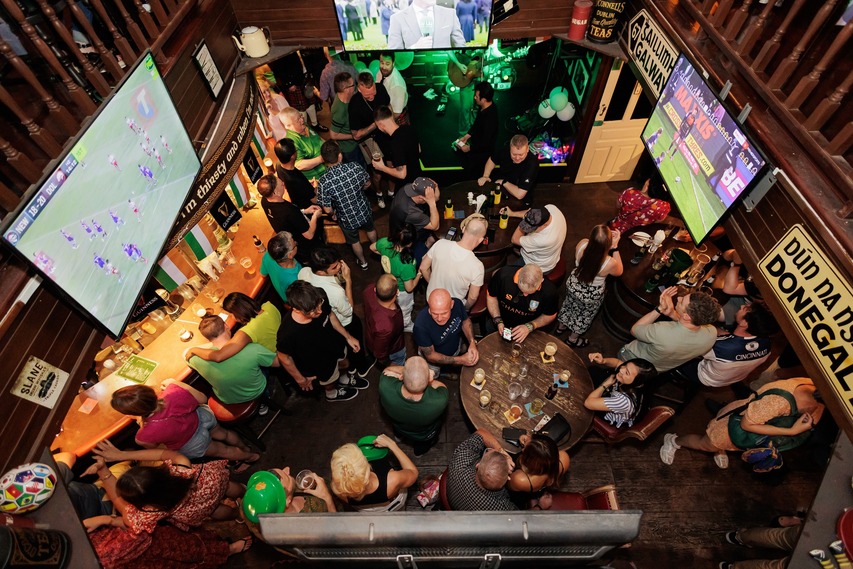 Happy Hours:Daily 3-7pm.
At the far end of Soi Cowboy, Scruffy Murphy's is hard to miss. The exterior is a taste of what you'll get inside: Good old fashioned Irish pub—with, admittedly, some of the Cowboy crowd. That said, the happy hours could make for a good afterwork spot for the Asoke office crews.
22 Steps Craft House
Happy Hours: Daily 6-8pm. Friday "after work session" 4-6pm.
A higher end sort of pub on the mezzanine floor of Hotel Indigo on Wireless Road, 22 Steps Craft House is definitely geared more toward the hi-sos in the neighborhood, but their buy-one-get-one happy hour levels the playing field. The design is sleek, the food is high-end, and it's buy-one-get-one on selected craft beer, wine, and draught for happy hour—and a Friday "after work session" for buy-one-get-one draft beer and house wine from 4-6pm.
The Londoner Brewpub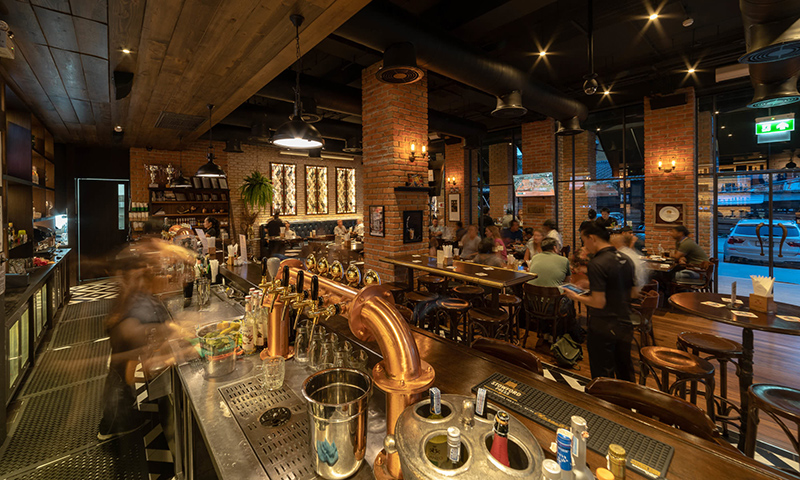 Happy hours: Daily 10am-7pm, and all day Wednesday.
In addition to being BK Magazine's winner for Best Pub at the 2023 BAD Awards, The Londoner caters to the happy hour crowd with deals through the week. In addition to their daily happy hour deals from opening to 7pm, Mon and Tues feature a three hour beer buffet (B599) and a wine and beer buffet (B799), and there is three hour freeflow prosecco for B1,199 every day. On food, don't forget the Sunday roasts from noon to 5pm and two pasta dishes for B495 Mon to Thu.
Clubs and Cocktail Bars
Cinemaclub
Happy Hours: 6-9pm.
For self-proclaimed cinephiles looking for casual spots to down quality drinks with cinema vibes, head to Ari's cocktail bar hidden in the hip Josh hotel. Here, you can order four cocktails—designed by the illustrious Fah Beer to mirror each of its film genres— for B1,200 or get one free glass of beer Lao when ordering three of them (B600).
Mezcal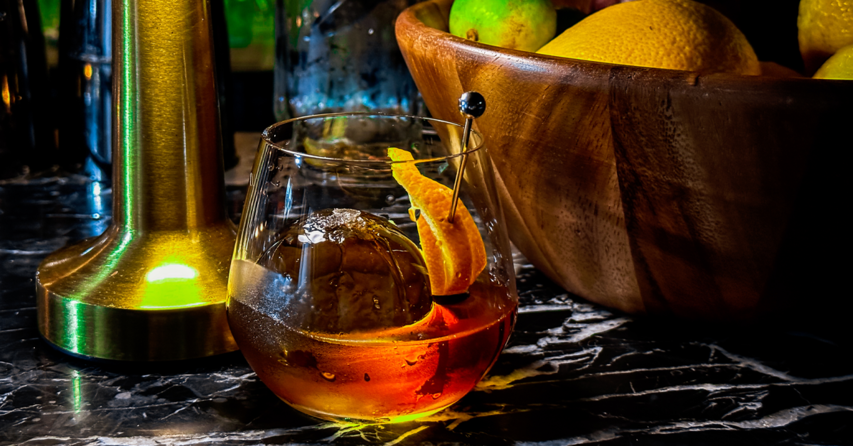 Happy Hours: Thu-Sun 6pm-7:30pm.
Happy hours don't have to be just about the drinks. This mezcal specialty bar in Sathorn wants to fill your belly before blowing your mind with their smoky, strong cocktails. With their Cantina Hours, you get a snack every time you order their drink (B400)—from a small sea bass aguachile for your first drink to wagyu tacos for your fourth drink.
Villa Eugenia
Happy hours: Daily 6pm-9pm.
Located inside Metropole Hotel is the new restaurant-slash-bar Villa, boasting classic colonial vintage luxury, French and Spanish comfort food, and classic cocktails. Beer, wine, and cocktail lovers can order a drink and get their next for free at this high-end happy hour.
Yoshi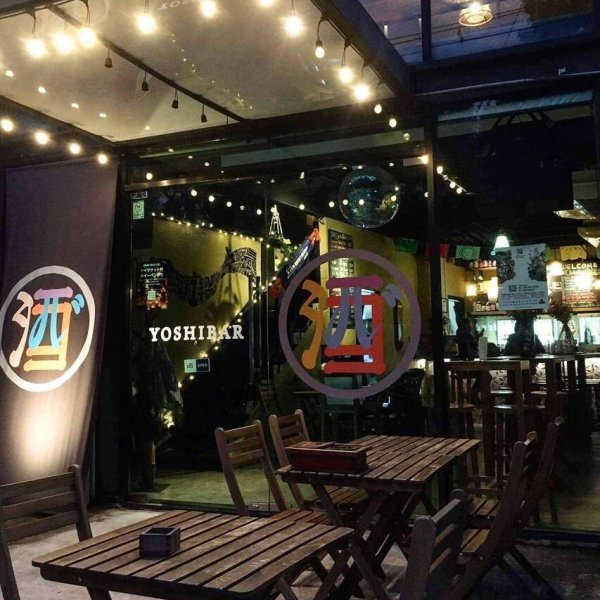 Happy hours: Tue-Sun 6pm-8pm.
With super-friendly happy hours, over a dozen sake labels, and a lived-in vibe, this low-key bar brings sake down to Earth. Expect a fifty percent cut from its drinks—think Sapparo draft beer (normally B240) for B120 and their Jim beam soda hi-ball for just B90. Sake lovers can opt for their all you can drink buffet for B1,290.
Maggie Choos
Happy Hour: Tue-Sun 7pm-8pm.
This decadent bar hidden inside Hotel Novotel Bangkok Fenix never fails to impress your date(s) with its exotic gambling-den vibe, evoking colonial outposts reminiscent of James Bond movies. Head there for its "victory hour" where you can enjoy a 50-percent discount on their canapes and deep-fried dishes.
The Iron Fairies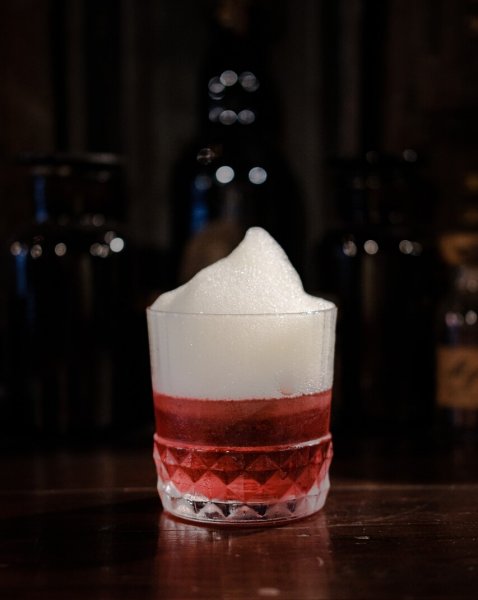 Happy Hours: Sun-Thu 6pm-8pm.
After years of hiatus, this conceptual, design-forward bar has made its return to Sukhumvit Soi 39, which still mirrors some of the wild style from its former location—think gargoyles hanging from the ceiling. Enjoy its buy-one-get-one promotion on select drinks, ranging from classic cocktails, red and white wine by the glass, and Aperol spritzes.
Resto Bars
Antito
Happy hours: Daily 5-7pm.
Known for its range of casual Italian bites crafted by Amerigo Tito Sesti, who you might know from J'aime by Jean-Michel Lorain, Antito's poolside perch atop the 14th floor of Sathorn's Eastin Grand Hotel makes it a cool breezy spot to knock back some afterwork drinks. The gig is simple: 50-percent off everything (except bottles of wine).
Blue Parrot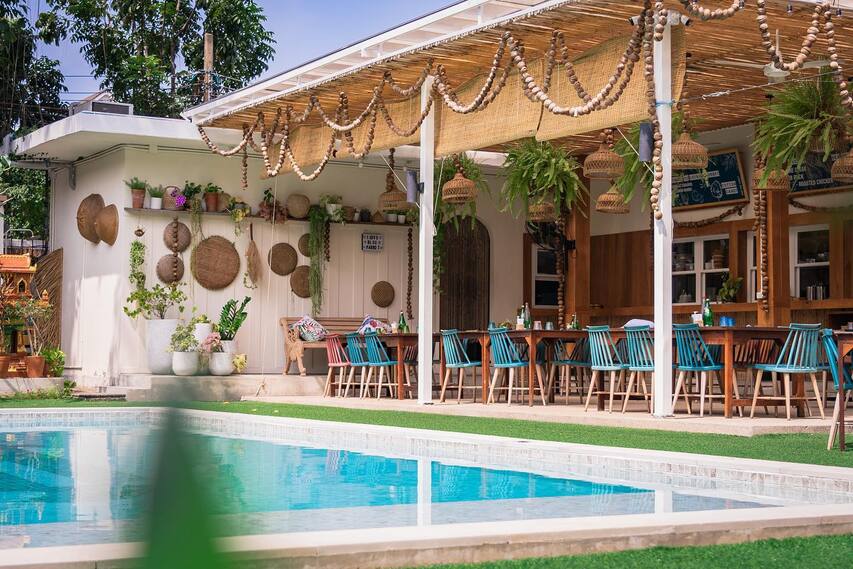 Happy Hours: Mon-Thu 4-7pm.
Runner up for "best alfresco bar" in BK Magazine's BAD Awards 2023, who wouldn't want to have a few cheap drinks here? Snag aperitifs for as little as B85. Panaches and Monacos will set you back just B93. Singha draft at B93 (320ml) and B170 (620ml). Rival rose wine is B170/glass.
Charley Browns
Happy Hours: Daily 4-6pm.
Asoke's long standing Mexican favorite has been host to one of the area's best happy hours for a little over a decade after it moved from Sukhumvit Soi 11 several years ago. Here, margaritas and sangrias are 50-percent off, domestic beers and house pours for B85, and house
wine will set you back B100. On Tuesdays, the margarita and sangria deal extends from 4pm until close.
ThonglorYokocho
Happy Hours: Daily 5-7pm.
Thonglorites who favor back alley yakitori over the pricey main street options will already know Thonglor Yokocho (at the back corner of Thonglor Soi 9) for its booming welcome drum and monster menu of reasonably priced izakaya favorites. What they also know is that if you show up for happy hour you get three-for-one deals on glasses of Asahi, chuhai, and high balls.
Kosmo
Happy Hours: Daily 4-7pm.
Most people discover happy hour here naturally thanks to the fact that showing up any later than 5pm often means you can't get a table. The Phra Khanong favorite is packed nightly with boozers and eaters chomping on international pub-grub and enjoying the alfresco vibes. The immensely popular happy hour deals see on-tap Belgian beers for as little as B75, glasses of wine for B100, and cocktails from B125.
Hemingway's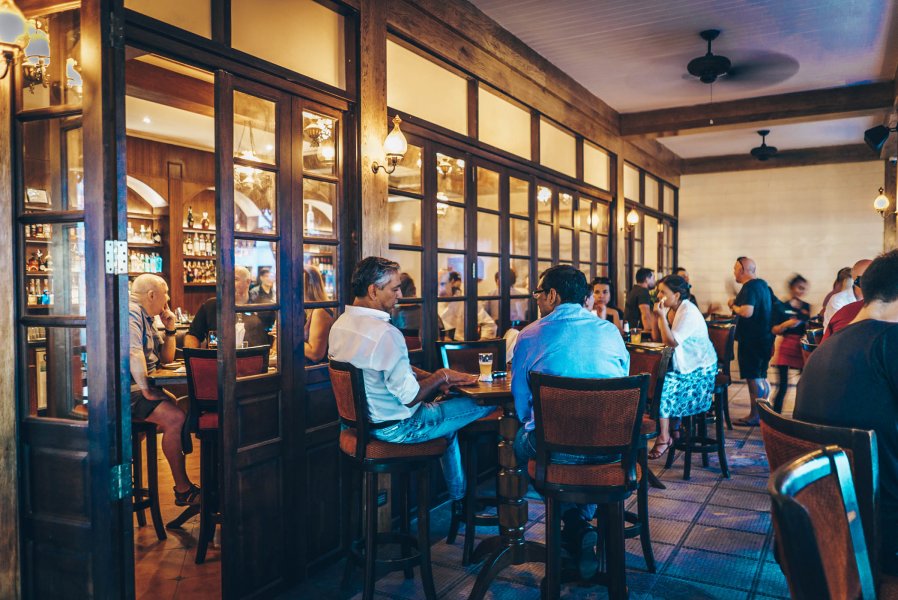 Happy Hours: Daily 9am-7pm.
Hemingway's is a strong contender for your happy hour baht with its high-end pub food and easy sipping drinks. Its happy hour starts way too early to drink (9am), but you can get local beers and some spirits for B99, wine by the glass from B129, draft beers from B109, among others.
Junker and Bar
Happy Hours: Daily 3:30-6:30pm.
This Suan Plu institution is one of the last standing restaurant bars to hold out against the wave of upscale gentrification to hit the soi over the past five years—and we are happy to see it. Here, you'll find B100 cocktails, glasses of wine, and Tiger beers. Once the happy hour runs out you'll still see a lot of mileage out of your baht.
BKK CF
Happy Hours: Daily 9am-7pm.
There's a little bit of everything at this On Nut watering hole on the second level of the Habito Mall. Live sports, pool, an open-air terrace and happy hour specials on big beers and drinks starting at B100. On top of the bar's food menu, you can order grub from the other restaurants in Habito and eat it directly in the venue—making the range of food options here huge.
The Deck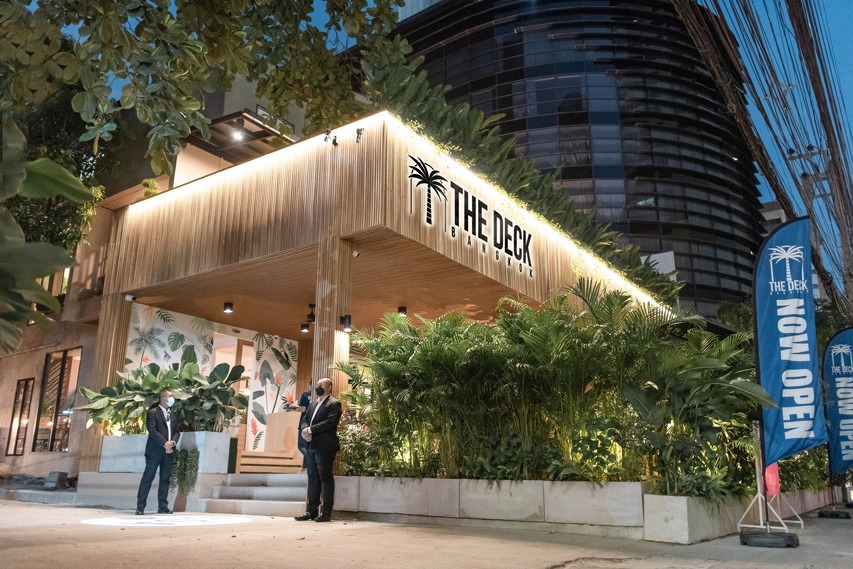 Happy Hours: Wed 7am-midnight.
Another runner up in BK Magazine's BAD Awards 2023—again for the alfresco category—The Deck feels like a tropical oasis in the middle of Bangkok's concrete jungle. The massive bar is surprising for this neck of the woods, and two floors of seating makes things feel spacious. For the happy hour, you're looking at an all-day buy-one-get-one on beer, wine, spirits and select cocktails.