Fancy as hell but fun and lively all the same—this collab between Pailin "Milk" Sajjanit and the Q&A and Thaipioka teams is the cocktail den of your dreams, rolling out jazz nights, impeccable cocktails and a single malt collection you'd expect to find at an upscale Japanese whiskey bar. Try the Pyroblast (B420), which features a "lost recipe" for a Prohibition Era spice mix.
11/F, Akyra Hotel, Sukhumvit Soi 55. Tel. 02-392-8959. Open daily 6pm-1am
A joint venture between
Ku Bar
and the rapidly expanding Sugar Ray empire (
Q&A
,
Thaipioka
, Sugarray Apartment), the semi-hidden
Alonetogether
keeps it classy with stiff cocktails, live jazz and cigars. The bar team focuses on the classics, often giving them a subtle twist with local ingredients—the Frozen Screwdriver, for instance, incorporates local citrus fruits like pomelo into the build while the Cold Fashioned features black cardamom (all B420). Jazz bands perform four nights a week on the ground floor, while the second-floor cigar lounge doubles as a vinyl listening room.
29 Sukhumvit Soi 31. Tel. 02-163-4778. Open daily 5pm-1am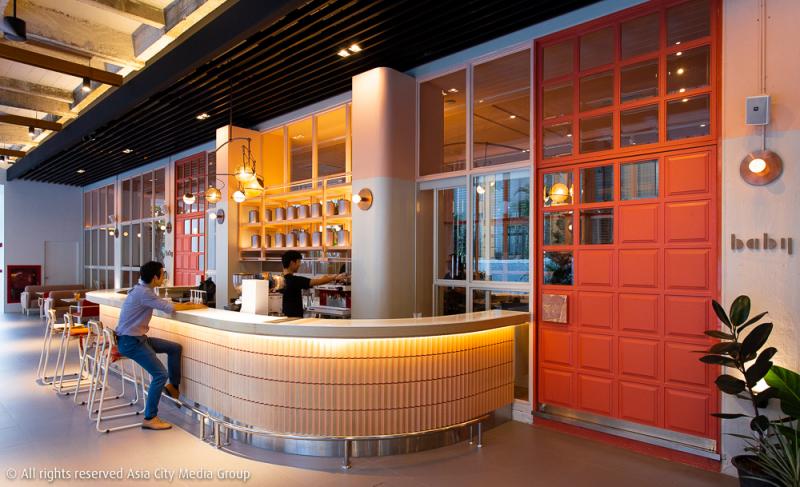 This funky hotel bar-restaurant is an interior designer's dream, drawing from every rule in the Art Deco book: curved under-lit bars (one inside, one outside overlooking the hotel pool) are slashed with contrasting vertical and horizontal lines, flanked by deep pink fire station-like doors and crowned by glowing orb lighting on fixed bronze arms. During the day, you can sip on a Bubble Matcha Latte (B115), but head there in the evening for tasty cocktails like the Baby shower (B250), with gin, lychee liqueur, Midori, lime, egg white, pineapple and flower blossom.
1/F, Craftsman Hotel, Paholyothin Soi 11. Tel. 02-279-7299 Ext.55. Open daily 11am-midnight
Exclusively for Citi credit card members
Get 10% discount on food only
01 Nov '19 - 31 Dec '20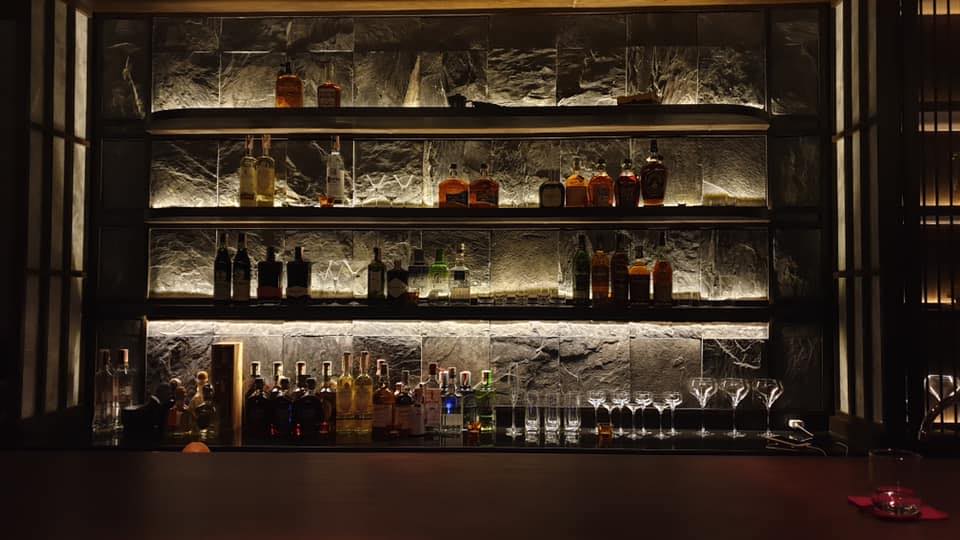 This Japanese-style bar has generated a slow-burning buzz that should carry it well into 2020. Located inside the Metropole Residence, Bar 335 is all about balance and simplicity. That means stripped-down versions of the classics that put the focus on the spirits. Think aged Suntory highballs, a riff on the New York Sour called the New York Lemon Cream (B380) and a bacon fat-washed old fashioned (B440). Expect dim lighting, minimal décor and a small space that encourages conversation.
5/9 Sukhumvit Soi 39. Tel. 092-545-6419. Open daily 6pm-1am.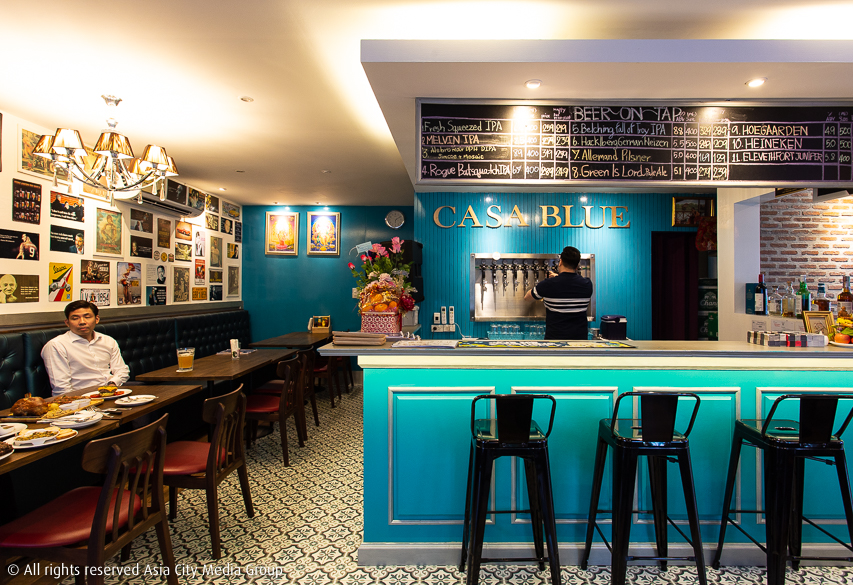 Easily spotted for its bright blue walls and retro floor tiles, this family-owned restaurant and bar serves a rotating roster of craft beers from both big international names and local favorites. With a total of 11 taps, you can work your way through American, German, Belgian and Polish craft brews. Add in tasty comfort food and this newly relocated drinking den is fast becoming a local hot spot.
TTN Avenue, 88 Nanglinchee Rd. Tel. 065-594-4555. Open Mon-Sat 4pm-midnight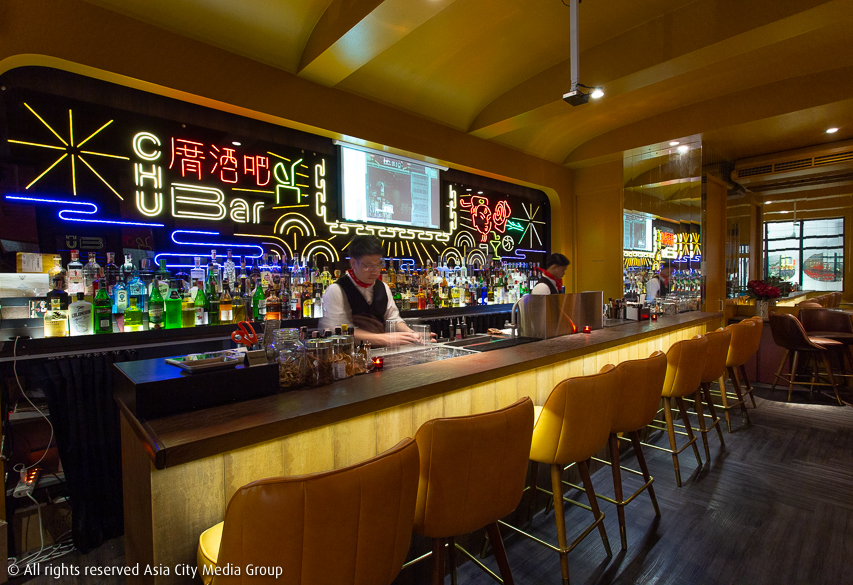 This new opening hits the sweet spot between casual and upmarket, rolling two venues into one for an ideal start to a big night out. Start with authentic Hong Kong fare in the peach-washed dining room before sliding into the neon-clad bar, which draws a younger crowd for its unique menu of Chinese-inspired cocktails and playlist of American soul and African funk.
1/4 Sukhumvit Soi 49. Tel. 061-056-5636. Open daily 10am-11pm
Exclusively for Citi credit card members
Get a complimentary Lime Ice Jelly valued THB 76.50 when spending THB 600 or more /sales (limit 1 dish /card /table /sales slip).
01 Aug '19 - 31 Jan '20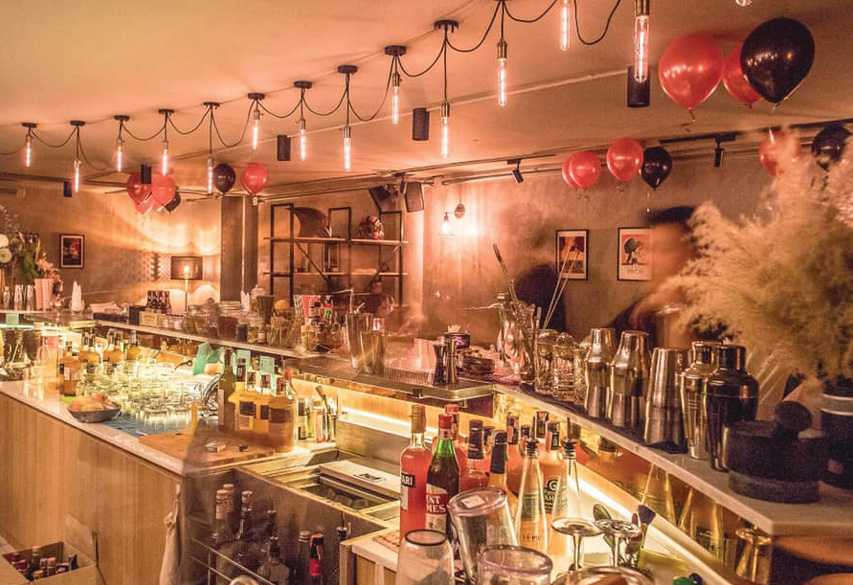 This experimental bar comes from craft cocktail guru Fabio Brugnolaro (Sul; Vogue Lounge). Pops of black, red, copper and hand-drawn artworks punctuate the light wood-and-gray interior, centered around a sweeping curved bar. Pull up an elegant gold bar stool to sample concoctions like the Fernie (B380)—a mix of fresh basil, gin, camomile liquer, apple and lemon juice, honey, celery bitters, Fernet-Branca and egg white.
49/9 Sukhumvit Rd. Tel. 083-072-2770. Open Tue-Sun 5pm-midnight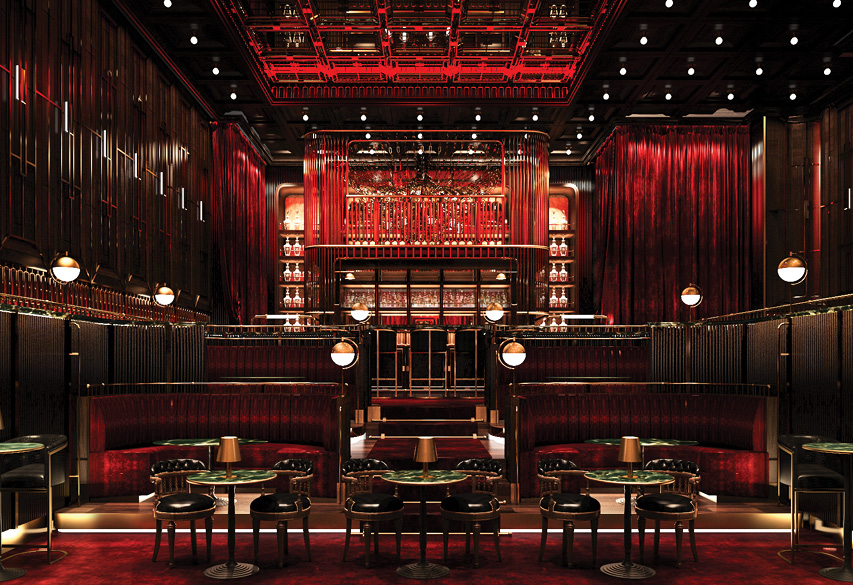 The team behind
Rabbit Hole
and
Liberation
are behind Langsuan's new Art Deco jazz and cocktail den, fueled by the spirit of the Roaring Twenties and the cocktail prowess of Suwincha "Chacha" Singsuwan—the star bartender of
Rabbit Hole
fame. To go with 20 signature cocktails, the bar puts on live shows every Wednesday to Saturday, including jazz performances and DJ sets.
87 Rd. Tel. 062-259-2525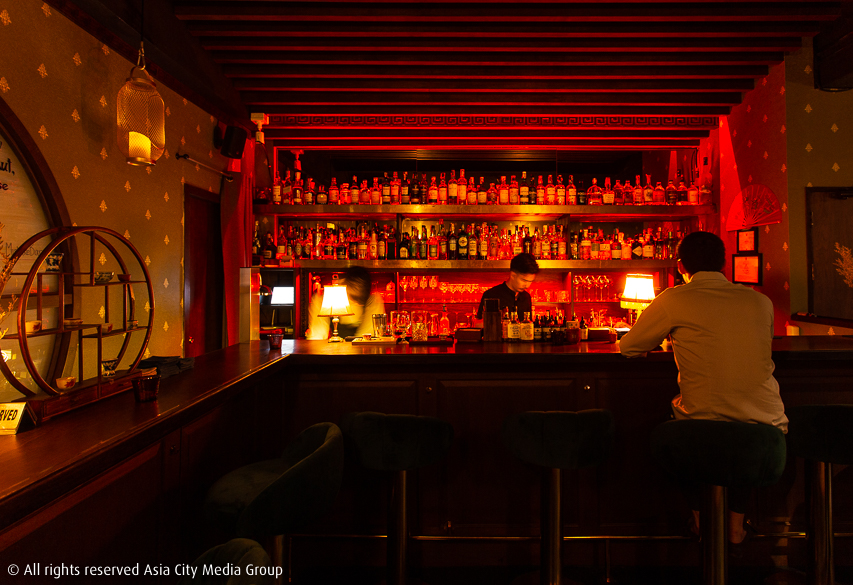 Fronted by a fake Chinese pawnshop, Honest Mistake goes all in on its Shanghai mafia theme. Buy your entry with a bribe before being allowed to ascend to the third floor, where an old-school mahjong table beneath dim lighting creates a secret casino feel. This sets the scene for cocktails that come in three styles: complex; sweet and sour; and flavored gin and tonic.
488 Phahonyothin Rd. Tel. 062-490-5126. Open daily 6pm-1am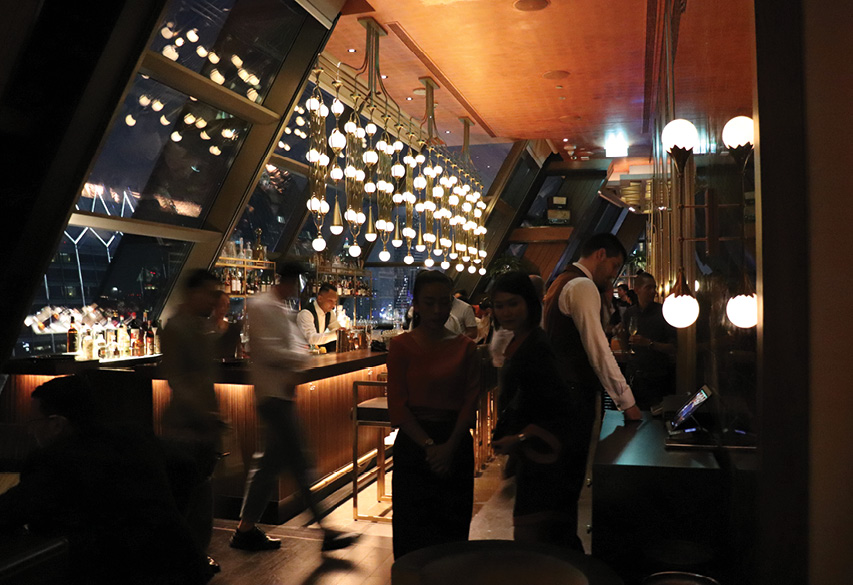 Rosewood Bangkok's crowning glory features an entrance hall lined with 6,000 records that you can play and even buy. Inside, a stunning speakeasy awaits, replete with sultry Art Deco light fixtures, retro brown leather sofas, a clandestine cigar lounge and on-theme drinks that adopt song names, like Frank Sinatra's "Fly Me to the Moon" (B420), a negroni-like mix of whiskey, amaro, Cacao Blanc and Mancino Rosso.
30/F, Rosewood, 1041/38 Phloen Chit Rd. Tel. 02-080-0088. Open daily 6-11pm.
Exclusively for Citi ULTIMA and Prestige
Get 20% discount from the menu
01 Jul '19 - 31 Dec '19
The all-star team behind this bar have broughtus one of the most advanced cocktail menus we've ever come across. Here, they firmly believe that single ingredients can offer many different dimensions, depending on how the flavor is extracted. Not just any ingredients, either, but curveballs like giant water bugs and goat's milk.
Piman 49, Sukhumvit Soi 49. Tel. 093-654-2500. Open daily 6pm-12:30am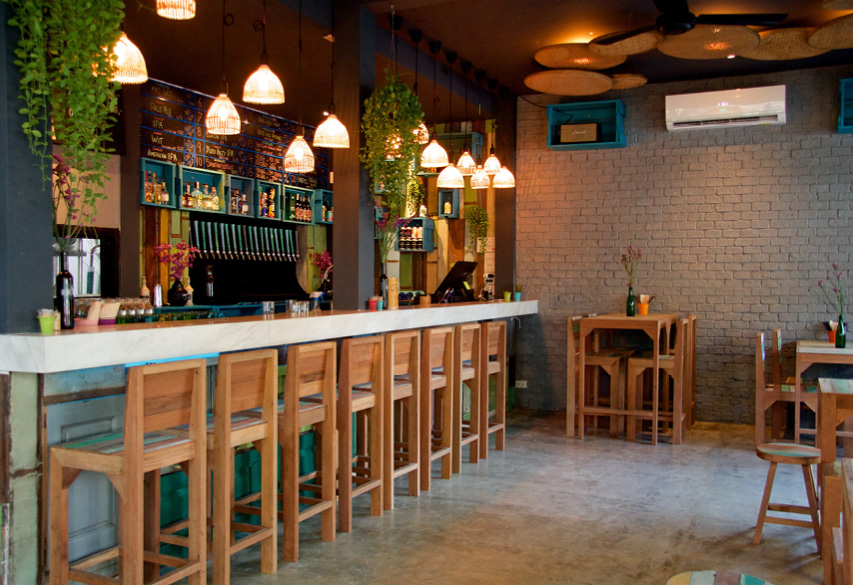 The second branch in Bangkok from Danish microbrewery
Mikkeller
takes a Thai twist. Alongside Mikkeller's own brews, the 20 taps put more emphasis on Thai and Asian craft beers, with prices ranging from B140 for a small Happy New Beer Pilsner to B360 for a Gweilo Yuzu Hazy IPA.
Ari Samphan Soi 1. Tel. 02-101-4962. Open Tue-Thu 4-10pm; Fri-Sat 4-11pm.
To access Phrom Phong's latest thriving speakeasy, seek out the tucked-away elevator next to Ramen Ichiban and head to the fifth floor. A heavy door leads through to the cozy bar, where neon red signage, retro furnishings and a pill-shaped counter conjure an almost festive feel. Don't fancy anything on the menu? Just tell the bartenders what you like and they'll whip something up for you.
5/F, 3/7 Sukhumvit Soi 24. Tel. 02-550-6820. Open Tue-Sun 4pm-midnight
Bangkok has long been obsessed with Korean pop culture, so it's about time for our nightlife to catch up. This Korean bar brings a whole new level of drinking to the very local, residential area of Sanam Pao, transporting you to Seoul on a budget BTS fare. And easy-drinking Korean tipples add to the fantasy that you're on vacation.
3/F, 1029/12 Phahonyothin Rd. Open Mon-Sat 5pm-midnight
Avani Riverside Hotel's 26th-floor rooftop restaurant has transformed into the third global outpost of Portuguese celebrity chef Olivier Da Costa's Seen Restaurant and Bar, where nine signature cocktails pack playful Asian twists. The Don't Call Me Mr. Mule (B400), with its lemongrass-infused vodka, homemade ginger beer, galangal and kaffir lime syrup, might be your new favorite after-work drink.
26/F, Avani Riverside, Rd. Tel. 02-431-9120. Open daily 5pm-midnight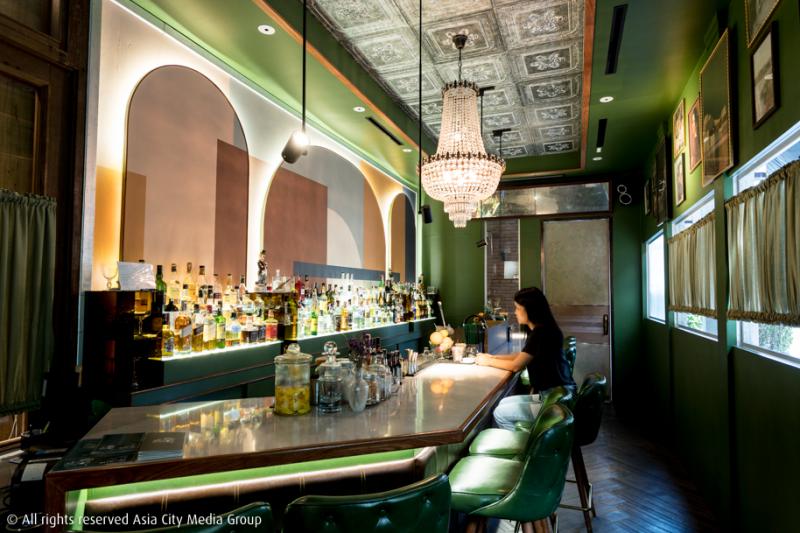 Inside this intimate space, jade green leather with pastel color splashes and a glittering chandelier hung from tin ceiling tiles recall the Roaring Twenties, while broad windows let in natural light. The drinks run the gamut from low-ABV concoctions to more complex creations, like the Sunny Honey (B360), a mix of crème de cassis, El Jimador tequila, ginger ale and a balsamic reduction.
51 Sukhumvit Soi 26. Tel. 02-005-0226. Open daily 4-11pm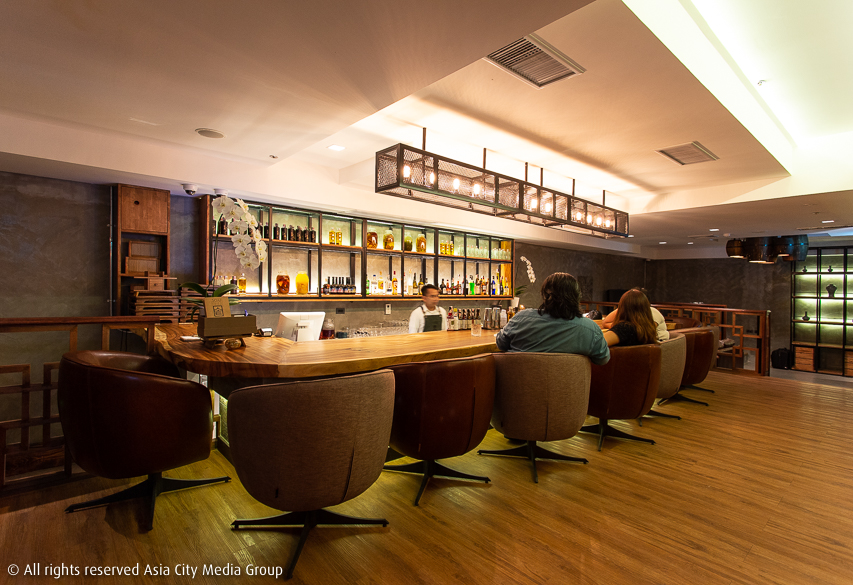 Just when the arrival of
Sulbkk
drew our attention to Bangkok's lack of Korean gastrobars, along comes another one. Sot, however, brings a far more grown-up vibe with its focus on high-end soju brand Hwayo. On top of their signature cocktails, you can also order reinterpretations of classic favorites, like the soju negroni (B420), that replaces gin with soju.
8/F, Novotel Bangkok Hotel, 19/9 Sukhumvit Soi 20. Tel. 081-949-4851. Open Tue-Sun 5pm-midnight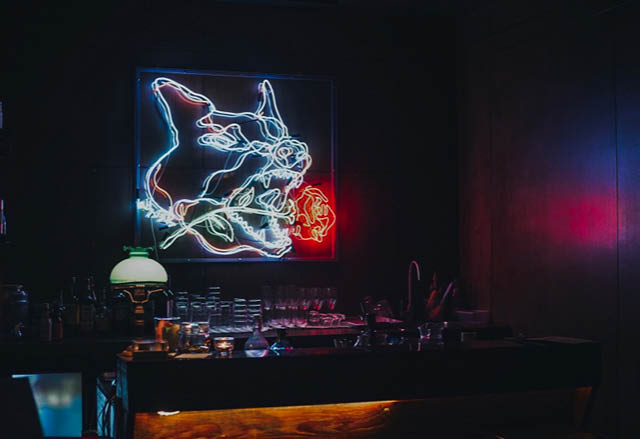 DJ Tob, DJ Aopsher and Thai hip hop star Twopee have transformed the original
Sugar Ray
into this chilled-out hangout spot that spins hip hop, soul, funk, R&B and more. This place is home to some serious vinyl collections, and guest DJs keep bringing more. Check Facebook and Instagram for an up-to-date list of which DJ is coming in to spin records next.
77, Thonglor Soi 20. Tel. 094 556 5041. Open Tue-Sat 8pm-2am
From the people who brought us
Q&A
,
Thaipioka
and
Sugar Ray
, this cozy cocktail joint feels like a sanctuary among the community mall scrum—a condo-like nook, all clean lines and light wood furnishings, where DJs spin soul and R&B records and the drinks riff on the classics. Try the pre-batch Urgent Negroni (B350), which hits hard and mellows out as the ice melts.
The Commons, 337 Thonglor Soi 17. Tel. 02-006-6089. Open Mon-Fri 4pm-midnight; Sat-Sun 2pm-midnight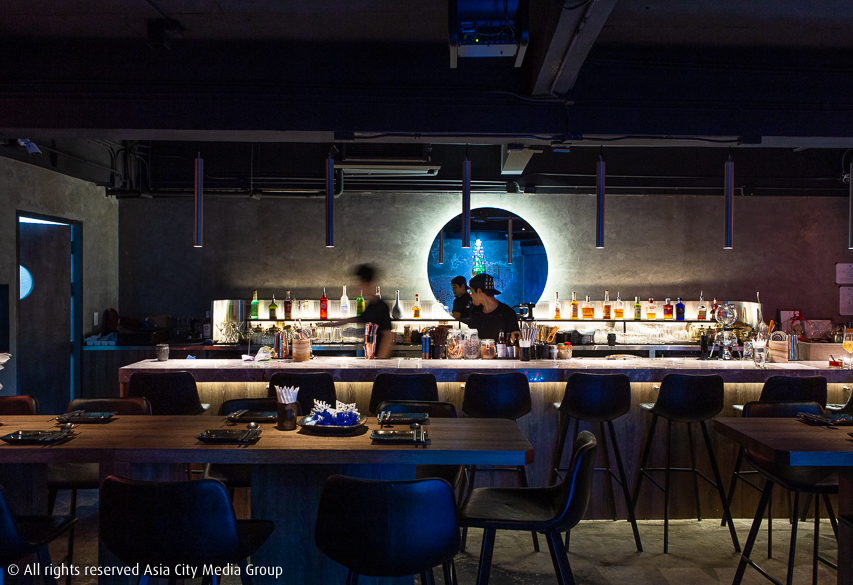 Despite Bangkok's obsession with all things Korean—music, food, plastic surgery—there was surprisingly little in the way of Korean nightlife until Sul opened, cementing itself as Thonglor's go-to Korean hotspot. Expect a range of soju-infused concoctions here, as well as some clever twists incorporating Korean flavors. Bulgogi Old Fashioned (B360), anyone?
2/F, The Third Place, Thonglor Soi 10. Tel. 095-795-5396. Open Wed-Sun 5pm-midnight; Mon 5pm-midnight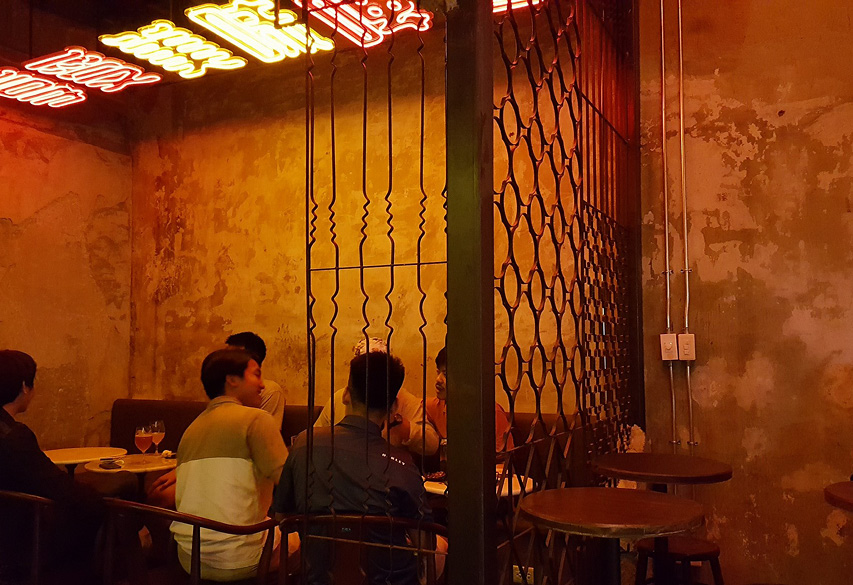 Crumbling walls, exposed metal rebar, red neon lettering and hanging Chinese lanterns conjure an atmospheric setting for this craft beer bar, which takes over an abandoned pharmacy. Order from the drug cabinet-shaped bar—where 13 rotating taps chart anything from Triple Pearl witbier, B220, to Moonzen's Sour Milk Company Passionfruit IPA, B240—before heading up to the mezzanine to sit amid the lanterns.
188 Maha Chai Rd. Tel. 091-463-6465. Open daily 4-11pm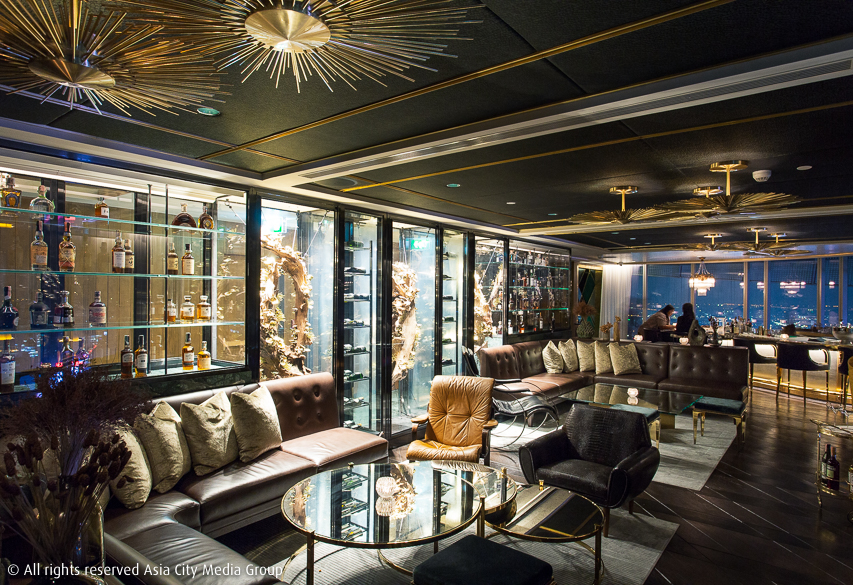 This super-luxurious speakeasy serves a Champagne selection that's perfect for celebrations. There are four choices of Champagne by the glass and over 25 selections by the bottle. If you go with a couple of friends, we recommend just grabbing a B4,000 bottle of something, then you'll be set for the night.
57/F, Waldorf Astoria Bangkok, 151 Ratchadamri. Tel. 02-846-8888. Open Mon-Sat 4-11pm
Exclusively for Citi ULTIMA, Prestige, Premier, Mercedes, ROP Preferred and Select card members
Get a complimentary half dozen of imported oysters valued THB 900 when spending THB 5,000 or more/ sales slip (between 5-7pm and limit 1 dish/ card/ table/ sales slip)
1 Jul '19 - 31 Dec '19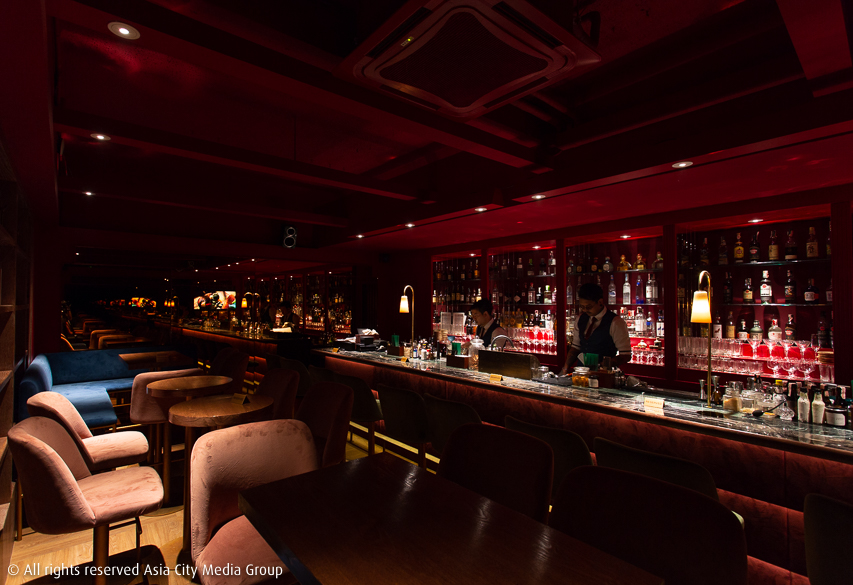 If you think Ari cocktails are all simple and easy-drinking, think again, as the signature cocktails at this secret bar are (very) spirit-forward. If you've had a long, hard day, we suggest you start with the punchy Sazerac (B420), which combines Hennessy VS, Bulleit Rye whiskey, Angostura bitters, Peychaud's bitters, a touch of syrup and a final spritz of absinthe.
72, G/F, Josh Hotel, 19/2 Ari Soi 4 (Nua). Tel. 02-102-4999. Open Sun-Thu 5pm-midnight; Fri-Sat 5pm-1am
Glamor is the name of the game at the Waldorf Astoria's sky-high showpiece cocktail and cigar den, where glittering views over Ratchadamri meet stunning Art Nouveau decor. Despite being in a hotel, we find ourselves returning to this glitzy bar again and again thanks to excellent drinks, five-star service and a surprisingly unstuffy vibe.
56/F, Waldorf Astoria Bangkok, 151 Ratchadamri. Tel. 02-846-8888. Open Sun-Wed 4-11pm; Thu-Sat 4pm-midnight
Exclusively for Citi ULTIMA, Prestige, Premier, Mercedes, ROP Preferred and Select card members
Get a complimentary half dozen of imported oysters valued THB 900 when spending THB 5,000 or more/ sales slip (between 5-7pm and limit 1 dish/ card/ table/ sales slip)
1 Jul '19 - 31 Dec '19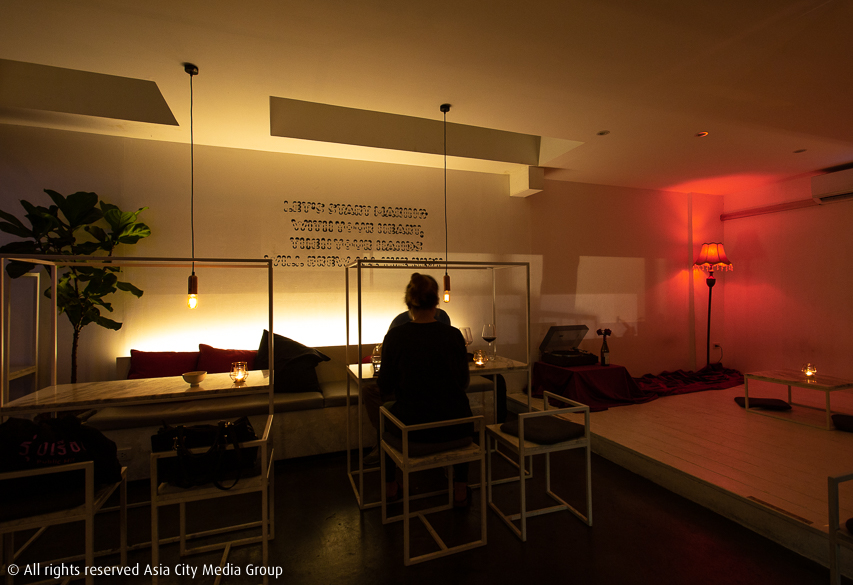 A cafe by day, Thonglor's first natural wine bar offers a playful, approachable atmosphere for budding oenophiles or those who just crave a good drink. The single-page menu listing 14 or so bottles is based very much on the owners' sustainable, organic or biodynamic favorites. But this is a low-pressure space where you can enjoy a few bottles with friends, whether you're a wine newbie or not.
Sukhumvit Soi 38. Tel. 081-553-3585. Open Wed-Sun 6-11pm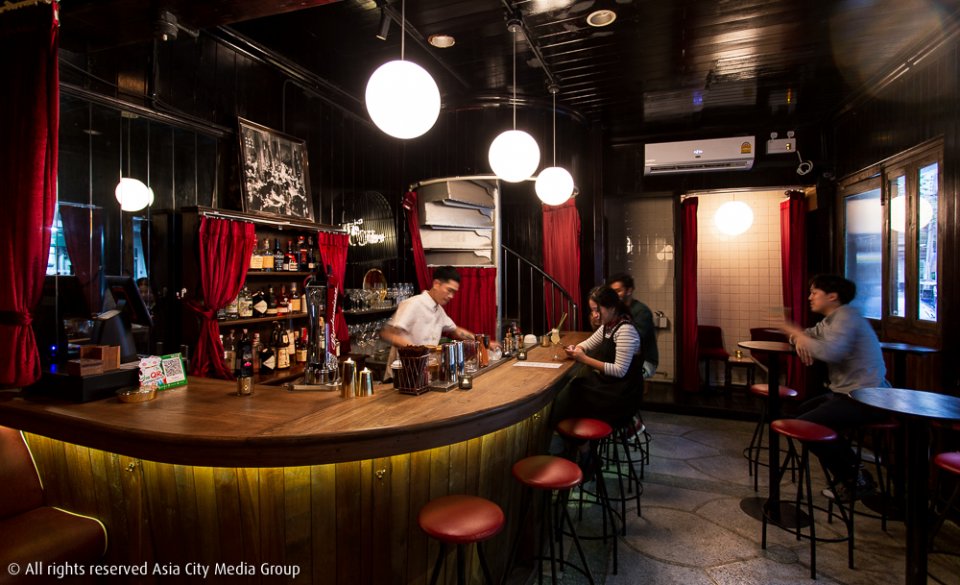 Now that this new boutique cocktail bar has filled the old home of Soulbar (
now on Silom
), we reckon there's no place in town that makes for better bar-hopping. On entering, you'll feel like you've just walked into something between an 18th-century theater and a '40s jazz club. Try the Miss Saigon (B320), perfect for those who prefer a lighter drink with its mix of gin, elderflower, thyme, and olfactory lemongrass with a soft foamy texture from egg white.
945 Charoen Krung Rd. Tel. 095-593-9661. Open Tue-Sun 5pm-6am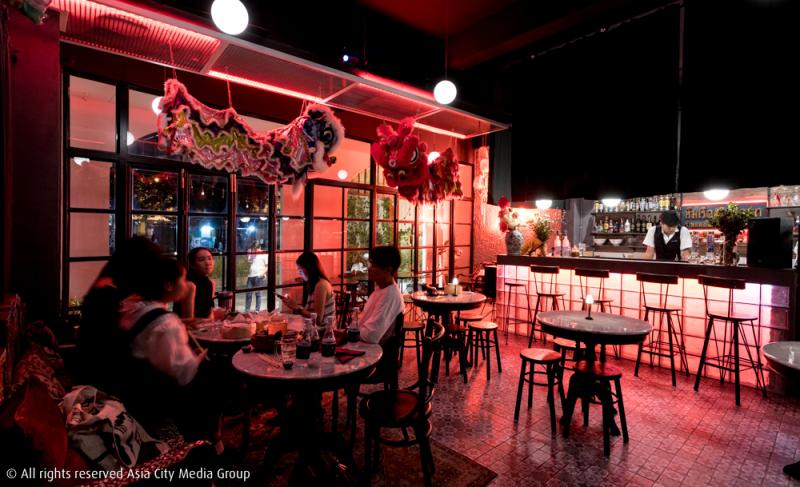 The Old Town's Uncle Tim whips up signature cocktails using herb-infused vodka and Chinese medicinal ingredients—a fitting tribute to the shop-house's former life as an apothecary. Neon red signage and classic Chinese movies projecting on the curtains set the scene for concoctions like Tim Rueng Vej (B588), a mix of vodka, plum, peach and herbal syrup with a dose of the family's secret skin-nourishing and life-lengthening Chinese medicine, served in a tea set with old-school snacks.
337 Maha Chai. Tel. 094-236-1545. Open Wed-Sun 6-11pm
This low-key bar launched by Yoshito Suzuki, former bar manager of Orihara Shoten, brings sake down to earth. Chalked up on a board, there are 16 labels of sake sold by the bottle, ranging from B1,800-4,900, and 10 by the glass from B200-380. Opt for a flight of three glasses (B660) to sample multiple labels. The menu is always changing, so it pays to ask for recommendations.
9:53 Community Mall, 124 Sukhumvit Soi 53. Tel. 02-115-2944. Open Tue-Sun 5pm-midnight
Exclusively for Citi credit card members
Get a complimentary dish or drink valued up to THB 200 when spending via Citi credit card (limit 1 drink or dish /card /table /sales slip)
01 Oct '19 - 30 Sep '20
---
BK B.A.D. Awards 2019 is available as a free booklet inserted in BK Magazine issue number 751 (Nov 23) and as a downloadable PDF version here.