Historic buildings throughout Bangkok are re-emerging from years of dereliction to host new art galleries and creative endeavors. Here are their stories.
19 Charoenkrung Soi 30, 083-555-5739. Open Mon-Sat 11am-7pm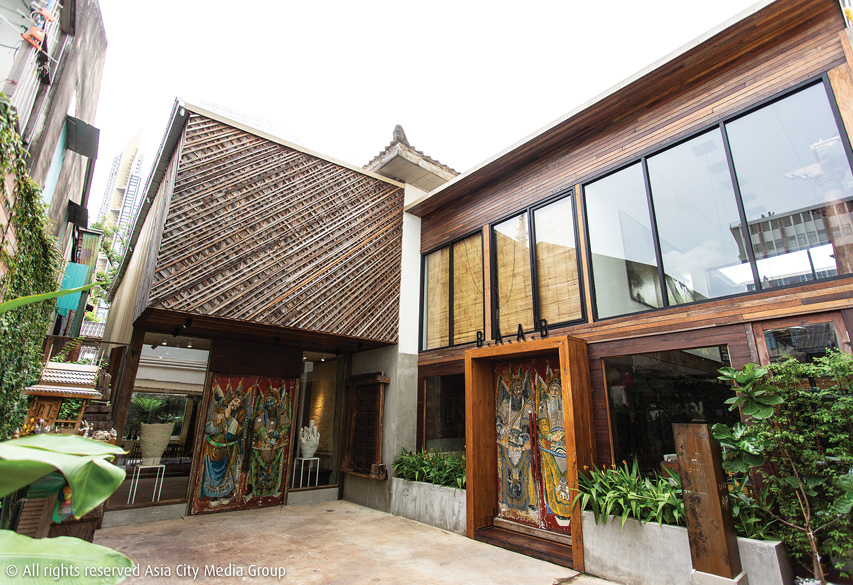 When the bright blue doors closed on the Arthorn Suksa school in mid-2017, Charoenkrung locals could have been forgiven for thinking the 120-year-old building would make way for yet another condo. Fast-forward two years and the sprawling multi-purpose art, retail and F&B hub that was eventually unveiled in time for Bangkok Design Week 2019 puts forward a convincing case for the tasteful regeneration of heritage buildings.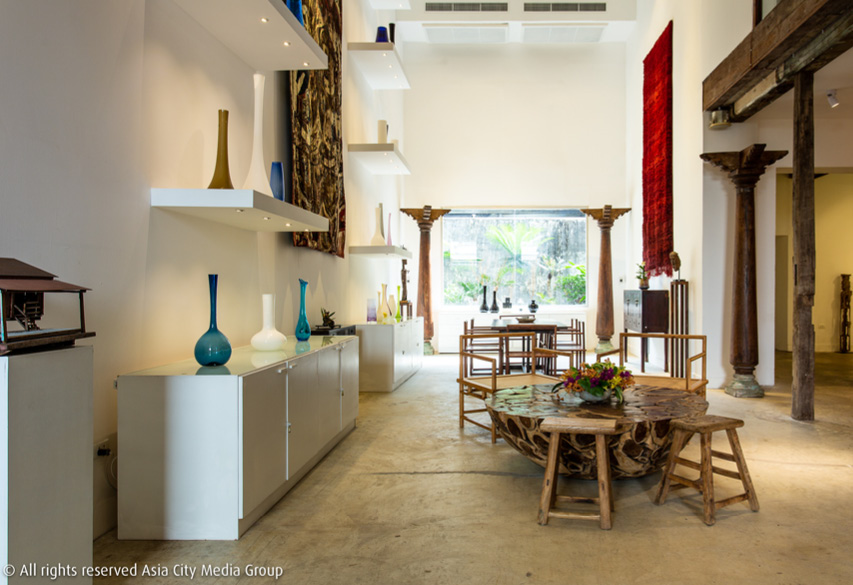 Accessed via a slender, fern-lined pathway that cuts between old shop-house residences, ATT 19 takes on the breezy, clean look of a day spa or resort—most fitting for a project that hopes to take the intimidation factor out of appreciating art.
Behind the project is Pornthep "Lek" Attakanwong, founder of next-door's Lek Gallery, a Charoenkrung institution of the past 40 years, his wife Janya and two of his daughters.
"My parents have run Lek Gallery since they were in their early 20s," explains Porntip "Mook" Attakanwong, ATT 19's creative director. "We are known as people who like preserving things, but it was luck that they acquired the building. The former headmistress of the school, who recently passed away, was a friend."
Lek, who studied architecture, took on the restoration job himself with the aid of his small in-house team. Using only reclaimed wood, tiles and bricks, the original structure was repaired before being expanded to occupy a total 2,000 sq meters of floor space. Whitewashed walls, raw concrete flooring and glass balance out exposed teak ceilings, ghostly remnants of old staircases and century-old tapestries.
Reminiscent of Chiang Mai or Hoi An's old residencies turned urban sanctuaries, the first floor opens onto a covered courtyard replete with greenery. Here, you can shop for meticulously imperfect Japanese ceramics (from B1,100 up to ten times that amount), vintage and designer clothing, Asian antiques and an ever-changing array of handmade decor.
"We focus on one-offs—vintage, antique or 'one-of-one' pieces," Mook says. "We want to take antiques off the pedestal, and show people that they are for real-life home use. I always say, 'If you're going to buy two Ikea vases, save that money for something that's a real conversation starter.'"
Upstairs, among the eaves of the original building, an exhibition space welcomes new work every month. Proceedings kicked off with "Who I Am," a collection of intricate, abstract drawings and paintings from U.S. artist Douglas Diaz. Mook says shows will jump between contemporary art and Asian antique history.
"We want to help make art accessible. Bangkok Design Week has a market, it has food. It brings people together in a way that's not intimidating. We hope to tap into something similar," Mook says.
"We don't look at the gallery-artist relationship as a 50/50 thing. The artist should get more. If it's a student, we might look at a 20/80 split. How else can people get their start?"

Porntip "Mook" Attakanwong, ATT 19's creative director
Emphasizing the casual atmosphere, Bad Ass Asia Bar (B.A.A.B) is a cocktail and tapas bar founded by Mook's sister, Puntip "Cher" Attakanwong, and friend Phanida "Tudtue" Slanvetpan. Both the food and drink lean heavily on Asian ingredients and flavors. Try the Shanghai Mist (B370), an easy-drinking mix of white tea-infused vodka with pomelo juice served in a petite teapot—perfect for sundown in the breezy courtyard.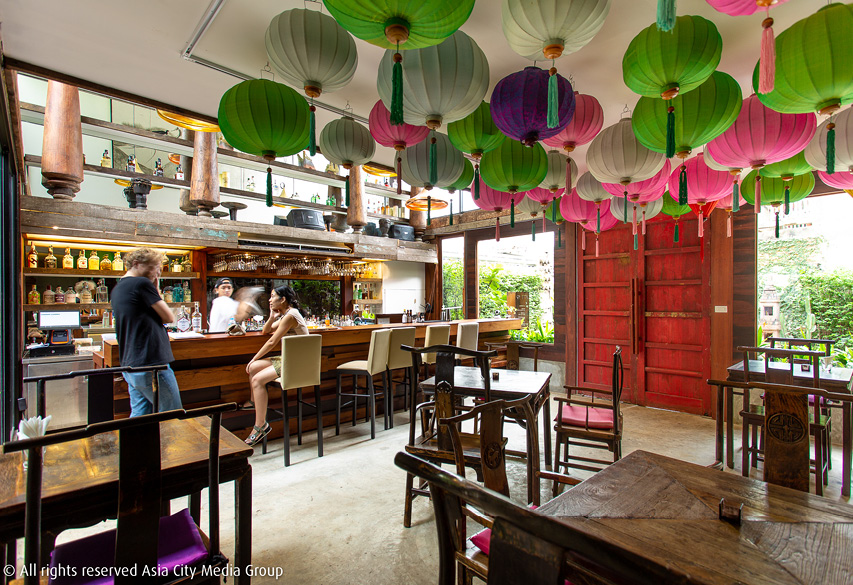 A restaurant, Mad Beef, also by Cher, will launch shortly to offer a meat-focused chef's table experience to only eight diners per night around a sleek wooden counter that's guarded by two figures decked out in antique Japanese samurai armour—one of Lek's oldest passions.
As a weekend destination, this stylish spot bridges the gap between the youth-oriented Warehouse 30 and Charoenkrung's niche antique dealers. There is talk of holding block parties and other collaborative events.
"Growing up in Australia and the U.S., it's normal to go to the gallery on the weekend. Here, there's a lot of censorship and gallery behavior has yet to be normalized. That's something we're hoping can change."
---
1/3-9 Sala Daeng Soi 1, 089-826-2299. Open daily 10am-6pm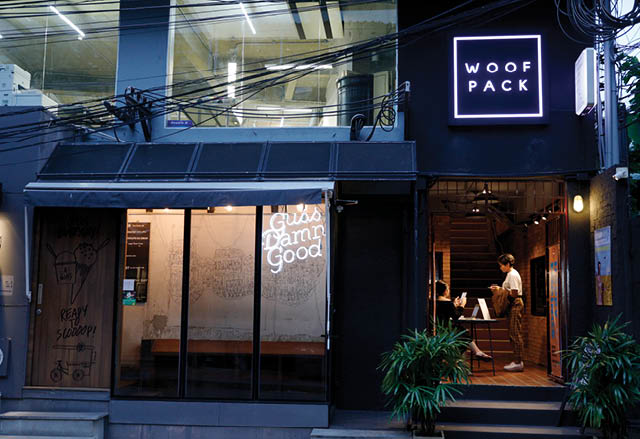 Not many office buildings boast of a steakhouse or ice-cream parlor on their ground floors, let alone their own indie cinema, exhibition space or rooftop bar with lush park views. But then Woof Pack is not your regular office building. When it came to creating a space for their branding consultancy firm, Thai-British entrepreneur Jay Spencer and his wife, Jareyadee, were determined to do things differently.
Taking out a lengthy lease on a five-story building near the corner of Sala Daeng Soi 1 and Rama 4 Road, Jay and Jareyadee set out to renovate the place floor by floor. Built in the late '80s, the building had sat mostly vacant for 15 years after the Tom Yum Kung financial crisis.
"We wanted to create a community of design and creative types who would gravitate towards each other," Jay says. Alongside his consultancy firm, Woof Pack, the building is home to offices from heavy-hitters like Red Bull (marketing), Whitespace (design) and Z Communications (PR), independent cinema Bangkok Screening Room, an exhibition space and a slew of hip eateries, from Guss Damn Good's experimental ice creams to Happy Endings' modern Vietnamese cuisine.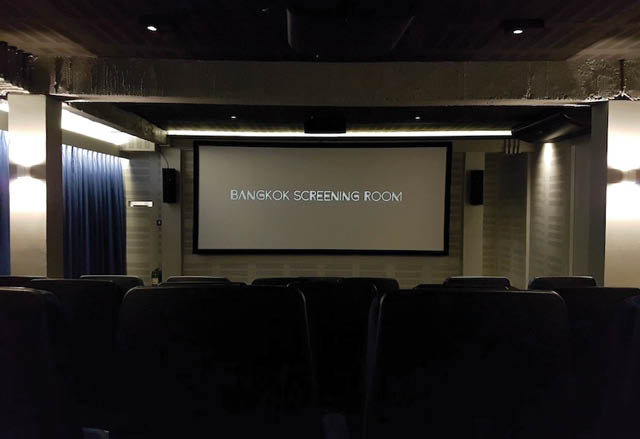 "The second floor [home to cinema and exhibition space] is like the filling in the sandwich, where we attract foot traffic that ultimately serves all the other tenants," Jay explains. The cinema screens a mix of international cult classics and local indie flicks, while the whitewashed exhibition space hosts everything from edgy photo shows to Mad Magazine retrospectives.
"Some people call us a gallery, but I wouldn't go that far," he continues. "We provide a canvas for people. Anyone could paint the walls white, install the right lighting. This might sound weird, but interspersing art with commercial ventures in one space helps people feel more comfortable. We're not an uptight art space; we're versatile."
At present, Woof Pack hosts around six exhibitions per year, and many times that in corporate events. "We've had exhibitions where we've sold 70-90 pieces; [Spanish illustrator] Joan Cornella brought in 10,000 people in three weeks. It's our way of supporting the art scene here, even if the corporate events are where we see the big return. We've had fashion shows, Netflix castings, [Australian skincare brand] Aesop took over the space with a laboratory."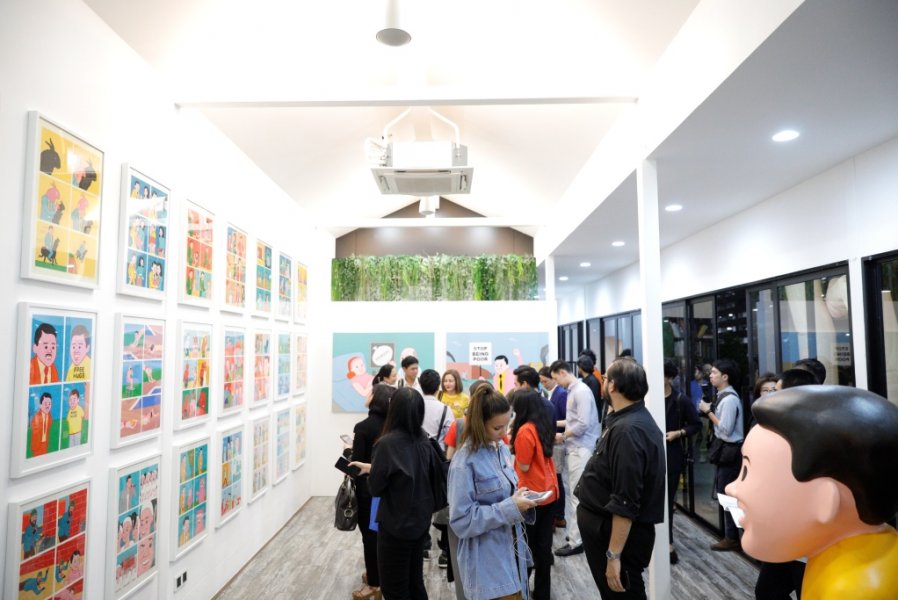 Joan Cornella's Happy Endings at Woof Pack
Jay and Jareyadee certainly did their location homework. Sitting on the fringes of Bangkok's financial district, tree-lined Sala Daeng Soi 1 is a hive of activity on weekdays. "We sent students out to survey office workers within a 350-meter radius of the building, and they came back with a number of around 16,500. That's a lot of people. We have around 100 or so people working just in our building, but we also wanted to be an anchor for everyone working around here."
Woof Pack forges community by allotting space out front for street-food vendors to sell their goods in a sanitary environment ("they've been here longer than us"). "I hate the word gentrification. But traveling to Tokyo, Hong Kong and Sydney, we found these pockets of the city where by applying a little creativity, ingenuity and TLC to old properties, people were creating these vibrant communities. You need to make a sensible argument for maintaining these old structures. Second-generation kids might have cool plans, but their parents just say no."
He says Woof Pack is currently at full occupancy, abides by a low-carbon footprint and is an example of using a space to its capacity. The crowning glory is penciled in for July when a rooftop bar dubbed Ohho will pair treetop views of Lumphini Park with beer and wine at prices which, according to Jay, will "keep people coming back."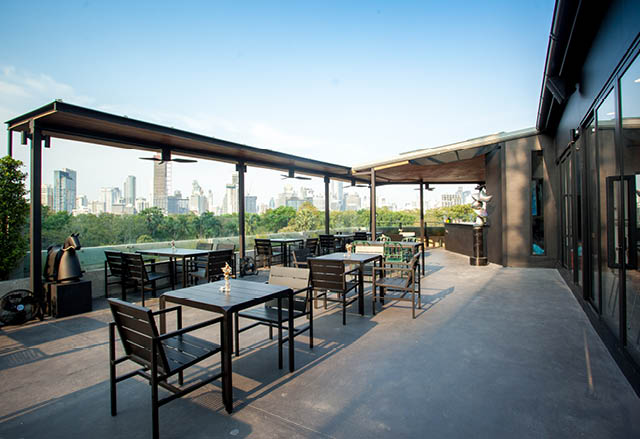 Ohho rooftop bar at Woof Pack
---
134 Nakhon Sawan Rd. Open Tue-Sun 10am-7pm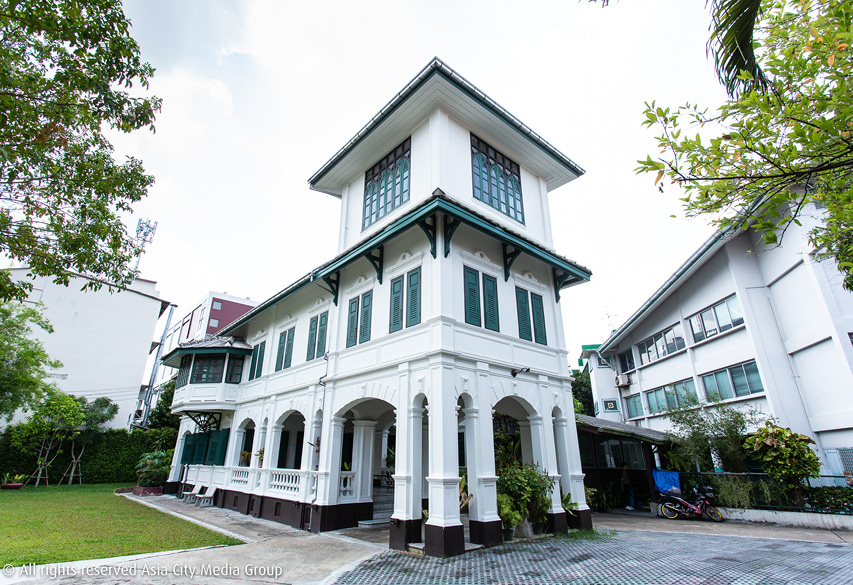 In a city with so few parks and public meeting spots (malls don't count, sorry), Bangkok 1899 comes off as a true anomaly. "People have visited and asked, 'where's the museum?'" laughs Susannah Tantemsapya, the venue's Thai-American director. "We're not a museum." Truth is, there's no easy way to describe new open-house policy that sees Baan Chao Phraya Thammasakmontri welcome the public for the first time in its 120 years.
The crisp white, three-story structure nestled amid the sleepy shop-houses of Nang Loeng neighborhood was designed by Italian architect Mario Tamagno (Neilson Hays Library, Anantasamakhom Throne Hall) at the turn of the 20th century and was once occupied by "Thailand's father of modern education," Chaophraya Thammasakmontri. Yet despite this rich history, the house stood unoccupied for around 13 years.
That's until Susannah, the founder of Creative Migration, an international arts organization operating in LA and Bangkok, stepped in. Back in the States, Creative Migration made a name for documentaries,
public installations and residency programs. Here, they've drawn on financial support from The Rockefeller Foundation and Ford Motor Co. Fund to open the gorgeous abode to collaborative art projects, socially-minded workshops and, well, the general pursuit of leisure. It's a model common in Europe, she says, but rarely found in Thailand or Southeast Asia. "We're a light-hearted, egalitarian space that welcomes all age groups and perspectives, highlighting similarities not differences," she says.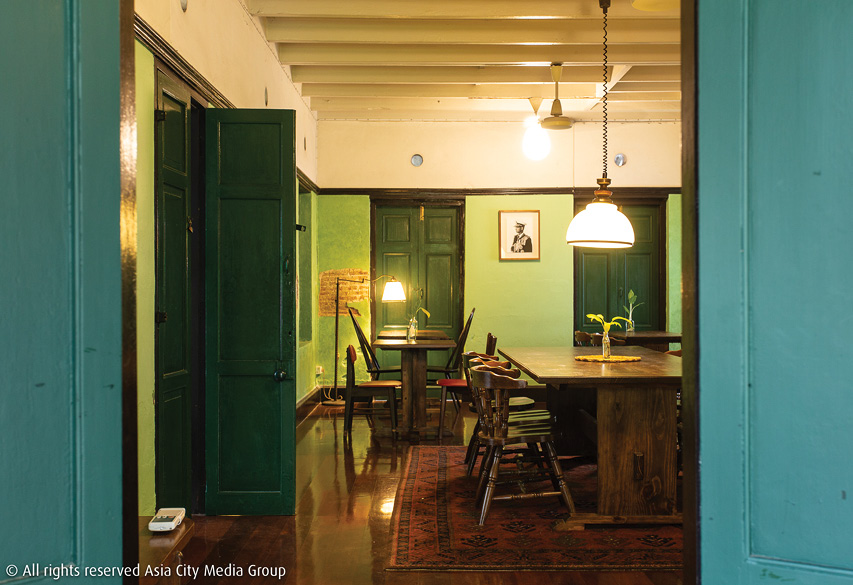 "Social change comes when people get together to talk and look at things through the eyes of others. We try not to be too heavy-handed with our message."

Susannah Tantemsapya, Bangkok 1899's founder and director
The house has been stripped back to resemble its heyday. "It was a house of innovation for its time," says Susannah, who led the light restoration efforts aimed at removing gaudy additions from the '80s and '90s. Though no original plans remain, the high-ceilinged, well-ventilated space appears primed for 21st-century living. On the second floor sits an office, a room for panel discussions and private living quarters for artists-in-residence. An attic will host a lighting installation by Tuck Muntabhorn that will be visible from the street.
While Bangkok 1899 does host exhibitions, you won't always find art lining its walls. Susannah likens it to Strelka in Moscow or Islington Mill in Manchester, multi-purpose "open houses" that don't rely on set activities. You're welcome to spread a blanket out on the lawn or simply enjoy the house as it was intended to be used, in the knowledge you might meet other interesting people.
The residency program launched with Shayne P. Carter, a New Zealand musician known for his bands Straitjacket Fits and Dimmer. Carter's two-month stay culminated in a cross-genre collaboration with Piyanart "Pump" Jotikasthira (of Paradise Bangkok Molam International Band and Aparmentkhunpa), the rhythm section of Toomturn Molam Group, and Chiang Mai-based noise artist Arnont Nongyao. Next up is another Kiwi, Tiffany Singh, a "social practice" artist whose colorful and immersive installations often carry community-building themes.
Natural indigo-dye workshops and cyclical fashion roundtables speak of Bangkok 1899's sustainability credentials. Visitors can also kick back with a cold-pressed juice or homegrown coffee courtesy of Na Cafe, a zero-waste, "social-impact" operation by Sakson "Saks" Rouypirom, of Broccoli Revolution and SATI non-profit platform. They will eventually offer a full food menu using ingredients from their own veggie patch, too.
"We're all about collaborating," Susannah states. And she means it. Down a little side-soi from Bangkok 1899 sits FREC (Ford Resource and Engagement Center), a three-story schoolhouse turned auditorium and cluster of offices that houses partner environmental NGOs such as SOS (Scholars of Sustenance), Nature Inc and Precious Plastic.
Visitors are encouraged to take a 9-baht canal boat service to Bangkok 1899.
---
RDX Offsite
OHK Building, 5/F, 839 Charoenkrung Soi 31.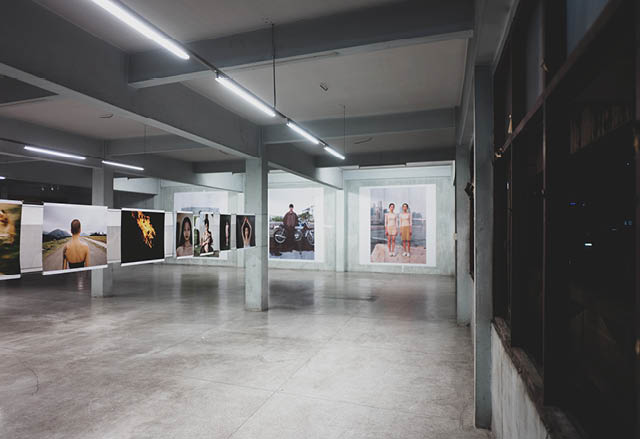 Luo Yang's "Girls" at RDX Offsite / Credit: Darkle
Last December, when Chinese photographer Luo Yang brought her intimate portrait series "Girls" to Bangkok, the primary venue was not the usual pristine-white gallery. Art appreciators had to venture deep into Talad Noi in search of a barely signposted shop-house. After a rickety elevator ride up five floors they found themselves in a vast, warehouse-like space where large prints mostly hung from wires.
"Usually when you enter a gallery, it's like stepping into a church or temple. Once the doors close, you're shut off from the world," says French curator and printmaker Francois Langella, who together with Jim Brewer, a London-hailing photographer and director known for handles like Darkle and Proxy (a collaboration with Jeff Gompertz), oversaw the exhibition. "With Offsite we were going for something radically different."
RDX Offsite is not so much a venue, but a nomadic project that's tied to Langella's RDX Printshop, a photo lab on Charoenkrung. Langella explains that they like to work with what's already existing, partly because of the costs involved in doing up a space, but mainly because of the way the right space can add another dimension to the art.
They felt the raw, unairconditioned space—"70 percent windows and 30 percent walls"—was an ideal fit for the immediacy of Luo's work, which explores femininity in contemporary China. "Her photographs are raw and bold, yet intimate and delicate. She has access to incredible subjects; women who fall on the margins of Chinese society," Brewer says.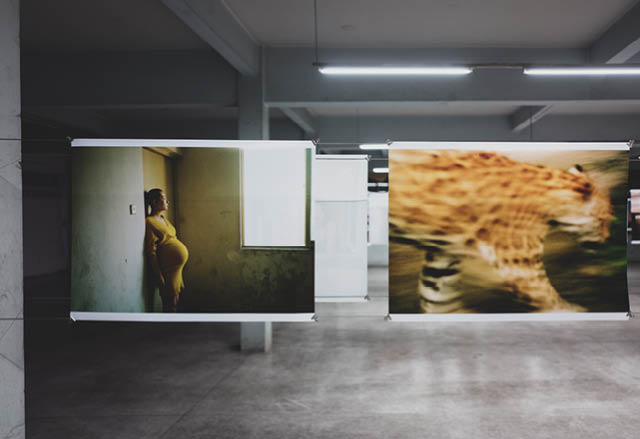 Luo Yang's "Girls" at RDX Offsite / Credit: Darkle
Langella chimes in: "With RDX Offsite, we were lucky. The owner wanted to do something and didn't see it as a financial opportunity. The whole family, the mother and aunts, came up the night before the opening. We were worried about how they would react to the nudity. But it all went great and confirmed Luo's talent for connecting viewer and subject."
"Girls" was actually the second exhibition to be held at RDX Offsite after Brewer's own "Limbo," a series of black and white photos delving into the Southeast Asian epidemic of addiction. The name is an apt one for such a venue that blurs lines.
Langella and Brewer share their passion for hunting down disused spaces with Jeff Gompertz, a Brooklyn-hailing artist who oversees Pomp, a kind of artists' commune beside the khlong in Talad Noi, out of which RDX Printshop operates.
From 2015-17, Langella and Gompertz ran the NACC project on Chinatown's Soi Nana, in which a seemingly derelict shop-house played host to a range of mind-melting multimedia projects, including a Photo Festival without photos and regular "Bring Your Own Everything" evenings, while providing space for local street-food vendors as a sort of public front. "It was a way of being invisible; food out the front, while we did our thing out the back," Langella says.
Another of Brewer and Gompertz's projects, as Proxy, involved painting an 11-meter-long stencil imitating the form of a movie end title slate that declared "The End" onto the perimeter fence at the site of the razed Siam Theatre.
While some projects approach guerilla art, others require building up trust with building owners, which can prove difficult. "There's a lot of old money, so often property owners aren't in any great rush to put their buildings to use. It's not like Hong Kong, where they've reached saturation point and are now having to build up and up," Brewer says.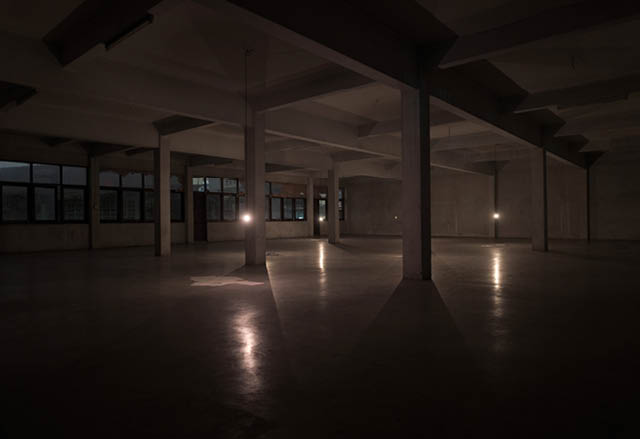 Darkle's "Limbo" at RDX Offsite / Credit: Darkle
Langella, Brewer and Gompertz were all involved in last year's Bangkok Biennial, which they toast as a great success. This sponsor-free art event, not to be confused with the big-budget Bangkok Biennale, saw installations and performances take place at loosely-defined "pavilions" across town, including Pomp, while Brewer even held a lightbox exhibition in his Soi Nana bedroom.
With their fascination with impermanence, it's perhaps fitting that RDX Offsite, as it existed for only two shows, is no more. Langella says the section of building has been sold, probably to become a hotel. But the project will live on—even if it's in unintentional ways. "We were scrolling through Instagram and dicovered that 50 or so Rangsit art students were using the space for a group exhibition [named Anthrophotogracene]," laughs Langella. "They were using the RDX Offsite geotag as if it were official, though they must have negotiated directly with the owner. We visited and there was some great stuff on display—different to what we'd do—but they'd walled up the place to be more like a traditional gallery."
Correction: An original version of this story ran with the name Francois Langello. That's been corrected to Francois Langella.